A New All Island Experience Awaits You at Fiyavalhu Maldives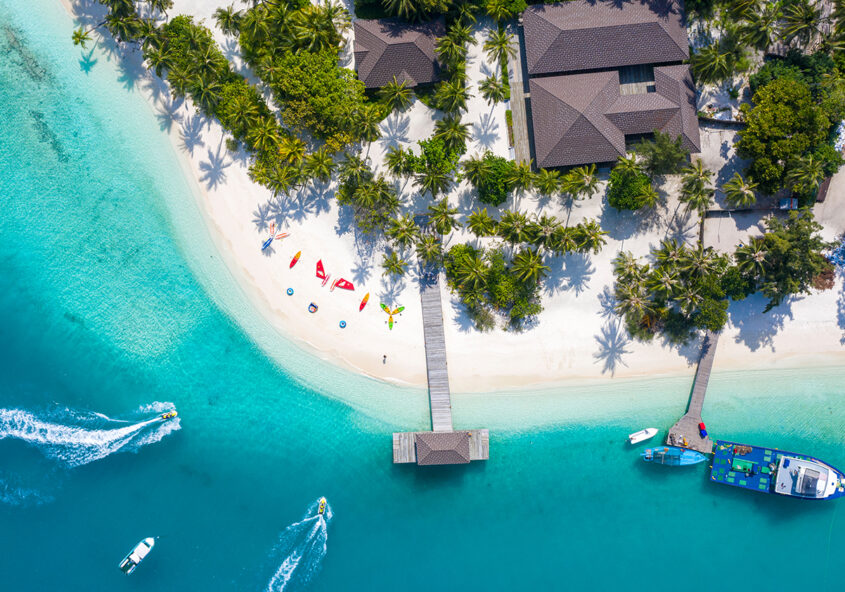 Nestled in a natural and private alcove of the inhabited island of Mandhoo in South Ari Atoll, Fiyavalhu Maldives offers an all island experience at this hidden paradise. As you arrive at the island, the first thing you will notice is how green and lush the island is, the mesmerizing azure waves crashing onto the white sandy beaches, the gentle calling and cooing of the local birds—fitting right into the image of your perfect getaway experience.
"Exquisite haven", is the best way to describe the place. With over 44 beautiful private villas, Fiyavalhu Maldives offers the ultimate private escape to paradise with six different room categories for your choosing. The pool villas here are some of the best we've seen, with an open plan concept allowing the perfect balance of both indoor and outdoor. With a private plunge pool set in a petite garden of, and villa set meters away from the azure water of the island—you've got the best of both worlds. The interior of the villas are elegantly designed in warm earthy tones of grey and tanned woodworks in harmony with the natural ambience of the island. Drift into tranquility while lazing on the sun loungers on the private patio, listening to the everlasting sounds of the sea or taking a well-needed soak in the waters.
If you don't want to give a break to the sun, sea and pool—the beachfront Riya Cafe' is the perfect place to be at. Adjacent to the main pool and recreation center of Fiyavalhu Maldives, you can quench your thirst with fresh coconuts and other non-alcoholic beverages, snacks or special bites at this spot. For a gastronomic culinary experience, take a stroll into the Koveli Restaurant and try the delectable simple and authentic cuisine from around the world. Positioned at the centre of the resort, surrounded by coconut palms with a beachfront view, this is a delightful place to begin your mornings or enjoy dinner with open buffets or ala-carte option under the breathtaking views of the stars and sea.
The watersports centre at Fiyavalhu has a wide range of activities catered specially for the thrill seekers. Try wakeboarding, catamaran sailing or even windsurfing at the azure lagoon and sate your adventurous needs! Get an adrenaline rush and a euphoric view of the island as we did, by going for parasailing. It's an experience of a lifetime, one that you will definitely not forget, as you fall in love with the perfect setting of the island with its lush green vegetation in the calming blue water calling out to you.
We can assure you, your stay at Fiyavalhu Maldives will make you nostalgic to visit the island again. Just as how the resort has made its mark on the inhabited island of Mandhoo with its footprint, offering the best of both worlds.
For bookings and further information about the island getaway, visit www.fiyavalhumaldives.com
Contact: info@fiyavalhumaldives.com
Experience Fiyavalhu Maldives Virtually & Book Directly from the Hotel at: https://maldivesvirtualtour.com/