Stay
October 31, 2023
A Peek Inside the Ultra-Exclusive Villas of LUX* South Ari Atoll Maldives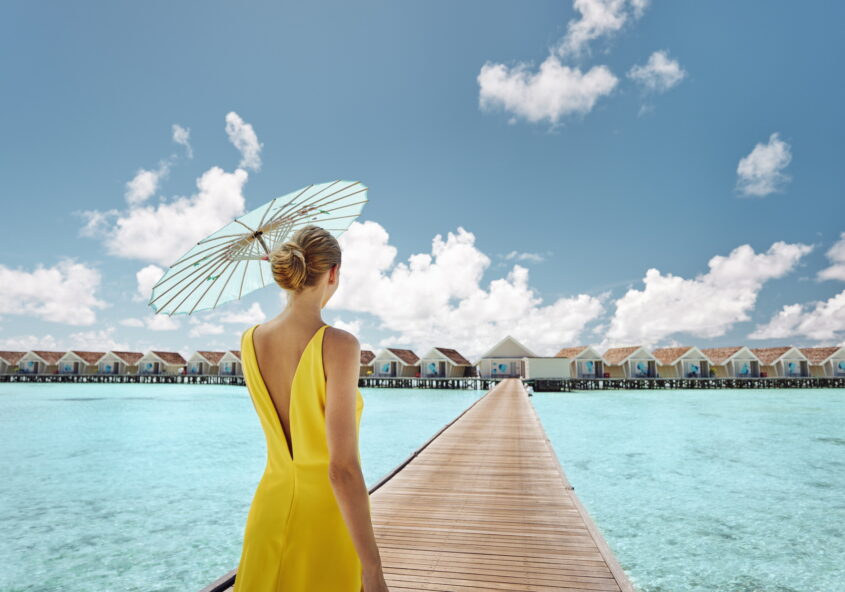 Nestled in the heart of the Maldives, where the sky embraces the sea, lies a sanctuary of peerless calm: LUX* South Ari Atoll. It's in the intricate architecture, the attention to detail, and the promise of an experience that surpasses the ordinary.
Thatched-roof beach bungalows and villas perched over the warm Maldivian waters create a stylish seaside haven. Chaises-longues on the sandy shores invite guests to unwind beneath the palms while staircases descend straight into the Indian Ocean. Whitewashed walls, light and airy spaces with bursts of colour, and tropical foliage make for the ultimate laidback lifestyle. LUX* South Ari Atoll has ten different categories, so whether you're flying solo or with a tribe of little travellers in tow, or whether you're more the water villa type than the beach one, you will find your fit.
LUX* VILLA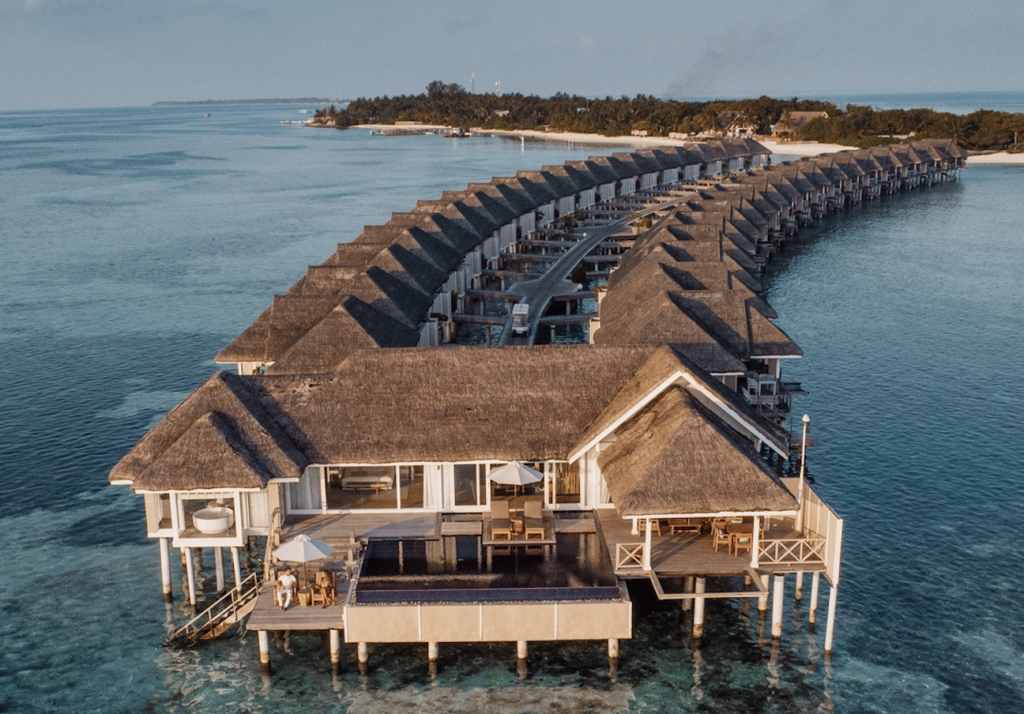 The one-bedroom LUX* Villa offers guests a serene retreat at the jetty's tip, featuring unobstructed sea views and a private infinity pool. With dedicated butler service, a private buggy, and premium bicycles, guests enjoy seamless luxury. The villa's design combines traditional elements like thatched roofs and white-washed wood with modern features such as floor-to-ceiling glass panes and see-through glass floors in the living room. The spacious bathroom includes a round bathtub, and guests can host gatherings in the elegant dining room. Accommodating 2 Adults + 1 Teen/Child/Baby, the villa promises a private and exclusive experience.
TEMPTATION POOL WATER VILLAS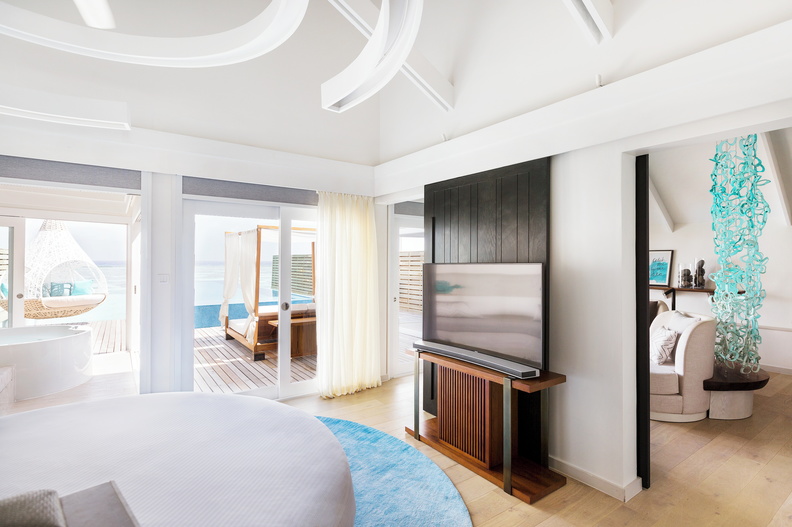 The Temptation Pool Water Villa is a couple's paradise, offering a seamless blend of luxury and nature. With three exclusive villas, guests enjoy lazy mornings and restful nights, with direct access to the Maldivian waters just a dive away. The villa features essential comforts, including a round bed, bathtub, shower, robes, slippers, and a hairdryer. Guests can relax in a 14-meter private infinity pool, a jacuzzi, or an infinite lagoon, all within their private outdoor deck with sunbeds and a bird's nest swing. Additional amenities include a separate living room area, air conditioning, fans, LUX* bath amenities, a fully-stocked minibar, coffee machine, Earth & Dance water, and modern technology such as WiFi, television, and a phone.
TWO-BEDROOM FAMILY BEACH PAVILIONS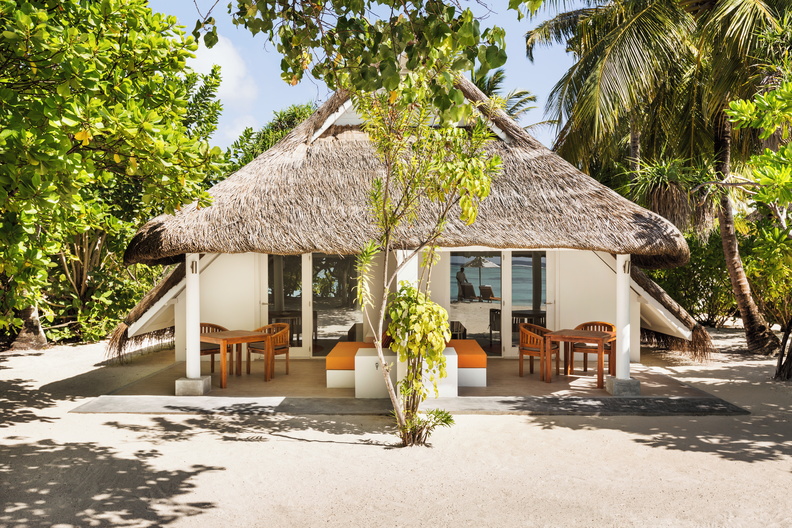 The Two-Bedroom Family Beach Pavilions provide spacious and comfortable accommodations for families and friends seeking a beachfront retreat. Consisting of two interconnected thatched-roof beach bungalows with separate entrances, these pavilions offer enhanced privacy. Each bedroom has a King-size bed and luxe linens, ensuring a restful sleep experience. Guests can enjoy the convenience of two individual private terraces directly on the beach, along with two bathrooms equipped with showers and bathtubs. The pavilions feature essential amenities, including LUX* bath products, robes, slippers, and hair dryers. For climate control, there are air conditioning and fans. Additionally, LUX* South Ari Atoll guests can avail themselves of fully-stocked minibars, coffee machines, Earth & Dance water, and modern technology, including WiFi, television, and a phone.
ROMANTIC POOL WATER VILLAS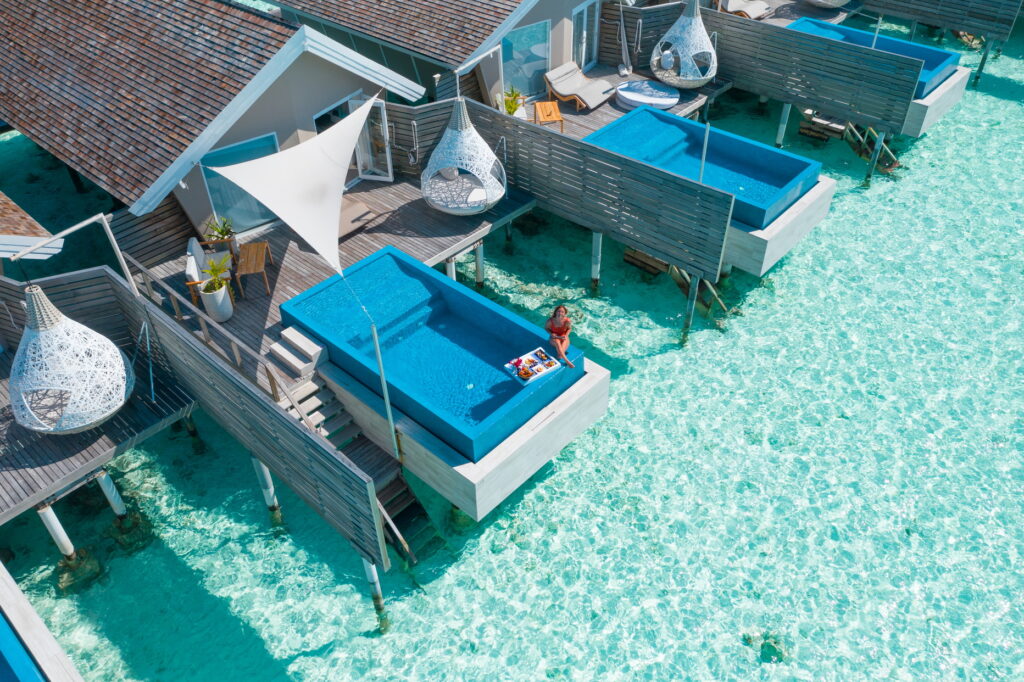 The Romantic Pool Water Villas offer a practical yet luxurious stay, especially popular with couples. Spanning 110 square meters, these villas feature a range of amenities, including King-size beds, a shower, robes, slippers, and a hairdryer for utmost comfort. The outdoor deck provides an infinity plunge pool, sunbed, bird's nest swing, and direct lagoon access. Guests can enjoy entertainment with a drop-down projector above the bed and a home theatre system. Climate control is ensured through air conditioning and fans. The villas have LUX* bath amenities, a fully-stocked minibar, a coffee machine, Earth & Dance water, and modern technology such as WiFi, a television, and a phone.
WATER VILLAS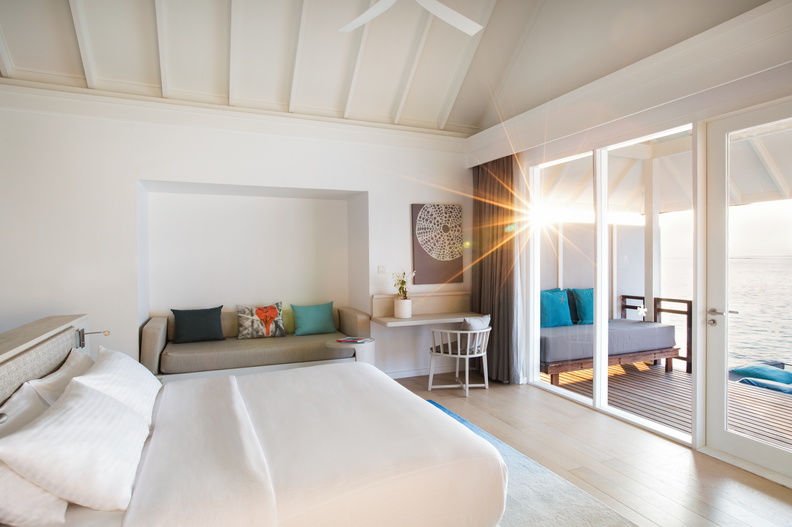 The Water Villas offer a serene retreat for travellers, providing the perfect balance of comfort and adventure. These villas, perched on stilts above the Indian Ocean, allow guests the unique experience of diving directly into the sea from their accommodations. The rooms feature a light and airy design, flooded with natural light, offering a homey ambience. Guests can relax on their private sun terrace, complete with a catamaran net overlooking the lagoon, providing a tranquil space to unwind. The villas are strategically located on both sunrise and sunset sides of the island, offering breathtaking views at any time of the day. Additionally, the natural-light-flooded bathroom with a view and the unique glass floor window add to the charm of this exceptional accommodation choice.
ROMANTIC BEACH POOL VILLAS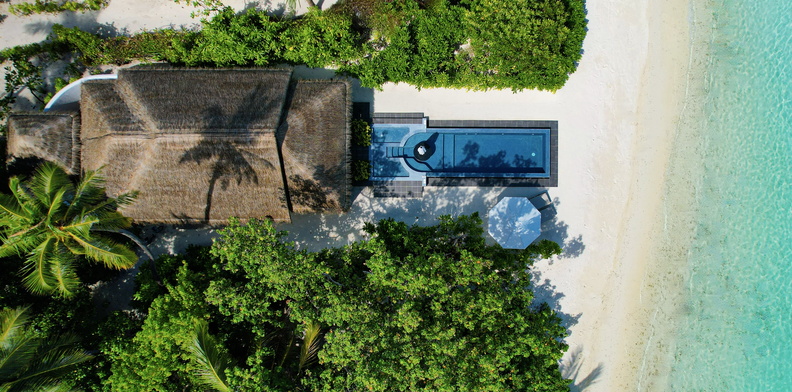 The signature Romantic Beach Pool Villas of LUX* South Ari Atoll features an upscale design with a tropical indoor-outdoor bathroom, including a stand-alone tub for added luxury. Guests can enjoy an infinity plunge pool with captivating ocean views, blending the indoor and outdoor experience. The villa's chic design is complemented by an outdoor terrace overlooking the ocean, providing a serene setting to relax and unwind. Additionally, guests have direct access to a secluded beach with sunbeds, offering a private spot for sunbathing and beach activities.
BEACH POOL VILLAS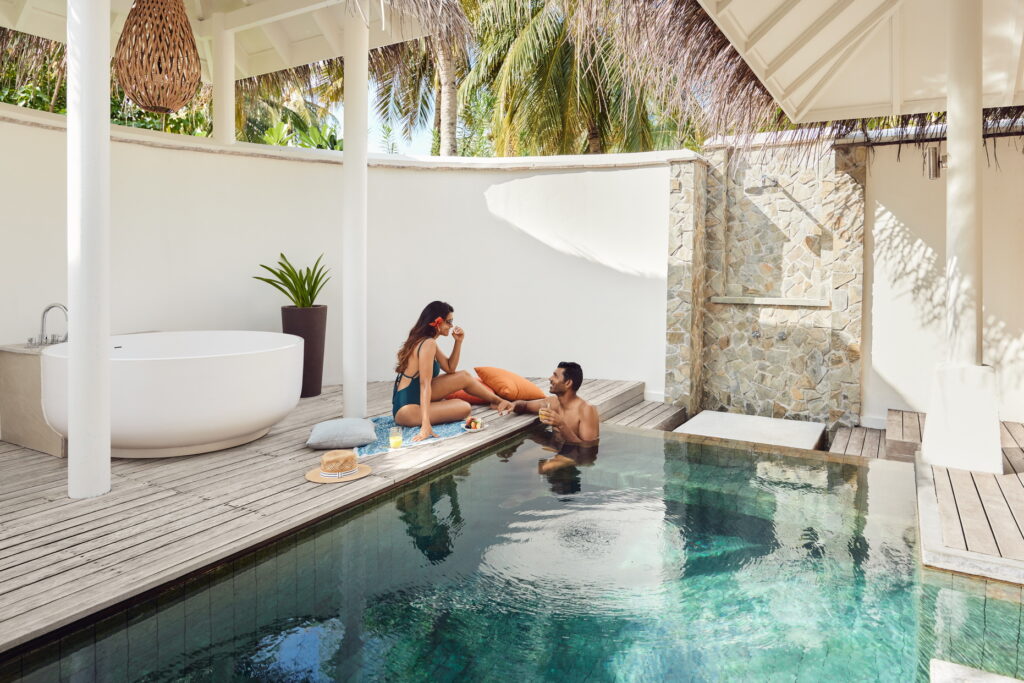 The Beach Pool Villas offer an idyllic beachfront experience with a private pool and outdoor shower situated at the backside of the villa. Located on the sunset side of the island, these villas boast a chic design and a tropical indoor-outdoor bathroom featuring a spacious standalone bathtub. Guests enjoy direct access to the picturesque beach, complete with sunbeds, providing a perfect spot for relaxation and beach activities.
BEACH VILLAS
The Beach Villa is a cosy retreat secluded in lush gardens, providing direct access to the beach and sunbeds for ultimate relaxation. Guests can enjoy the tropical indoor-outdoor bathroom featuring a stand-alone tub, perfect for unwinding after a day of beach activities. The villa's terrace offers breathtaking ocean views, creating a tranquil spot for reading and relaxation. Designed with chic thatched-roof architecture, this villa provides a serene and comfortable stay on the beautiful tropical island of LUX* South Ari Atoll.
FAMILY LAGOON PAVILIONS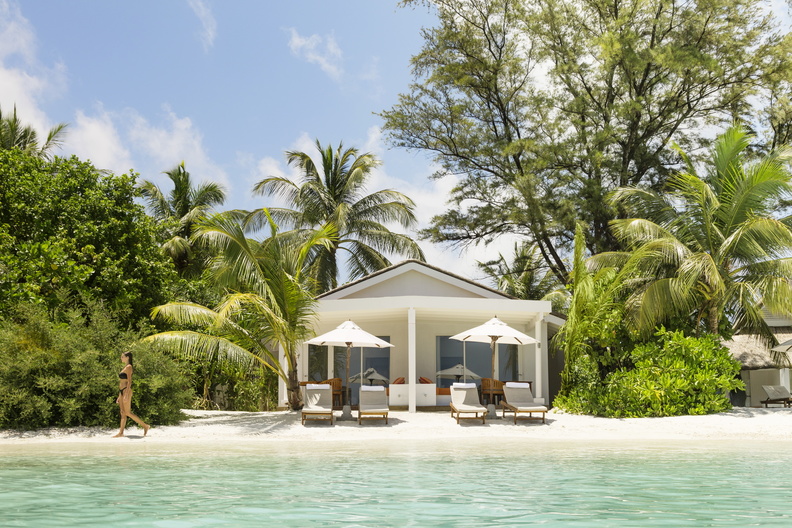 The Family Lagoon Pavilion offers a convenient beachfront accommodation option for families in the Maldives. Designed with a beach chic aesthetic, this pavilion provides direct access to the beach and the ocean. The unit is divided into two separate rooms, each with individual private terraces facing the beach. This arrangement is ideal for families with kids or teens, offering separate entrances for added privacy. Families can enjoy the natural beauty of the island and engage in beach activities right at their doorstep.
BEACH PAVILIONS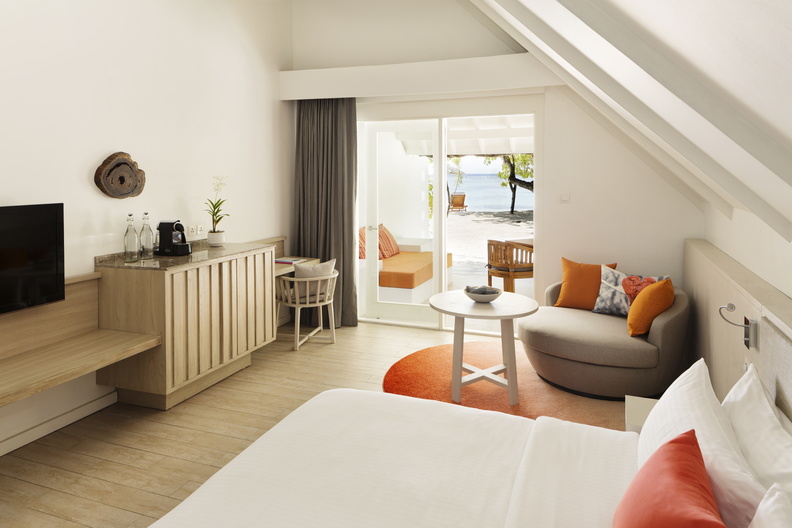 The Beach Pavilions offer a stylish and comfortable stay with direct beach and ocean access. Designed with a chic thatched-roof aesthetic, these pavilions provide private terraces facing the beach, allowing guests to enjoy the natural surroundings. One of the key features is the option to interconnect two units next to each other, making it a suitable choice for families with children or groups of friends travelling together. Guests can experience the charm of living in a beach hut while enjoying all the conveniences of home in this beachfront accommodation.
To book your stay at LUX* South Ari Atoll, visit www.luxresorts.com, email the resort at stay@luxmaldivesresort.com, or call +960 668 0901.