Alila Kothaifaru Maldives Offers a Restorative Retreat Designed At One With Nature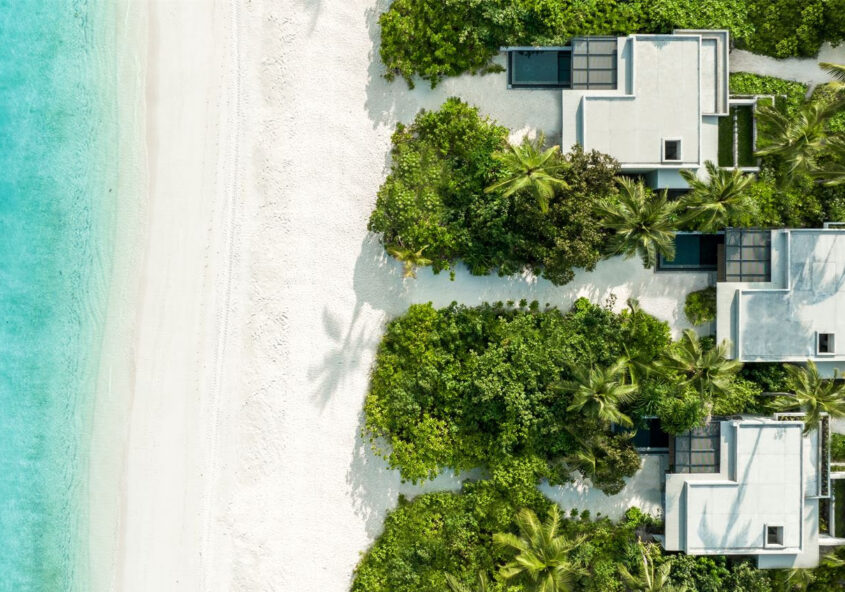 As is the hallmark of every Alila resort, Alila Kothaifaru Maldives is seamlessly designed in harmony with the environment, preserving the extraordinary natural beauty of the destination while creating understated, sophisticated spaces for guests to unwind.
Located on the island of Kothaifaru in the scenic Raa Atoll, the all-pool-villa resort's modern minimalist architecture was designed by Singapore-based Studiogoto, which took its cue from the island's flat topography to create an environment that feels completely at one with nature.
The resort's landscape-oriented design unfolds in terraced layers integrated into the natural surroundings to preserve a sense of intimacy and provide total privacy for each of the 80 beach and water villas while being open to awe-inspiring views.
Against the quiet backdrop of the island's lush vegetation, the low-rise pavilions and villas cascade gradually, creating the experience of living in a garden and looking out towards the ocean. Among the resort's most distinctive features is the tranquil treetop spa, whose elevation amidst the leafy canopy provides natural privacy screening for guests in the spa suites.
Bold architecture with clean lines contrasted with soft natural materials, cultural motifs and organic forms, as well as the balance between intimate and open-air spaces, result in spa-inspired environments that promote relaxation and draw on the restorative powers of nature. Light tones of timber and sand combine with black elements to create a calming yet contemporary palette.

Water Villas
Perched above the turquoise lagoon in a spiral arrangement, the water villas offer a panoramic experience of the ocean with wide floor-to-ceiling glass doors in the open-concept bedroom and living area. Guests can also soak in the ocean view from the infinity pool and sun deck and the indulgent sanctuary of the bathroom, and opt for villas that afford a sunrise or sunset view for another level of incredible.
Guests staying in the beach villas can enjoy the sensation of walking along a forest path as the entrance to the villas is totally concealed by lush greenery, heightening the sense of peaceful seclusion. The villas feature a separate bedroom and living room, and an open-air bathroom in a garden court setting.
At Alila Kothaifaru Maldives, simplicity, sustainability and the physical connections to the natural environment create space for guests to breathe, reflect and be restored.
Third Night On Alila!
From now until 31 July 2022, guests can enjoy a complimentary third night with every two paid consecutive nights, inclusive of breakfast, daily afternoon tea, snorkelling equipment and more.
For reservations, please email: kothaifaru@alilahotels.com or visit https://bit.ly/39dQdUi