Alimathà and the Vaavu's atoll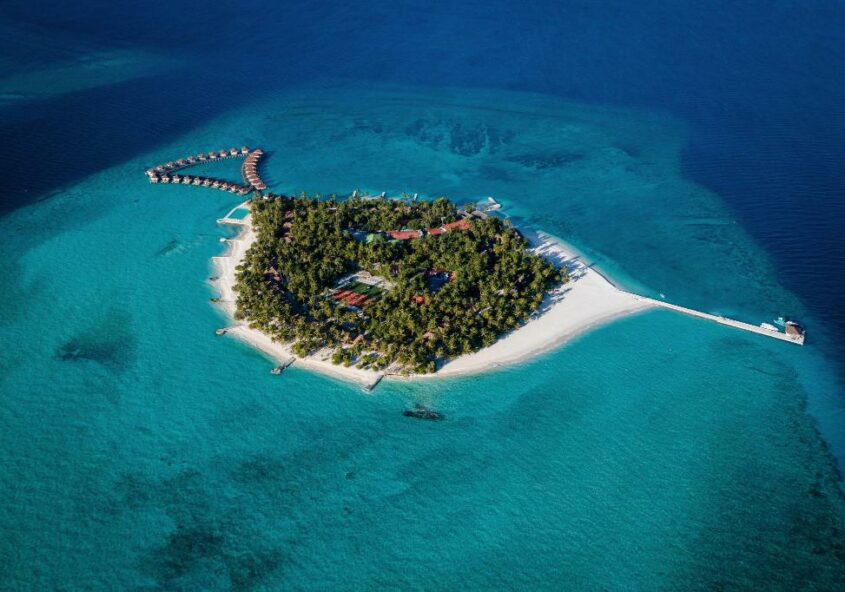 The Vaavu atoll, not far from the equator, is a small diamond in the Maldives archipelago. 65 km away from Male, it can be reached by a 20-minute seaplane flight or an hour and a half boat ride on a fast boat. The capital is Felidhoo and with its 1500 inhabitants it is the least populated atoll of all the Maldives. With its shape reminiscent of a boot that stretches for 11 km in length, the Vaavu atoll can be considered as one of the areas of all the Maldives where nature can be admired in all its splendor. Spectacular dive sites, dreamy beaches and crystal clear waters are the daily setting for this little corner of paradise.
The word Alimathà originally meant "woman's face". The island, seen from above, today has a shape reminiscent of a heart, and has a beach of fine white sand that goes to soak in the waters of the Maldives. It is surrounded by a beautiful and colorful coral reef inhabited by hundreds of species of fish. The Alimathà Resort offers its guests 96 beach bungalows, 34 over water and 26 garden rooms with private gardens.

Alimathà is the perfect combination of relaxation on a beach with white sand and physical activity, from scuba diving to dozens of sports activities that can be practiced on the island.
Article Source: Alimathà and the Vaavu's atoll – Alimatha – Resort Maldive (nakairesorts.com)