Cambodian Prime Minister Visits Maldives for the First Time, Enjoys the Sun and Snorkelling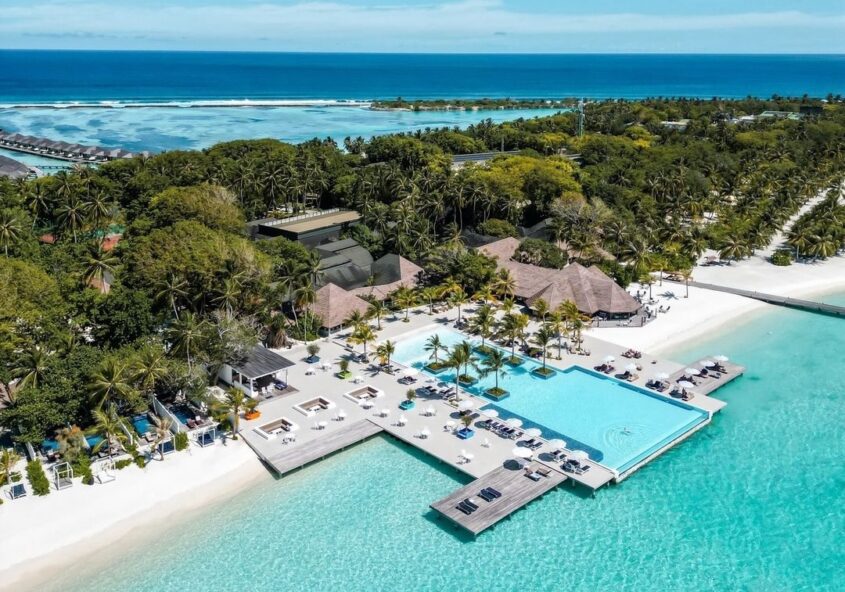 The Prime Minister of the Kingdom of Cambodia, Samdech Akka Moha Sena Padei Techo Hun Sen, arrived in the Maldives on Sunday. According to photographs shared on the official Facebook page, the Prime Minister was observed relishing in the sun and engaging in snorkelling at Paradise Island Resort & Spa. This marks the inaugural visit of Prime Minister Hun Sen to the Maldives.
Paradise Island Resort & Spa is an epitome of luxury, replete with lush vegetation and tropical blooms, offering stunning views of the sea and beaches. The resort exudes a cosmopolitan yet warm and welcoming ambiance, located in a picturesque lagoon not far from the capital city Male'. Situated in North Male' Atoll, the resort is only 9.6Km away from Velana International Airport and takes approximately 20 minutes to reach by speedboat. The island measures 931m in length and 201m in width, providing a secluded and idyllic setting with bright white beaches, a lagoon of deep blues and aquamarines, and towering coconut palms. The resort boasts a network of paved pathways through the lush grounds, connecting oceanfront accommodations, gourmet dining spots, sports facilities, and an inspiring spa. A wide selection of accommodations is available, ranging from spacious bungalows with direct beach access to luxury villas with private hot tubs, each one designed to optimize your time in paradise.
The Maldives is renowned as the 'paradise on Earth' for its pristine coral islands and idyllic tropical lifestyle. The country is home to numerous luxurious tourist resorts that attract millions of travellers from across the globe, including celebrities. These iconic tourist resorts have become a favourite among the rich and famous, and it's not hard to see why.
Feature photo: @simply.madeleine on Instagram