Celebrate the Festive Season with an Opera Under The Sea at Hurawalhi Island Resort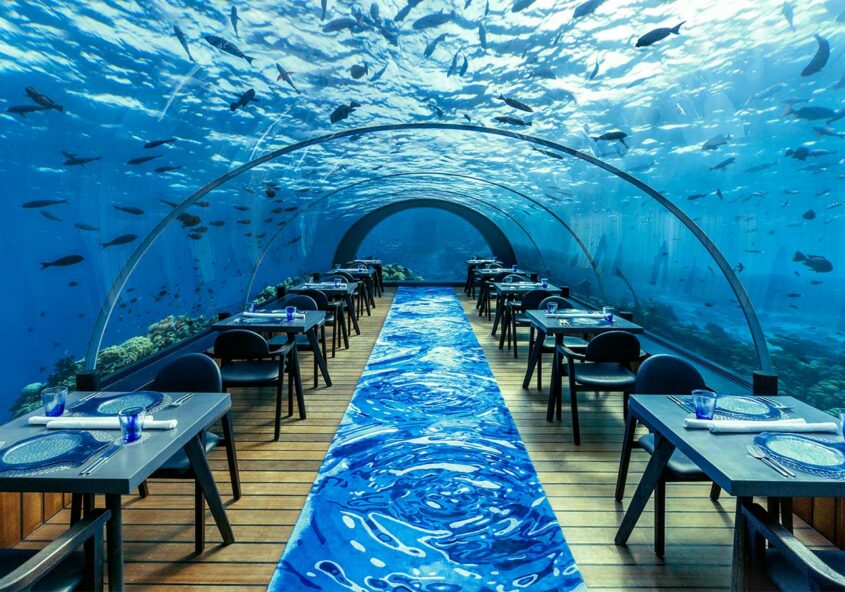 Hurawalhi Island Resort has announced their festive season programme which consists of the most glamourous array of above and underwater activities which includes a musical spectacular unlike any other.
From 27th December – 5th January, guests can enjoy 'Opera Under the Sea' performances by renowned Turkish soprano Burcu Hanci in the 5.8 Undersea Restaurant, surrounded by the extensive marine life of Lhaviyani Atoll and tropical blue waters. The dramatic location of the world's largest all glass undersea restaurant will be matched by equally dramatic performances during the Opera Under the Sea events.
Burcu Hanci, has a very successful international concert career including most recently at the invitation of the Istanbul State Symphony Orchestra and the VOICEISTANBUL International Conference. Now a Soprano Soloist, Hanci performs at special concerts and classical music festivals all over the world and the resort is very much looking forward to her performances at Hurawalhi.
Opera Under the Sea events can be enjoyed by the guests on 27th, 28th and 30th December as well as 1st, 3rd, 4th and 5th January.
Other holiday festivities commence on Christmas Eve with a sunset cocktail party at the resort's Champagne Pavilion before a Christmas Market Dinner. Guests can dine on an array of local and seasonal specialties and listen to a bit of live music from a local band who will play straight through to Christmas day.
Between the Christmas and New Year period, there are plenty of opportunities for guests to enjoy the marine life surrounding Hurawalhi by joining a bioluminescent night dive to see the reef glow, snorkel trips to swim with green sea turtles and manta rays or a Jet Ski safari/stand up paddleboard trip in search of dolphins. Be entertained by the selection of bands performing throughout the festive season or even relax at Duniye Spa, with pamper packages to prepare for the New Year.
The holiday festivities close out with a New Year's Eve celebration including a cocktail party on Dream Island where "guests can wave goodbye to the final sunset of 2021 with champagne and canapés before the grand gala dinner, a lavish event accompanied by live music throughout the night."
Set on an enchanting private island in the pristine Lhaviyani atoll, Hurawalhi Island Resort is much like your relationship: it is a perfect match of serenity and excitement, comfort and adventure; it stirs up your every atom with an intricate blend of intimacy and thrill. The 90-villa, adults-only luxury resort is as brilliant as the ocean that laps against its beaches. You can swoon over photos of the Maldives, but nothing will prepare you for the beautiful blend of barefoot bliss and contemporary design found here.
For more information please visit https://www.hurawalhi.com and email reservations@hurawalhi.com for bookings.