Discover the Perfect Paradise with Crown & Champa Resorts in the Maldives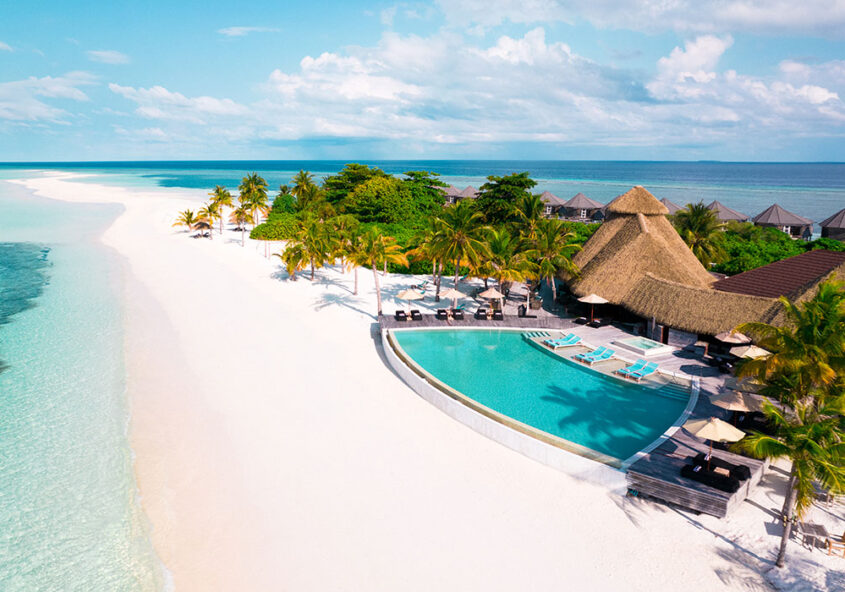 The postcard-perfect paradise of the Maldives is home not only to some of the best beaches in the world but also to a multitude of top-end resorts. Each resort lies on its own secluded private island, with distinctive character and style, offering a dreamy sanctuary of palm-fringed beaches, unbelievably blue lagoons, and captivating ocean views.
Crown & Champa Resorts cater to every purpose of travel, whether it is an island resort with a vibrant house reef, a fully-inclusive one with bespoke experiences, or even an adults-only island retreat. You can discover the perfect paradise for you from the selection of their resorts.
Best Maldives Resort for Sustainable Luxury: Kudadoo Maldives Private Island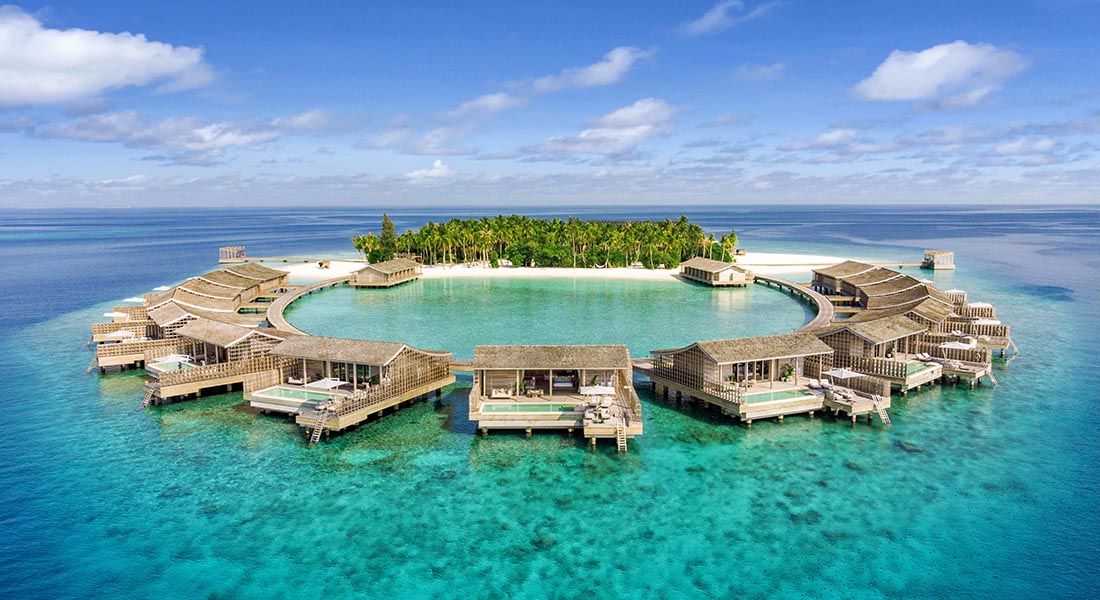 If you are dreaming of a Maldivian tropical paradise with an eco-sustainability, low-impact approach, Kudadoo is for you. Located in the pristine Lhaviyani Atoll, Kudadoo Maldives Private Island is an eco-luxury retreat that offers a magnificent and luxurious paradise for the most discerning of travellers. Since its inception, the environment and sustainability have always been at the heart of every aspect of the resort; its structures were built using sustainably sourced materials and integrated atop is Kudadoo's environmental heart – an impressive array of panels that harnesses energy from the sun, providing enough power for the entire island.
Best Maldives Resort for Barefoot Bliss and Enchanting Adventures: Hurawalhi Maldives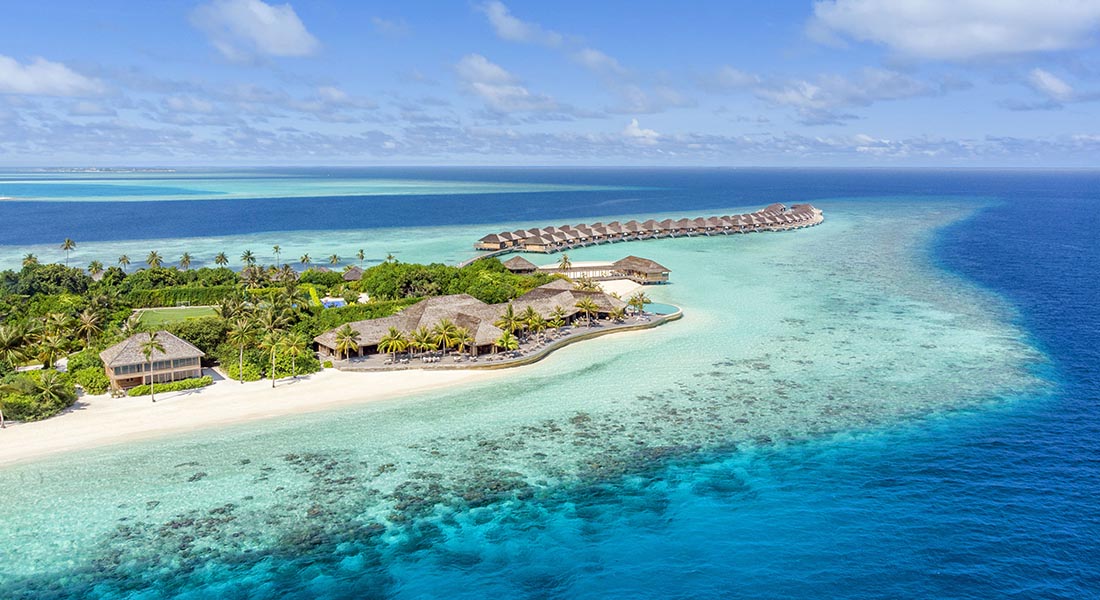 Fill your days with an unsparing amount of extraordinariness at the adults-only luxury island resort of Hurawalhi Maldives, where every guest stay promises a perfect balance of barefoot bliss and enchanting adventures. The naturally chic resort is blessed with a high diversity of sea life, with several fish and coral species thriving in the house reef and a manta ray feeding and breeding ground just 150 m from the beach. Guests and marine life enthusiasts alike can experience world-class diving and snorkelling here. Moreover, gourmet travellers can enjoy dining at 5.8, the world's largest, all-glass undersea restaurant, a picnic on a deserted island, or a beach dinner for two under a blanket of starry skies.
Best Maldives Resort for Spa & Wellness: Kagi Maldives Spa Island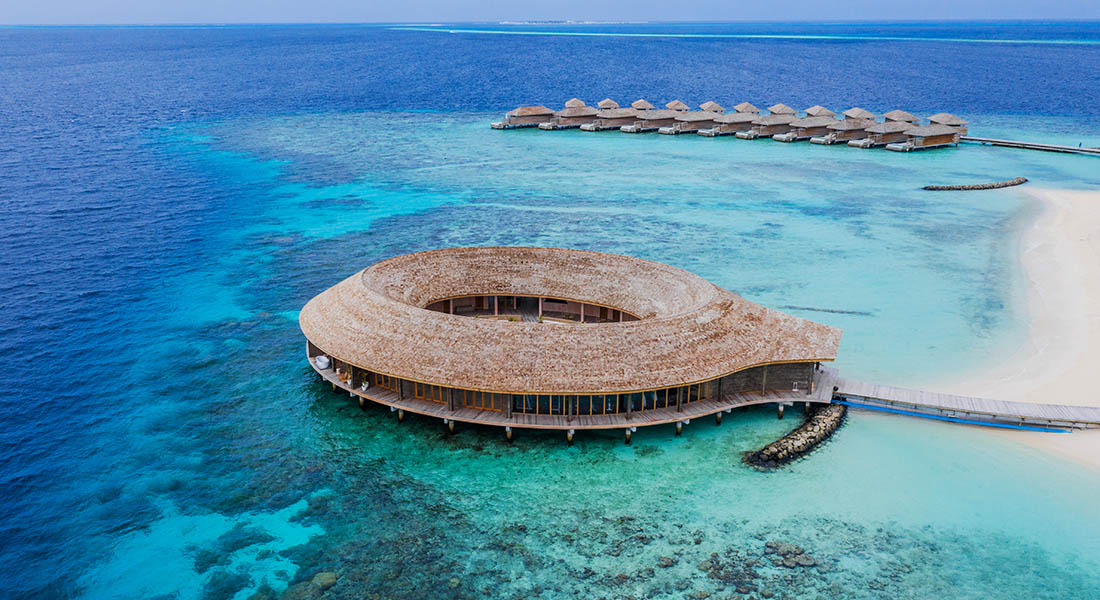 Being the first wellness retreat in the country, Kagi Maldives Spa Island is the go-to island for wellbeing and total relaxation. It features 50 luxury pool villas, a 1500 sqm spa complex called The Baani Spa that affords guests rejuvenating massages and soothing facials. On top of that, this wellbeing-focused resort offers signature 'Lifestyle Retreats' that provide a comprehensive programme consisting of yoga, meditation, holistic healing, good-for-you meals, and locally-inspired experiences.
Best Maldives Resort for Romance: Veligandu Island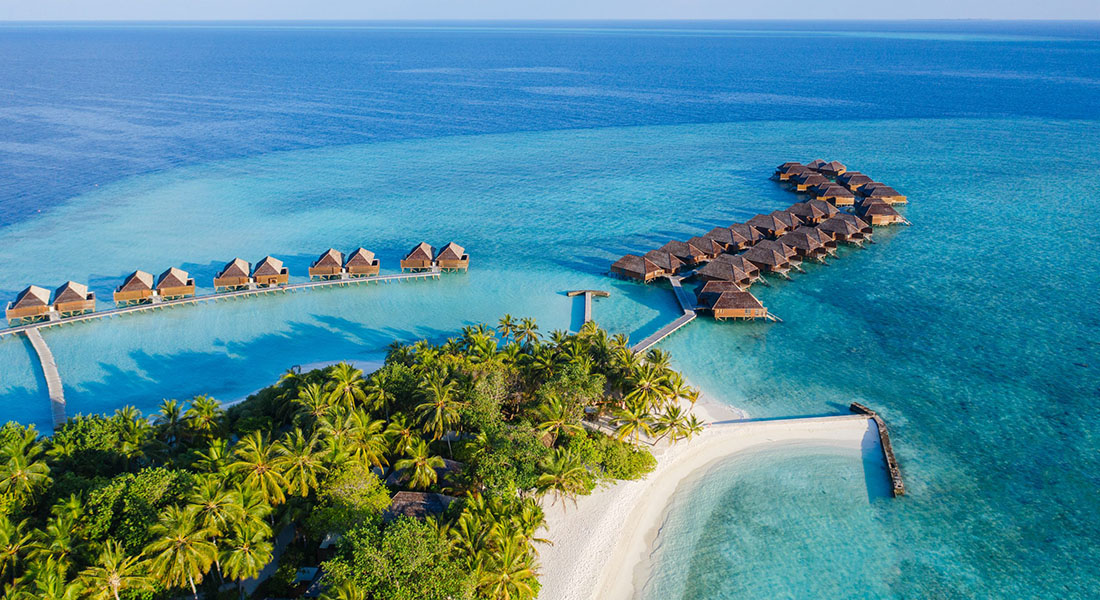 Planning a dreamy tropical island honeymoon? Seek no further than Veligandu Island Resort & Spa. Offering a secluded island of silky-soft white-sand beaches, two vibrant house reefs, crystal-clear lagoons, and upscale bungalows perched over the shimmering sea, Veligandu can make the honeymoon of your dreams in paradise come alive. What makes this Maldives island stand out are its white sandy beach (voted the world's best), the relaxed Thundi Bar that offers a front-row seat to inspiring sea views, and a myriad of things to do for couples such as private dining on the beach, luxury yachting for two, and renewal of vows amidst the fascinating beauty of the Indian Ocean. Intimate and serene, Veligandu Island is the perfect escape for couples seeking romance — or anyone who wants to simply relax in an idyllic island paradise.
Best Maldives Resort for Adults-only Escapes: Komandoo Maldives
Komandoo Island Resort & Spa is nestled on its own private island in the pristine Lhaviyani Atoll and is recognised as the only true adults-only (18+) resort in the Maldives. This boutique, couples-focused resort is sure to delight honeymooners and romantic travellers alike with its intimate atmosphere and inspired tranquillity. Here, romance and relaxation come naturally, with poolside enjoyment, renewing spa treatments, snorkelling in the easily accessible house reef, dolphin-spotting, and private dining experiences. But what makes guests keep on coming back to this paradisal island retreat is the genuine hospitality of the Komandoo Champions who love nothing better than to give their very best when it comes to service.
Best Maldives Resort for Families: Meeru Island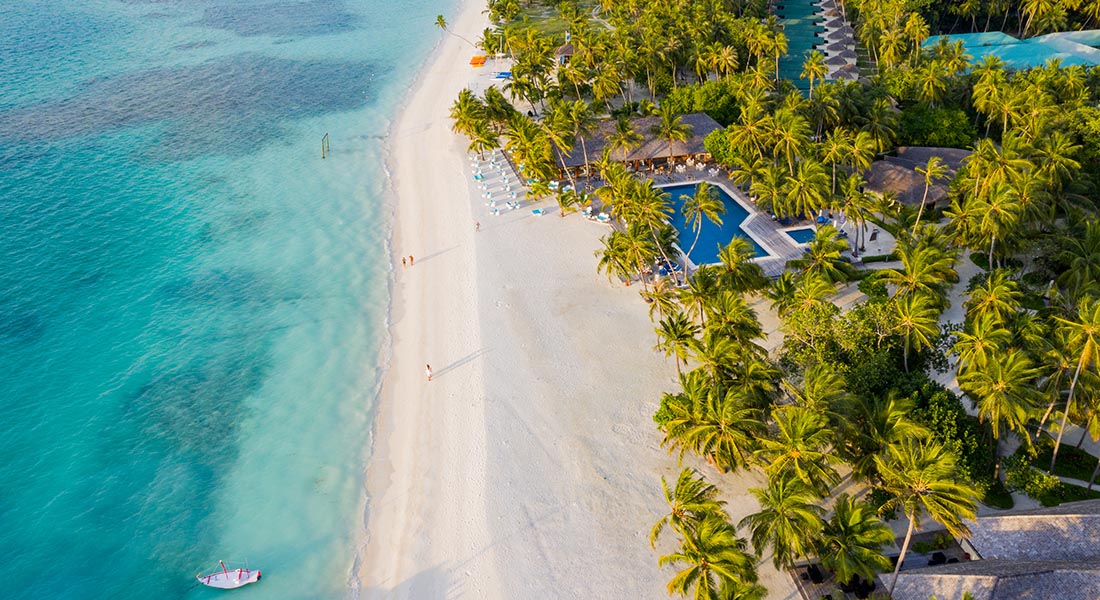 Parents and their children will have lots of family fun in the sun in the palm-fringed paradise of Meeru Island. Offering a truly classic Maldivian experience, the resort comes with facilities and services for holidaymakers of all ages to enjoy, including a brilliant kid's club, infinity pool with a dedicated children's area, family villas, and various restaurants & bars. A plethora of things to do are also endless here. Land-based activities include golfing, bicycling, beach volleyball, and tennis, while almost everyone enjoys swimming, kayaking, and snorkelling in the aquamarine lagoon.
Best Maldives Resort for Adventure: Vilamendhoo Island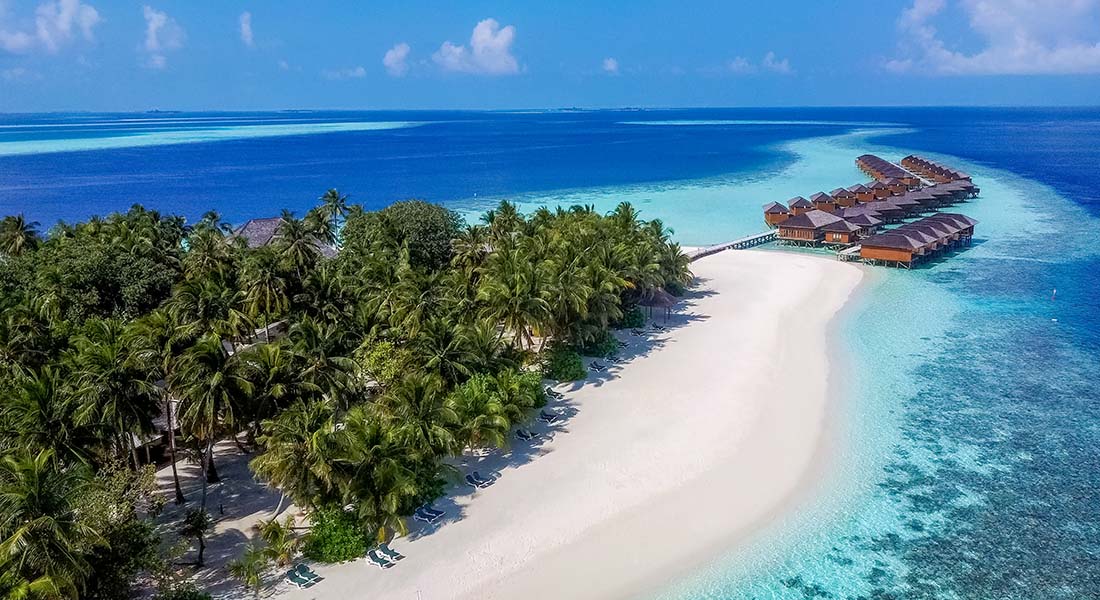 On the island of adventure of Vilamendhoo, guests can enjoy a vacation experience that is both relaxing and thrilling. Days can be spent lazing on the palm-lined beach, relaxing at award-winning Duniye Spa, or sipping tastefully crafted cocktails by the pool. However, those who wish to fill their days with adventure may find themselves exploring the crystal-clear lagoon with kayaking, catamaran sailing, and snorkelling. What is more? Vilamendhoo is in close proximity to the Maldives' whale shark and manta ray hotspots, allowing divers and ocean lovers to experience marine life encounters unlike any other.
Best Maldives Resort for Entertainment and Dining: Kuredu Island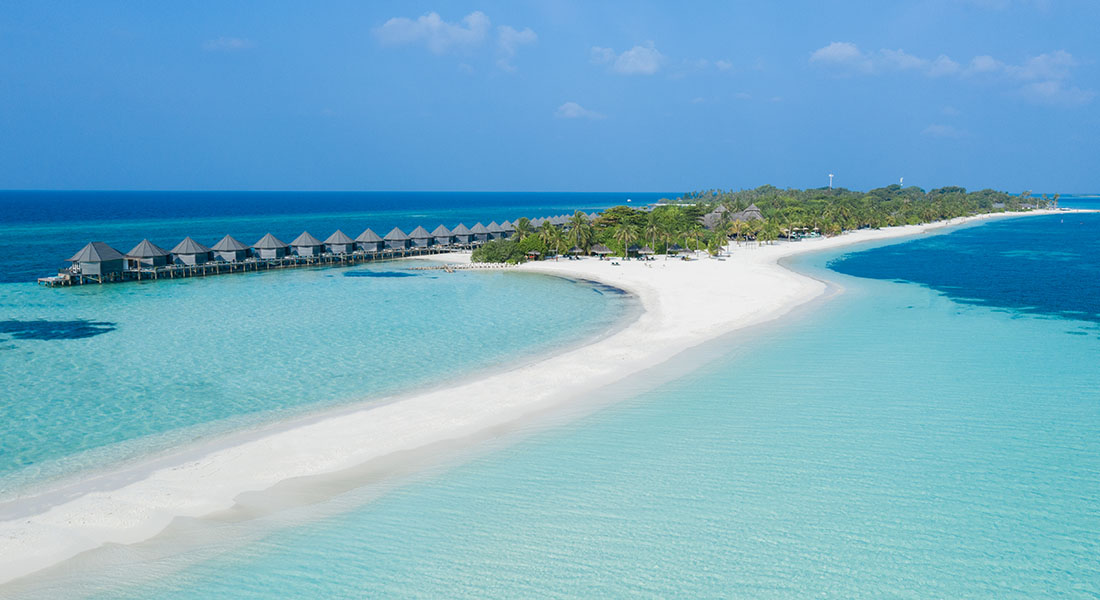 Entertainment and exceptional dining experiences come as standard at the vibrant, action-filled Kuredu Island Resort & Spa. Families, friends, couples, and even solo travellers have plenty of opportunities to enjoy a weekly schedule of entertainment choices, from movie nights, the resort's signature White Party, live music, and Maldivian cultural shows. In addition to that, the resort has no shortage of exceptional culinary experiences with an extensive portfolio of 14 restaurants & bars, including à la carte cuisine, fine dining on the menu, and various destination dining options.
Best Maldives Resort for Relaxation: Innahura Maldives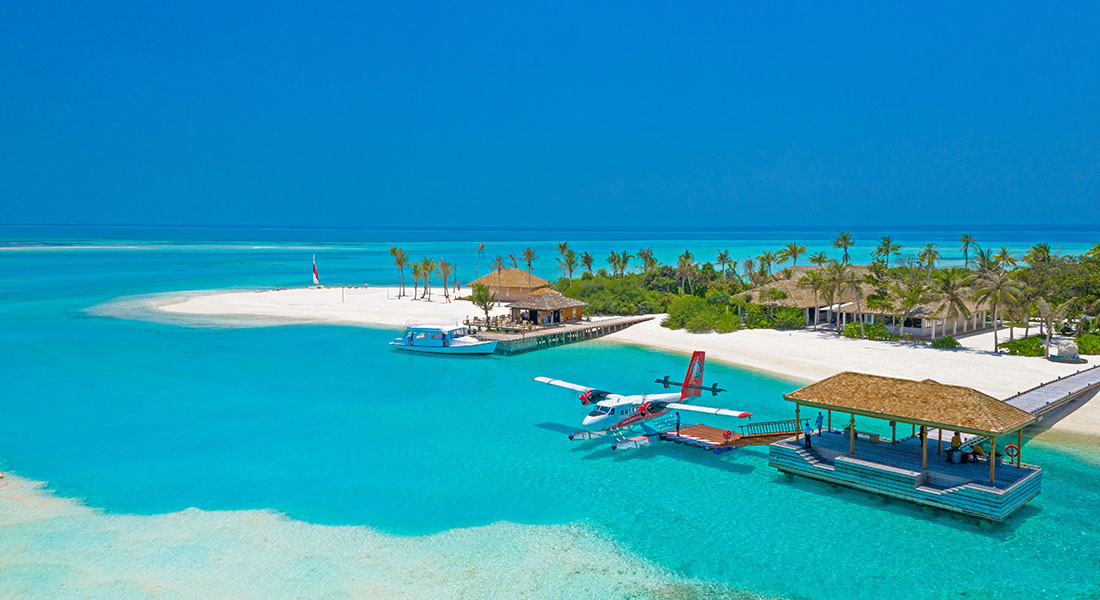 Guests looking to enjoy an easy life can find their way to the laid-back paradise of Innahura Maldives Resort. They can spend their days whiling away the time with a good book, scuba diving with manta rays, lazing on the white sandy beach to their heart's content, or exploring the unbelievably blue lagoon with water sports. At Innahura, they can do as much or as little as they wish. Perfect for families, solo travellers, couples, and groups of friends, Innahura Maldives Resort offers not only plenty of sun, sea, and sand, but also a holiday experience filled with "Here, Life Is Easy" moments.