Enjoy a Week of Free Events at CROSSROADS Maldives with Complimentary Transfers!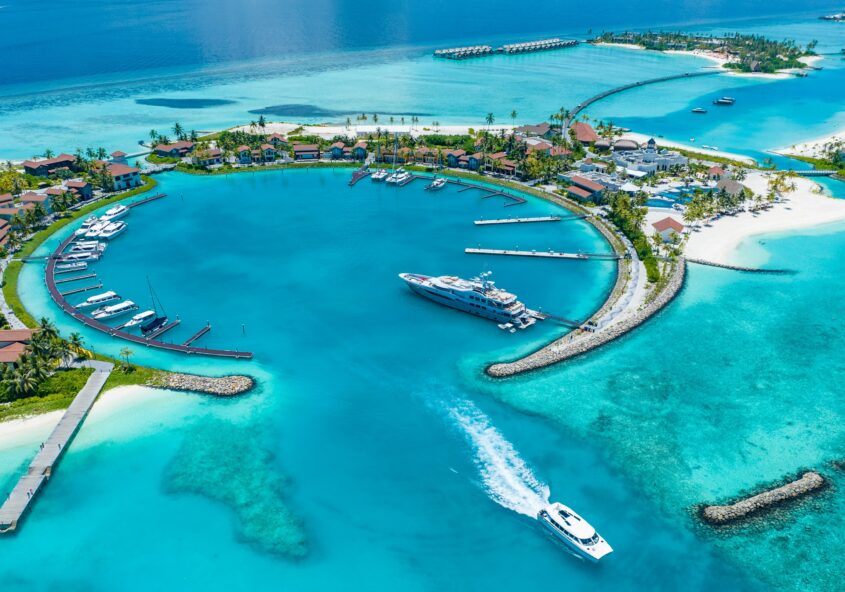 CROSSROADS Maldives is offering complimentary boat transfers from July 14th to 20th! The offer allows visitors to take advantage of the diverse array of events available at the Marina, Hard Rock Cafe, Island Lounge, and Saii Beach Club.
Immerse yourself in a world of unparalleled excitement and entertainment at CROSSROADS Maldives. This exclusive offer provides access to a captivating lineup of events set against the backdrop of the breathtaking Marina, vibrant Hard Rock Cafe, luxurious Island Lounge, and serene Saii Beach Club. Prepare to be swept away by unique festivals brimming with infectious energy and enchanting rhythms. Mark your calendars for the highly anticipated BCC Vunadhaana Festival 2023, taking place from July 14th to 15th, featuring captivating live performances by local bands.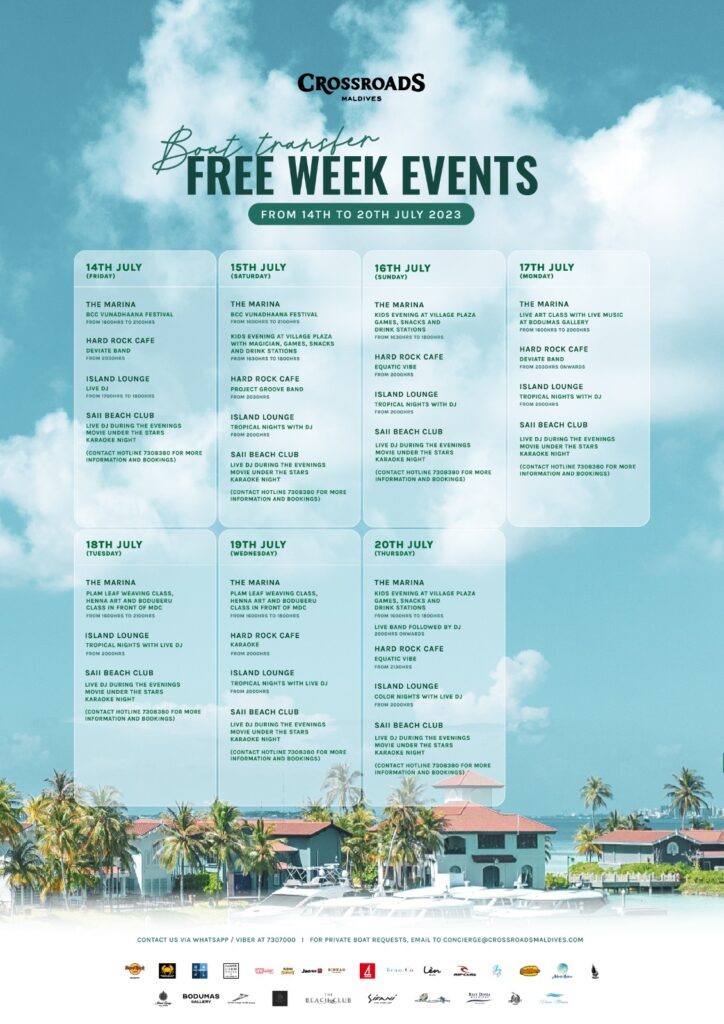 Experience the finest dining at The Marina CROSSROADS Maldives with an irresistible combo package starting at 499 MVR per person. Available for 2 to 10 guests, priced at 3999 MVR, this offer includes exceptional dining options at Kinkao Thai-bistro, Kebab Kurry, and Jiao Wu. Don't miss out on Saii Beach Club's special holiday package and activities for families from July 1st to 31st. Treat 4 people for the price of 3, only $160 NET, or gather a group of 6 and pay for only 5, just $60 NET. For a delightful family-friendly experience, visit the renowned Hard Rock Cafe. Kids aged 12 and under can enjoy a mouthwatering meal from the kids' menu with a complimentary drink from July 14th to 20th, 2023. Children also receive a free meal with every adult entrée at Hard Rock Cafe. At Dharshan Restaurant, children under 12 can choose from 3 delectable meals, while accompanying guardians enjoy a generous 20% discount on the total bill from June 23rd to August 5th.
The schedule for the complimentary transfers includes 18 departures to CROSSROADS from Sunday to Saturday, with the earliest departure at 10:45 am, and 17 return trips to Male, with the earliest departure at 2:00 pm and the latest at 11:45 pm. On Fridays, there are no ferry timings between 12:15 pm and 1:00 pm. Additionally, from Thursdays to Saturdays, there are four departures from Hulhumale, with the earliest at 11:00 am and the return at 5:00 pm earliest. Departure from Hulhumale' to CROSSROADS Maldives will be from Lakudi Jetty 1 & 2, and the departure from Male' will be from the ticketing lounge located on Boduthakurufaanu Magu, Male'.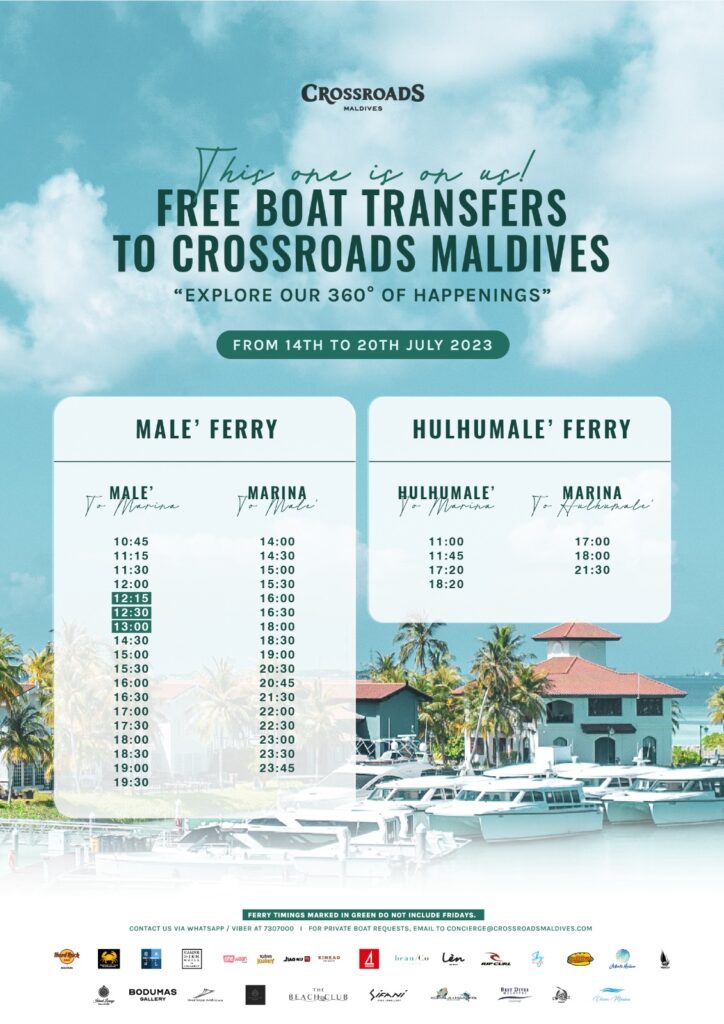 First opened in 2019, CROSSROADS Maldives is home to an exceptional collection of recreational facilities, including two internationally branded five-star resorts, eclectic restaurants and lounges, world-class wellness, speciality shopping, cultural attractions, energising activities and a large marina, all surrounded by powder-soft sands, turquoise lagoons and shimmering seas. Located in the South Malé Atoll just 15 minutes from Velana International Airport, this is an outstanding destination for global explorers seeking a short or extended escape in paradise.
For further details please visit www.crossroadsmaldives.com. For any assistance, WhatsApp or Viber at 7307000 or email concierge@crossroadsmaldives.com.
To book your transfers, visit https://app.crossroadsmaldives.com/.