Find the Right Gift for Any Occasion! Milaidhoo Launches E-Gift Card Programme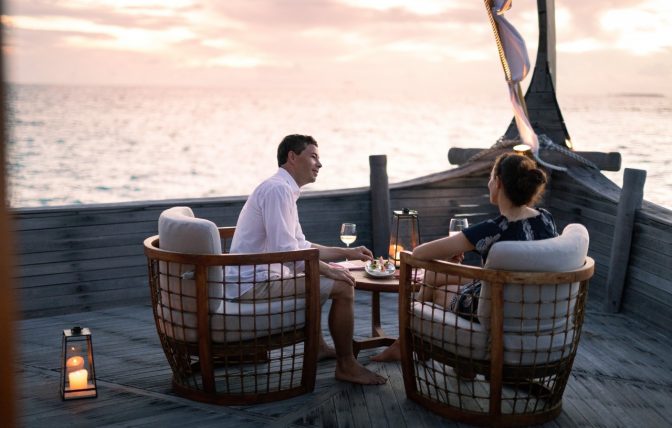 Make a change in the holiday of someone you adore by giving memories and meaningful experiences with the newly launched e-gift card programme from Milaidhoo. An e-gift card enables a well-wisher to enhance the holiday for recipients during their stay at the resort. It is always a good time to give friends or relatives a present. With a Milaidhoo e-gift card, you can find the right gift for any occasion.
1. Gift Occasions and Experiences
This is the best gift idea for a couple celebrating a wedding or anniversary as well as adding a welcome surprise to the recipients' vacation at Milaidhoo. You can select a defined Milaidhoo experience – such as a floating breakfast in the villa or a romantic sunset cruise – or an e-gift card that can be redeemed for whatever the recipients choose.
E-gift cards are also ideal to give as a last-minute present. The e-card will be sent upon purchase to the recipients and can even be received and redeemed if the lucky ones are already on holiday at Milaidhoo.
2. Meaningful and sustainable Gift Ideas
An e-gift card is a sustainable, environment-friendly present as it does not come in any wrapping or boxes, but simply as an email. To really make a lasting difference, give a personalised coral tray to your loved ones, a gift that truly matters and creates a positive impact. Our Ocean Stories team will send regular updates on the development of the corals and of the marine life that finds a new home in the Coral Tray.
The e-gift card can also be redeemed for a meaningful experience like a bottle of champagne on a special day or a surprise dinner under the stars on the beach. The e-gift card enables you to add special moments to the recipient's' holiday at Milaidhoo, inspiring memories that will last for a lifetime.
3. How to redeem an e-gift card
Purchasing and redeeming an e-gift card is easy. After you purchase the e-gift card on the website, it will be sent to the recipient via the email address you provide. E-gift cards can also be redeemed at check-out towards the recipient's extras.
For advance booking of an experience, the e-gift card recipient should get in touch with reservations@milaidhoo.com attaching proof of possession of the e-gift card (an email or screenshot) together with confirmation of their reservation.
Explore Milaidhoo's e-gift platform here – https://milaidhoo.giftseye.com/