Flying Sauces: Fine Dining Soars to New Heights at Soneva Fushi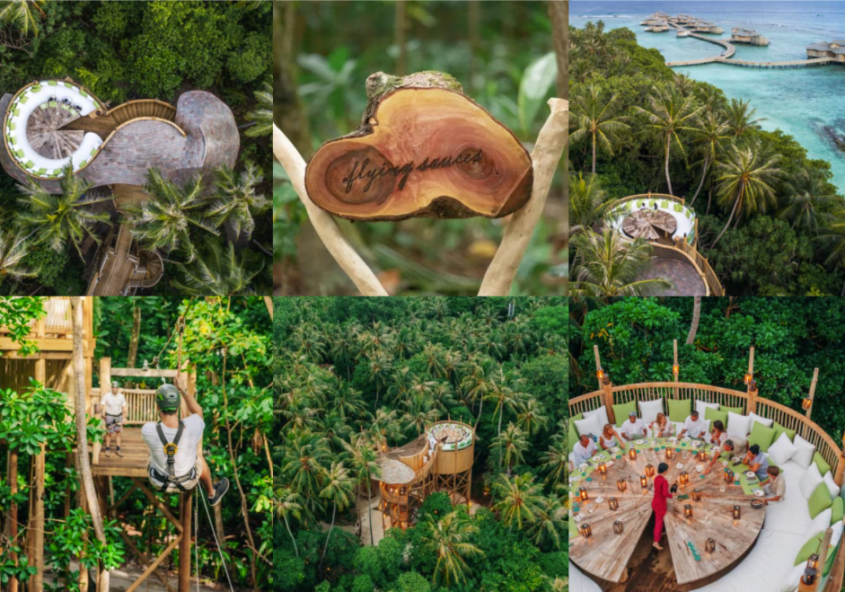 Introducing Flying Sauces, the exhilarating new culinary concept at Soneva Fushi. This first-of-its-kind dining destination is set to become a true bucket list experience for gastronomes and thrill-seekers alike, combining the adrenaline-fuelled excitement of a zip line with an exquisite gourmet menu.

With a delectable gourmet menu, breath-taking views over the leafy forest and the adrenaline rush of zip lining through the treetops – the Flying Sauces zip line is a dining experience like no other!
Starting from The Den, glide along the 200-metre zip line route to the elevated dining platform – at 12 metres above the ground, it has exceptional views across the sparkling ocean. Once there, Chef Rasal will prepare an exquisite seasonal menu in the open treetop kitchen, paired with a selection of the finest wines from Soneva's extensive cellars.
Flying Sauces serves a seasonal menu for breakfast, high tea and dinner, with dishes inspired by ingredients freshly picked from Soneva Fushi's organic gardens and seafood that has been sustainably caught by local fishermen.

An experience to remember – the zip line takes a scenic route through the forest at a height of 5 to 10 metres – with towering platforms and rope bridges along the way. Operating during daylight hours only, the zip line takes approximately 1 hour 15 minutes; the Flying Sauces dining experiences take an additional 1 hour for breakfast and high tea, and 2 to 3 hours for dinner. Each Flying Sauces experience is suitable for a maximum 10 to 12 guests aged 8 and above, divided into 2 groups of 6 guests.
For more information and bookings, please visit https://soneva.com/dining/flying-sauces/?utm_source=edm&utm_medium=others&utm_campaign=FlyingSauces