Discover Tranquil Luxury at Grand Park Kodhipparu — Your Exclusive Maldivian Hideaway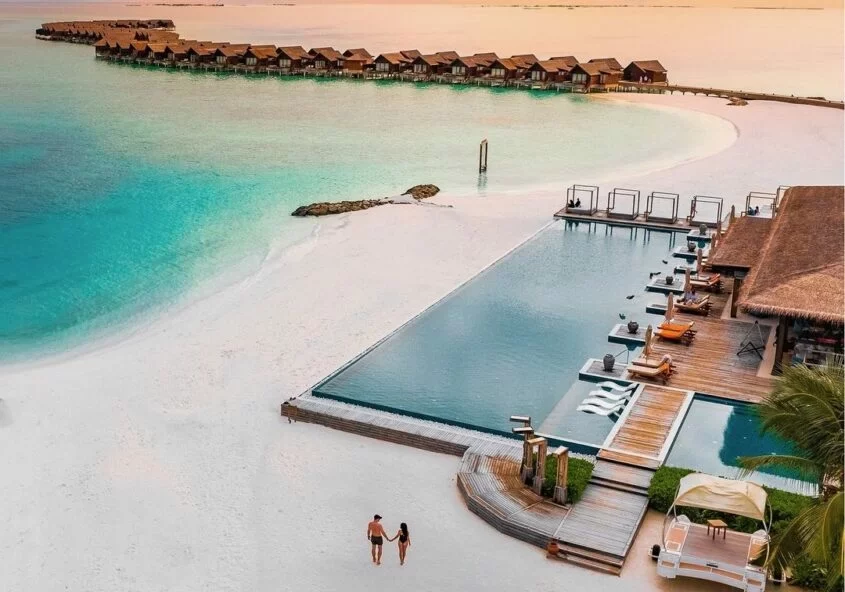 In the heart of the Maldives, a symphony of barefoot luxury unfolds at Grand Park Kodhipparu — an oasis that epitomizes the art of indulgence. A captivating boutique resort experience, it has effortlessly captured the spotlight, earning accolades and adoration. It is a refuge for those with an affinity for a distinctive fusion of opulence and an easygoing, exotic charm.
A Symphony of Beaches and Activities
What sets Grand Park Kodhipparu apart is its luxurious accommodations and the diverse array of experiences it offers. The resort boasts four distinct beaches – Wai, Veli, Dhigu, and Divehi – each with its allure. Guests can explore a different beach each day, indulging in sunbathing, snorkelling, windsurfing, or leisurely cycling along the overwater pathways that weave around the island.
For adventure enthusiasts, Kodhipparu offers many activities, including coral reef dives, parasailing for breathtaking lagoon views, and serene sunrise and sunset yoga sessions with the resident yogi.
Culinary Indulgences
Grand Park Kodhipparu Maldives goes beyond being a tropical escape; it's a culinary haven where diverse flavours and traditions converge in a symphony of taste. The resort prides itself on a dynamic culinary team with chefs worldwide, each contributing unique skills to the dining experience. Their culinary philosophy centres on the belief that food transcends boundaries, acting as a universal language that unites people.
The kitchen at Grand Park Kodhipparu is more than a functional space; it's a vibrant canvas where talented chefs craft dishes reflecting the richness of global diversity. Embodying camaraderie and teamwork, the kitchen fosters an environment of peace and harmony, celebrating differences that strengthen the team and making the culinary experience a true reflection of unity in diversity.
Family-Friendly and Romantic Escapes
Grand Park Kodhipparu welcomes families with open arms, offering a special treat for the little explorers. Children can stay and dine free of charge, indulging in activities like cupcake decorating or enjoying a movie under the stars with popcorn.
For those seeking a romantic touch, the resort provides a dedicated lifestyle host service, allowing guests to arrange special moments like floating rose petals in their private pool, a secluded beach candle-lit dinner, or even a swoon-worthy proposal in a secret island corner.
For more information about Grand Park Kodhipparu Maldives please visit https://www.parkhotelgroup.com/north-male-atoll/grand-park-kodhipparu-maldives.