Grand Park Kodhipparu Maldives Takes Lounging Overwater to New Heights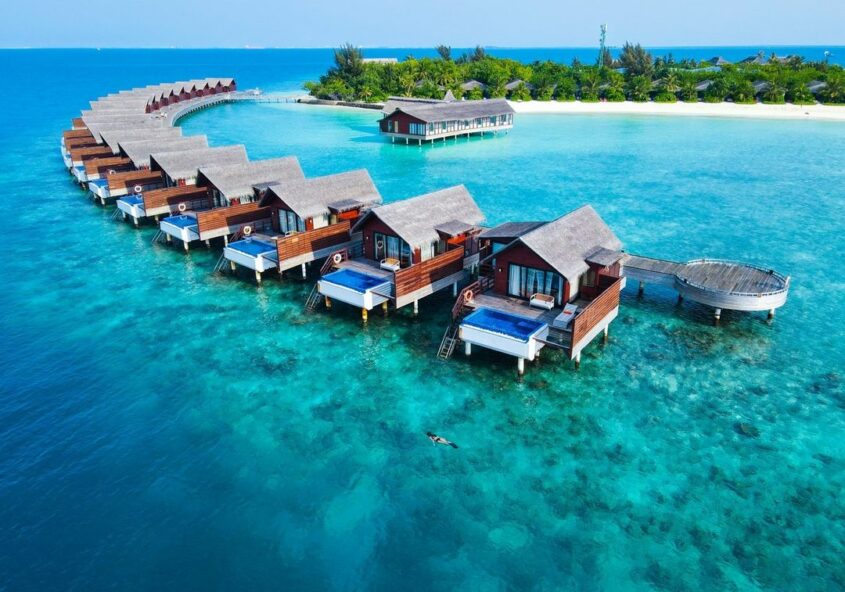 Everything new and trendy in waterports from e-catamarans, jet-skis for kids and water biking now available exclusively at Grand Park Kodhipparu, Maldives.
Enjoy an ecstatic luxury leisure experience at Grand Park Kodhipparu, as you pedal your way through the azure Maldivian waters in the newly introduced trendy electric catamarans, water bikes and jet skiing for kids.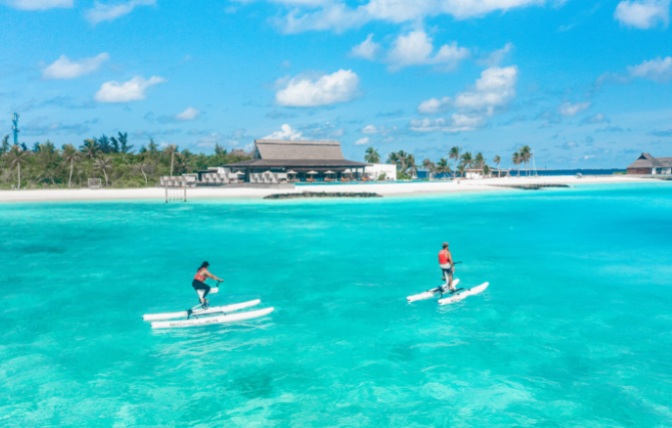 The state-of-the-art e-catamaran makes its way over to Grand Park Kodhipparu Maldives as an easy yet fun-filled marine sports equipment that gets added to the galore of aquatic adventure possibilities at the resort. Kick your Pinterest-worthy holidays up a notch and graze your way across the ocean at your own pace sans the impact on the environment, as these are eco-friendly; the perfect way to make moments in time and leave no carbon footprint behind.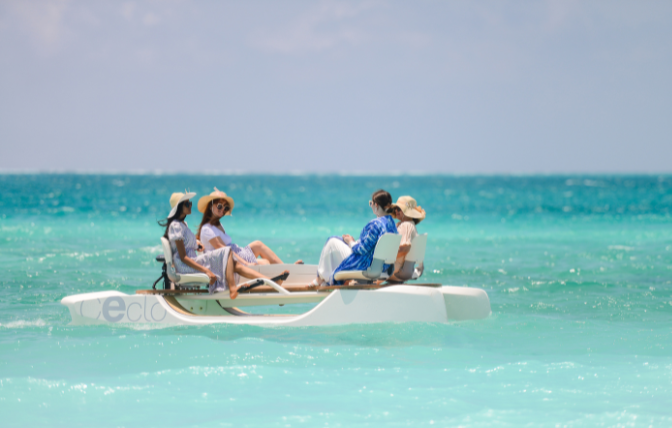 The e-catamaran is extremely limited in the Maldives and is specially designed for a luxurious experience overwater with an easy-to-manoeuvre two-seater or four-seater options, fit for families and partners alike. What's most exciting about these e-catamarans is that you don't need to be a pro water sports fan or an avid adventure seeker, as the ergonomic design allows you to carefully manoeuvre your way smoothly and safely across the waters. The experiences Marine Sports Center team at Grand Park Kodhipparu Maldives takes special measures to ensure that the experience is as effortless as possible with safety gear and clear instructions in place.
In addition to the e-catamaran, Grand Park Kodhipparu Maldives also introduced Jet-Skid, jet skiing for kids which makes the kids have just as much fun overwater, as the grown-ups. The Jet-skid is a unique and novel concept in the Maldives that any child between the ages of 8 – 12 can enjoy freely.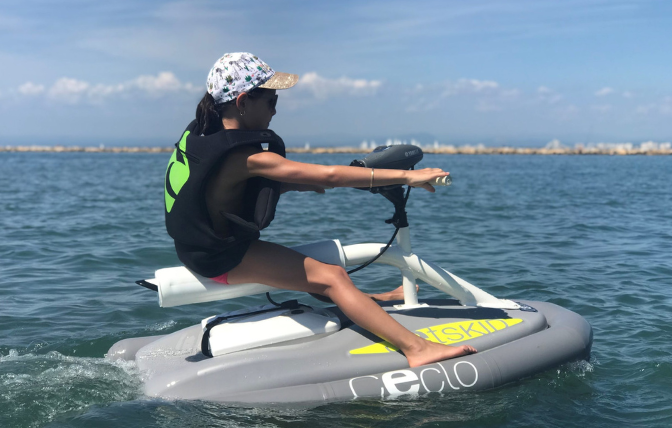 Last but not least, in an attempt to enhance the watersports experience for the guests, Grand Park Kodhipparu Maldives unveiled the third piece of equipment, a personal favourite of the Olympic gold medalist Michael Phelps – the incredible water bike. This is an extraordinary machine designed to propel you across the water. Water biking is the penultimate human sporting experience for a healthier and more adventurous watersports experience. It's a lot more like riding an exercise bike, which is basically what the Schiller is, only a million times more interesting.
Did you know that the resort also offers a special package exclusively for water sports lovers, to make the best of their holiday with a range of activities and special savings on villas?
Adventure Getaway – https://www.parkhotelgroup.com/north-male-atoll/grand-park-kodhipparumaldives/offers/adventure_getaway
With the Discover Maldives offer the guests can enjoy a host of savings and benefits.:
Luxury accommodation in pool water villas
Complimentary daily buffet breakfast
Daily dine-around dinner at any dining outlet of the resort
Discover-scuba-diving package
Sandbank snorkelling by Jet Ski, Stand-up Paddleboarding, Sailing, Fun tubing and more
Unlimited free wi-fi throughout the resort