Hard Rock Hotel Maldives Unveils Its New Beachfront Villa Category, Offering Spectacular Views of the Ocean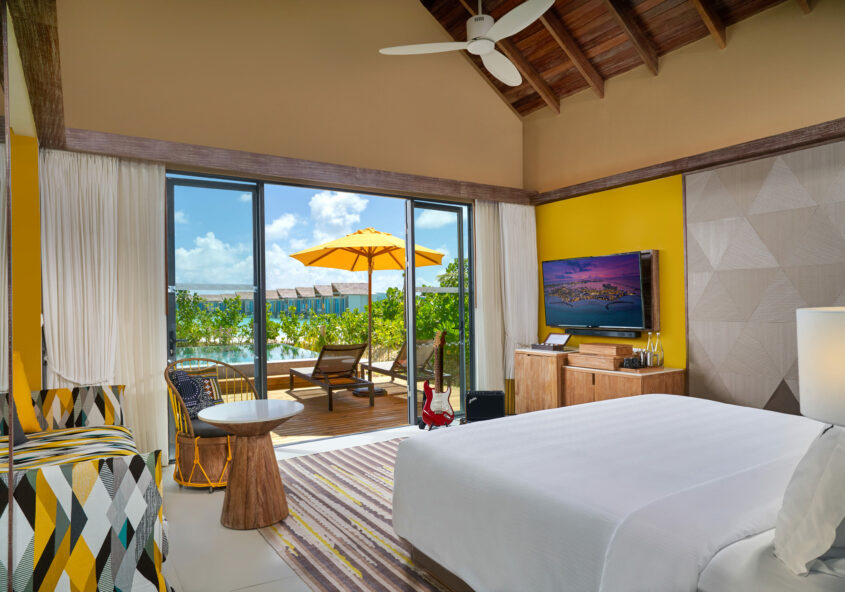 Just in time for the Festive Season, Hard Rock Hotel Maldives unveils its six units of Gold Beach Pool Villas (65 m²), in addition to the resort's eight types of accommodation. These villas are suited for couples seeking for a romantic escape or families looking forward to a relaxed and intimate experience.
Set among the natural vegetation, these beautifully appointed ocean view villas are rebranded from the existing Gold Beach Villas, with the standout added feature of a private plunge pool. Each Gold Beach Pool Villa has retractable glass doors leading to the garden, which illuminate the villa with natural light. The villa is also fully furnished with pampering comforts such as king-sized bed, a 55″ smart TV, en-suite bathroom with dual vanities along with high-walled bathtub and signature sustainable amenities. The spacious terrace with sun loungers set right in-front of the plunge pool offers a spectacular views of the ocean for any indulging moment.
The Gold Beach Pool Villa can accommodate up to two adults and 1 child or three adults with additional roll-up sofa bed. Kids amenities can be supplied on request basis, which will certainly make it a comfortable stay for families traveling with little ones.
"Since the resort has opened two years ago, we are continuously receiving feedback from our valuable guests who highly recommend that we build beachfront villas with private pool. So the idea of converting few of the existing Gold Beach Villas into Gold Beach Pool Villas came straight from our guests. In addition to that, for privacy reason, mostly of the travelers now are booking accommodation with own pool yet affordable. With the addition of Gold Beach Pool Villas, Hard Rock Hotel Maldives becomes the perfect resort choice for the travelers at different generations, who are looking for privacy, amplified service with luxury experience and fun activities at the best value in the market. We are very excited to share this wonderful news! In the coming year, there will be some more innovations aimed at making your next holiday at Hard Rock Hotel Maldives even more appealing." said Tolga Unan, Managing Director of Hard Rock Hotel Maldives and The Marina @ CROSSROADS.
With 178 Studios & Villas, Hard Rock Hotel Maldives is running the show for travelers looking for fun-luxury escape to the Maldives, giving the opportunity to experience all at one destination.
Located within CROSSROADS Maldives – the first integrated multi-island leisure destination in the country, Hard Rock Hotel Maldives is just a 15-minute boat ride from the airport. Inspired by local culture, tropical architecture is infused with contemporary design features alongside regionally inspired authentic music memorabilia. The hotel also offers direct access to The Marina @ CROSSROADS Maldives, where an array of shops and over 10 restaurants, all styled on the chic elegance of a European Riviera, await. From authentic American cuisine at Hard Rock Cafe to the acclaimed flavors of Mexican cuisine at the award-winning restaurant, The Elephant & The Butterfly, the culinary offering sees a collision of cultures come together to offer an array of exotic international cuisines.
For more information or reservations, please contact the resort directly via e-mail at rsvn@hrhmaldives.com. Alternatively, bookings can be made online at www.hardrockhotels.com/maldives.