Indulge in Unparalleled Luxury: Hilton Maldives Amingiri Resort & Spa
Escape to a haven of luxury and natural beauty at Hilton Maldives Amingiri Resort & Spa, situated on the mesmerizing Amingiri Island in North Male Atoll. As part of the esteemed Hilton portfolio, this stunning resort offers a range of exquisite accommodations, delectable dining options, exciting activities, and a rejuvenating spa experience. Whether you're seeking a romantic retreat, a family vacation, or a once-in-a-lifetime celebration, Hilton Maldives Amingiri Resort & Spa promises an unforgettable stay.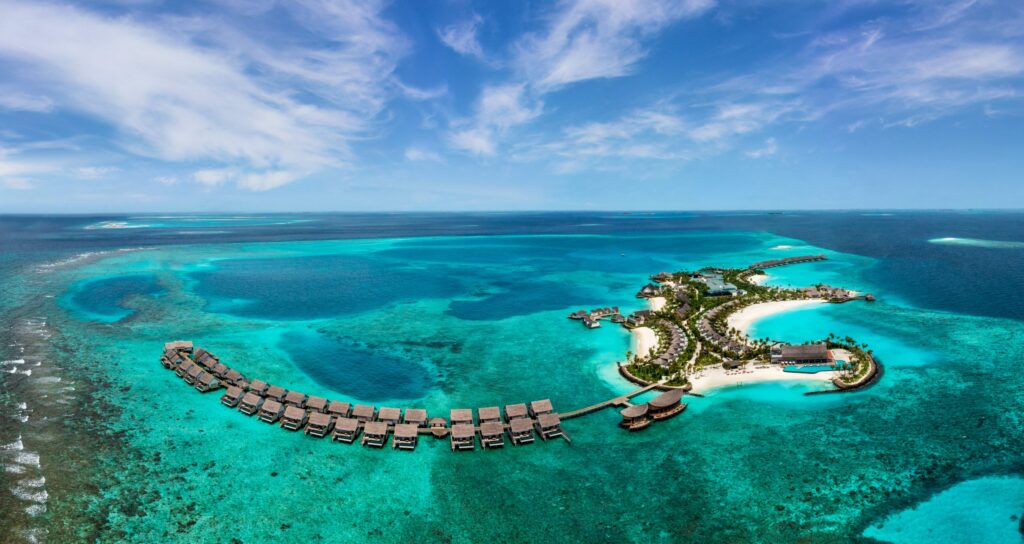 Luxurious Villas with Mesmeric Ocean Views
Indulge in opulent comfort in one of the 109 luxurious beach and overwater villas at Hilton Maldives Amingiri Resort & Spa. Each villa features a private pool and breathtaking views of the Indian Ocean. With six categories of villas to choose from, including the grand Amingiri Residence, guests can find their perfect sanctuary. The Overwater Pool Villa offers a contemporary design with a private wooden deck, pool, and direct access to the island lagoon for snorkelling adventures. The Beach Pool Villa provides seclusion, stunning sunrise and sunset views, a private pool, and direct beach access. Each villa is thoughtfully designed with spacious interiors, full-height windows, and modern amenities to ensure a comfortable and memorable stay.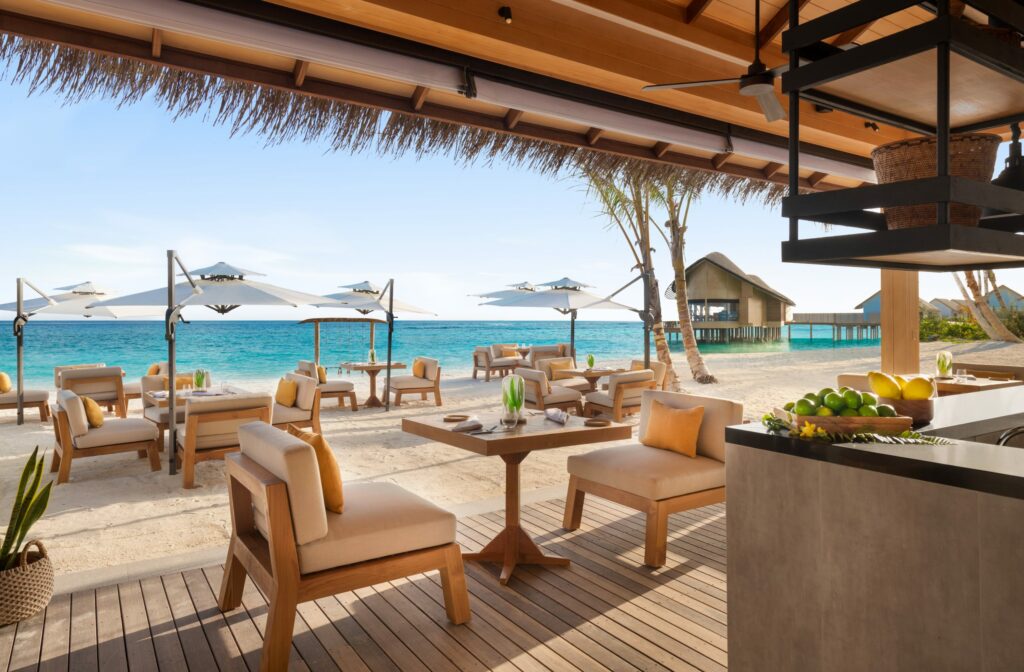 Culinary Delights for Every Palate
Embark on a gastronomic journey with Hilton Maldives Amingiri Resort & Spa's eight distinctive dining venues. Habitat, the all-day dining restaurant, tantalizes taste buds with a fusion of Western, Italian, and Asian flavours. Enjoy a multi-cuisine spread for breakfast or savour delectable dishes from the à la carte menu. The Beach Shack offers an exceptional feet-in-the-sand dining experience, featuring flame-grilled specialities. For a unique mixology experience, head to the Aura Pool Bar & Cocktail Lab, the first of its kind in the Maldives. The resort's centre of activity, Aura, boasts a sizable swimming pool, recreational games, and an all-day dining menu. Other options include Origin, a sustainable dining experience, Eden champagne and gin bar, Sip Tea Lounge, and Skye Lounge for healthy beverages.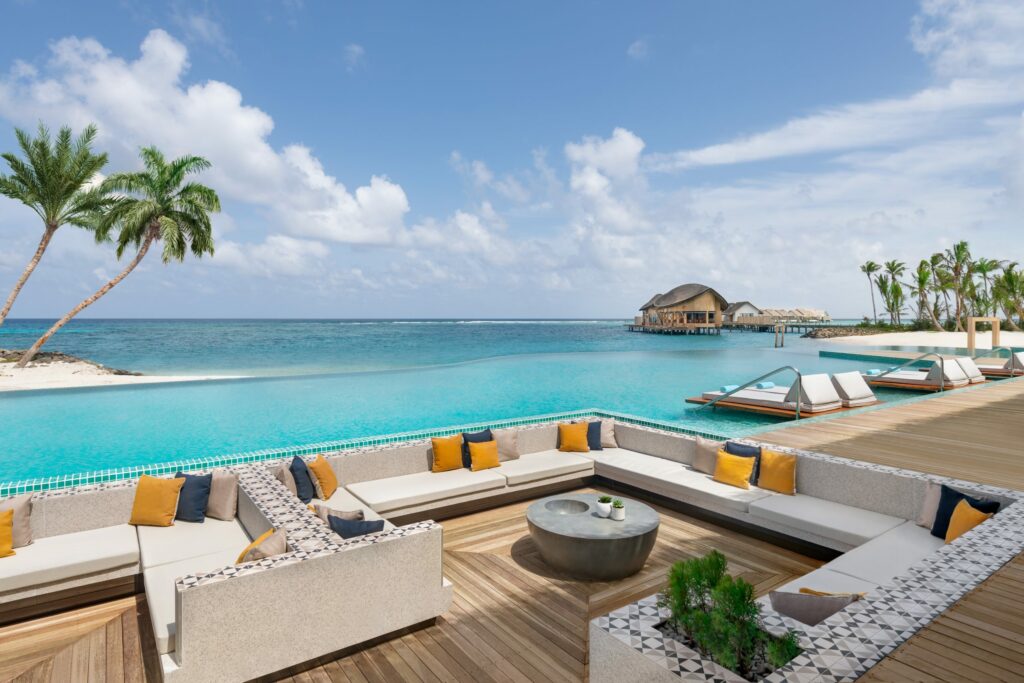 Unforgettable Experiences for All
Hilton Maldives Amingiri Resort & Spa offers a host of activities for guests of all ages. The Krakengiri Kids' Club, one of the largest in the Maldives, provides endless fun for young ones, while teenage travellers can unwind at Re:Fuel, a dedicated rooftop lounge. Families can enjoy the beach, freshwater pool, and various sports facilities, including a multipurpose court for tennis, badminton, volleyball, and basketball. Discover the captivating marine life through snorkelling tours or embark on glass kayaking adventures. Engage in turtle quests, and dolphin cruises, and participate in weekly conservation sessions with the in-house biologist. Don't miss the mixology class at the cocktail lab, where you can create and preserve your personalized drinks.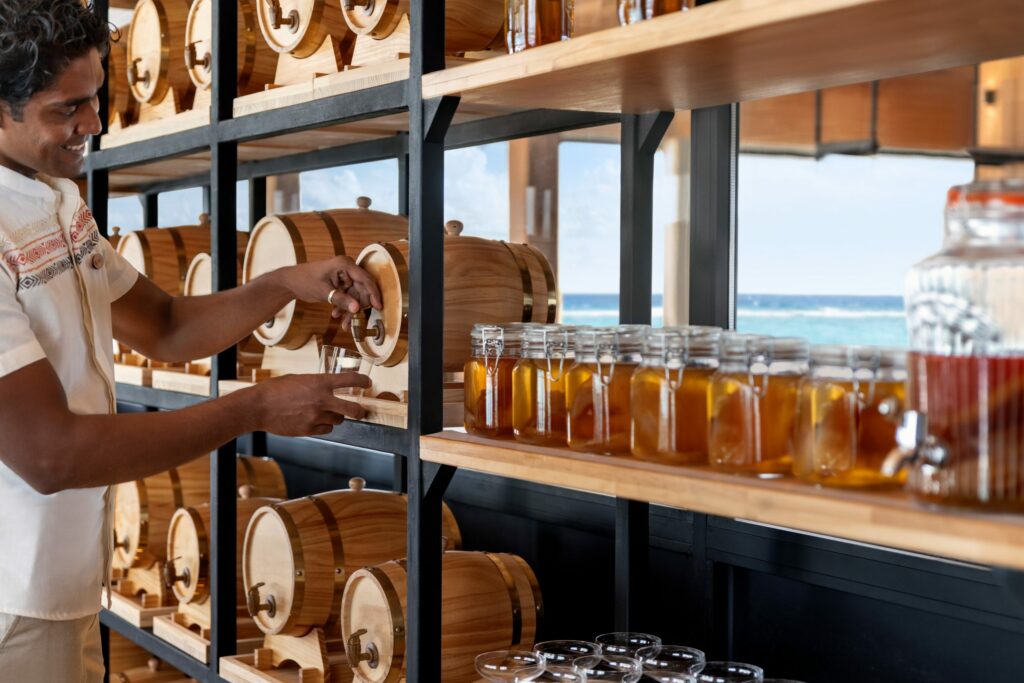 Rejuvenation and Wellness
The Amingiri Spa, located overwater with panoramic views of the Indian Ocean, offers a blissful retreat for relaxation and rejuvenation. Experience "paradise on earth" with a selection of bespoke spa treatments, inspired by ancient rituals and tailored to your needs. The spa's treatment rooms feature glass panels on the floors, allowing you to observe the vibrant marine life beneath you. Indulge in signature spa massages, body treatments, facial care, and bath rituals. The Young Zen program caters to children and teenagers, while "mama-to-be" treatments cater to expectant mothers.