Luxurious Escapes and Tranquil Retreats: Discover Kuda Villingili Resort Maldives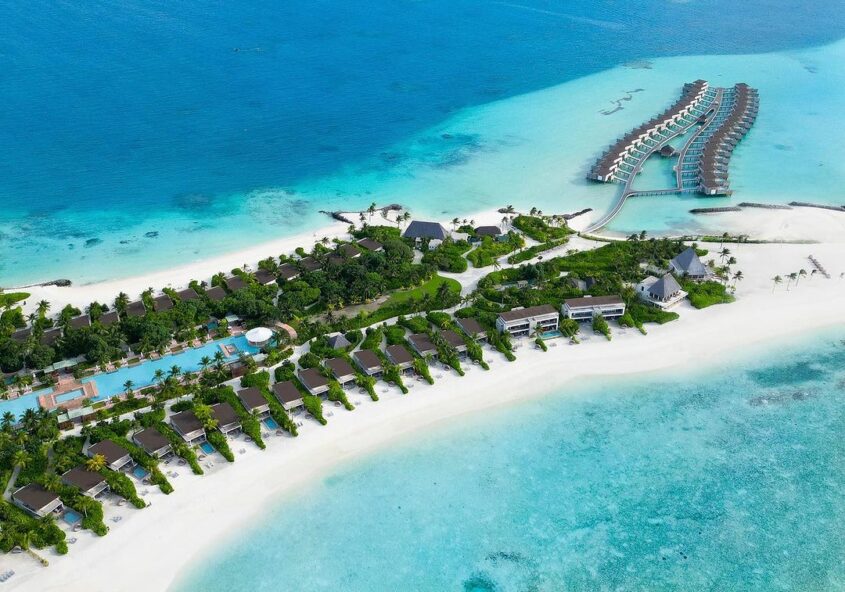 The resort
Nestled within the North Malé Atoll, Kuda Villingili Resort Maldives is a haven of luxury, boasting a coveted 5-star status. Offering an exceptional lavish escape across its private 25-hectare island, the resort's optimal location ensures a swift 30-minute speedboat journey from Velana International Airport.
Be it a solo traveller, a couple, a family, or a group, this idyllic retreat seamlessly blends togetherness, inclusivity, and privacy. With a perfect harmony of independence, safety, and a chance to reconnect with nature, it's the ultimate paradise – a true home away from home. The resort boasts a variety of facilities including multiple dining outlets, a spa, a modern fitness centre, and an array of water sports activities that guests can enjoy.
Immersive Accommodations
Offering a total of 120 villas, which encompass water villas, beach villas, and overwater bungalows, Kuda Villingili exudes variety and choice.
Each villa within the resort is thoughtfully crafted to provide ample space and an aura of luxury, complete with exclusive private pools and expansive sundecks. The moment you set foot on the property, a dedicated and amicable butler is assigned to anticipate and fulfill your every desire. Whether you seek a leisurely buggy ride around the island or desire additional amenities delivered to your room, your personal butler stands ready to attend to your wishes.
Culinary Odyssey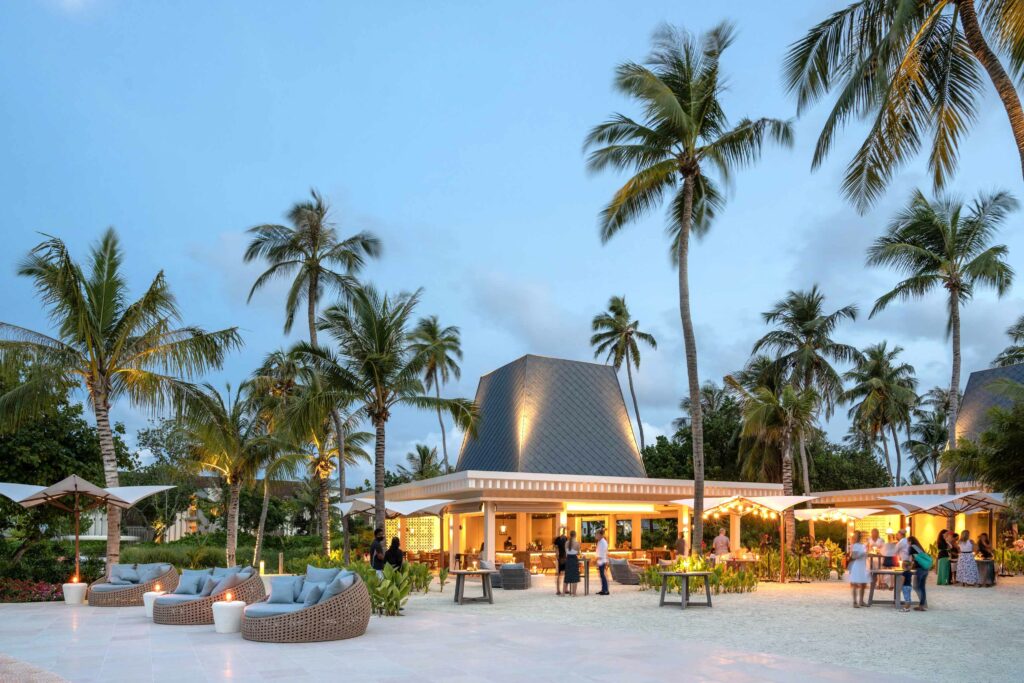 Kuda Villingili boasts an impressive array of gourmet dining options, each celebrating a diverse tapestry of cultural influences. The resort encompasses four key dining establishments: The Hawkers, The Restaurant, The Beach Bar, and The Cigar Lounge.
At The Hawkers, an upscale three-stall food market by the poolside, a relaxed and convivial dining ambiance is paired with soulful and shareable culinary choices. Spice, an open kitchen concept, tantalises with Indian-Arabic inspired fare. Additionally, within The Hawkers, Med harmoniously incorporates Italian-Mediterranean favorites like wood-fired pizza and a selection of charcuteries. The Restaurant elevates dining experiences with handcrafted breakfast delights and a trio of dinner menus: Fire, Eat, and Ocean. A South American interpretation of the quintessential beach menu graces The Beach Bar where liive DJ sets accompany an extended array of revitalising frozen cocktails and rosé wines. Overlooking the lagoon, The Cigar Lounge provides a snug haven where the finest international whiskies, cognacs, and an exquisite selection of premium cigars converge.
Diverse Experiences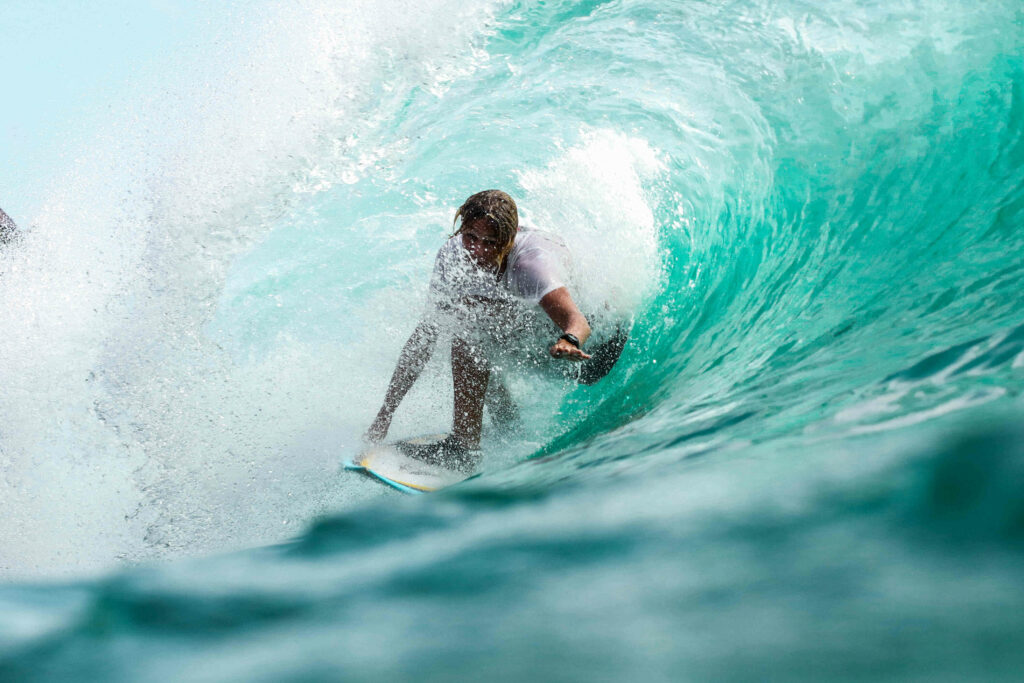 Whether guests seek a tranquil, restful day or a thrilling adventure, Kuda Villingili Resort Maldives offers an extensive array of activities, ranging from exhilarating surfing and big game fishing to enchanting beachside romantic dinners and indulgent spa treatments.
The resort features a remarkably expansive swimming pool, stretching 150 meters – among the longest in the Maldives. Daily competitions and games enhance the lively atmosphere, while tennis and volleyball matches beckon friends and families to engage in spirited matches. For the younger guests, the Kuda Filo Island playground, known as the Kids Club, is under the care of a dedicated team who organize engaging games, activities, and imaginative workshops across the island.
As for surfing, guests can access one of the Maldives' premier surfing spots, Chicken's break. Moreover, water sports cater to a wide spectrum of preferences, encompassing non-motorized as well as motorised options. Snorkelling unveils a vibrant underwater realm where manta rays, reef sharks, and a myriad of tropical fish thrive among the coral reef. For those enticed by the depths, scuba diving is also available, promising an unforgettable exploration beneath the waves.
Wellness Retreat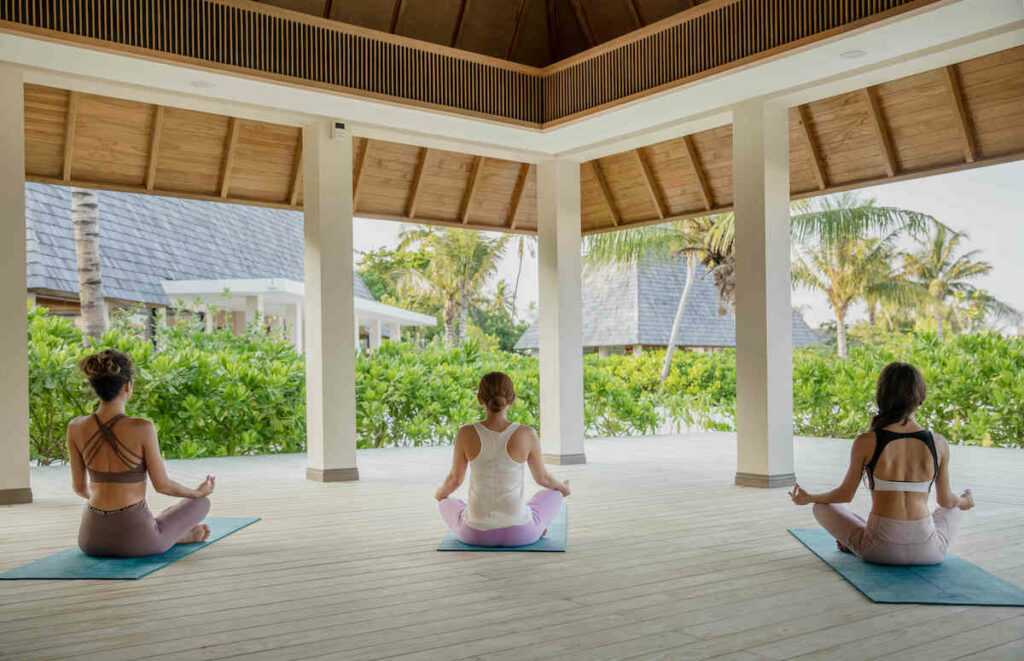 Kuda Villingili Spa beckons guests to transcend time and immerse themselves in a realm of profound relaxation. Embracing the serenity of its eight treatment villas suspended over the water, the spa creates an idyllic haven to harmonise both mind and body. Enriched by the virtues of organic and plant-based ingredients, these treatments seamlessly blend with the age-old healing traditions of the East. Skilled therapists and instructors are dedicated to tailoring wellness experiences to meet the unique needs of every individual.
In harmony with the philosophy of self-care and self-discovery, the resort's wellness and sports facilities harmoniously complement the spa, offering rejuvenation through various avenues like gym workouts, yoga, and other recreational pursuits.
Featuring cutting-edge fitness equipment from Technogym, the gym provides a contemporary setting for physical well-being. Meanwhile, the elevated Yoga Pavilion, with its mesmerising ocean vistas, becomes the backdrop for personalised yoga master sessions, stretching routines, breathing exercises, and moments of meditation.
Effortless Arrival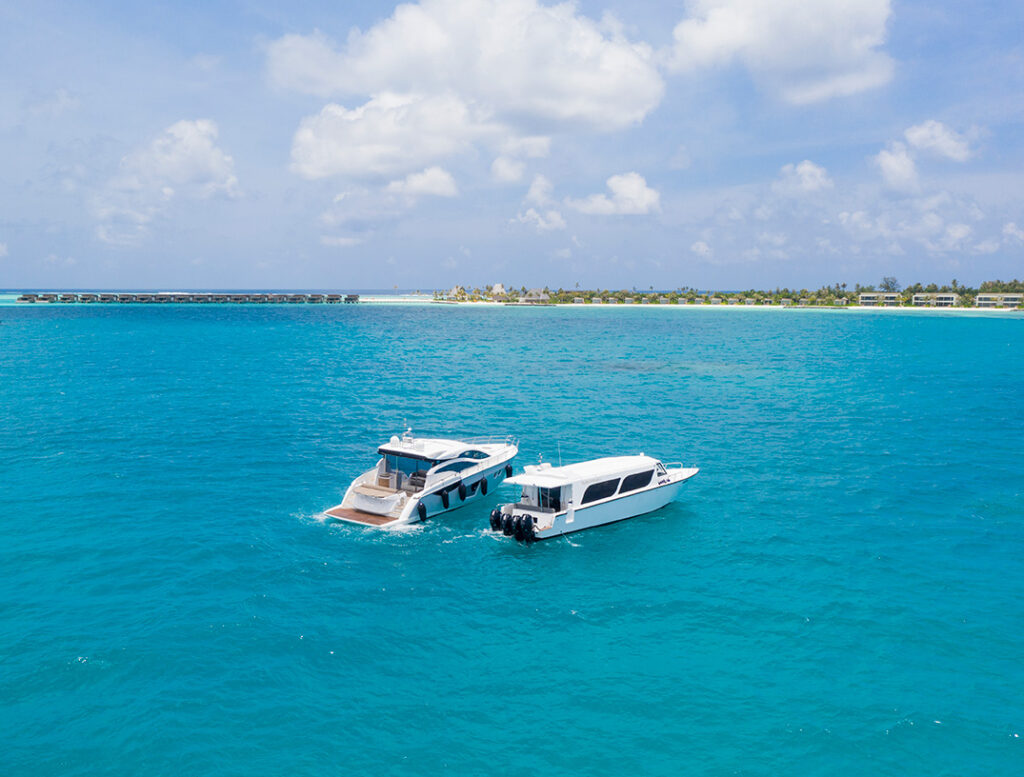 Kuda Villingili Resort Maldives is situated in the North Malé Atoll, a mere 30-minute speedboat ride away from Velana International Airport (MLE). A hassle-free speedboat transfer is facilitated by Kuda Villingili. For more information, visit https://kudavillingili.com/.