Neelam and Samir Soni on Vacation at Baglioni Resort Maldives with Their Daughter Ahana Soni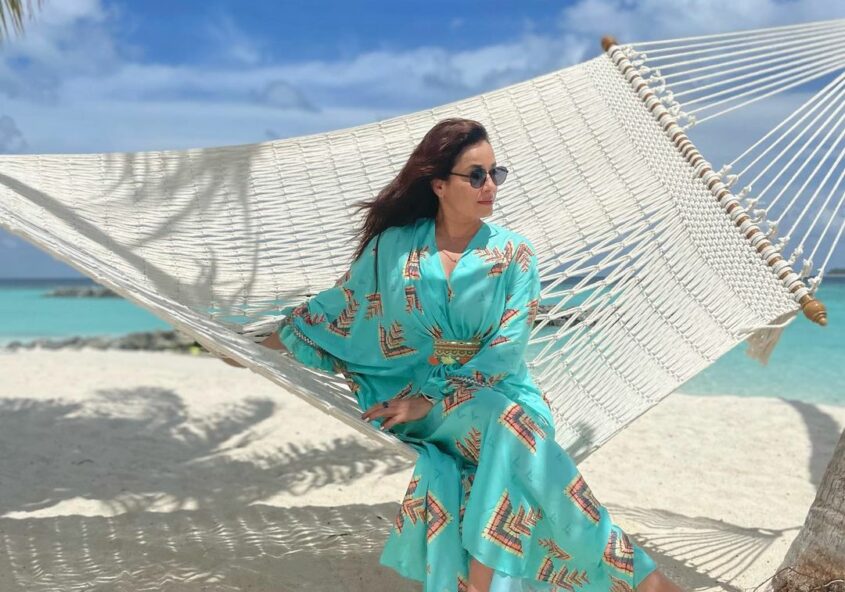 Neelam and Samir Soni and their daughter Ahana recently took a relaxing vacation at Baglioni Resort in Maldives. During their stay, the couple enjoyed an array of experiences such as private dining, spa treatments, beach cocktails etc. Couple stayed in the Presidential water villa, offers three bedrooms, each with an own bathroom, and a veranda with a dining area for relaxing moments that will last a lifetime. Each terrace lets you enjoy the spectacular sunsets of Maldives.
Neelam is an Indian actress and jewellery designer who has worked in many popular Bollywood movies with well-known actors. Samir Soni is a well-known Indian actor, director, writer, and former fashion model who has worked in movies and on TV. Both of them are considered to be great actors who have made some great movies and TV shows in the Indian film and TV industry. Recently, Neelam was seen on Netflix OTT series called "Fabulous Lives of Bollywood Wives" which soon became talk of the town. Netizens eagerly looking forward to season 2 which is soon to be out in Q4 2022.
During their stay at Baglioni Resort, Maldives, they also visited to the nearby island at Rinbudhoo island where they experienced the flavour of the local Maldivian hospitality. Neelam recently posted the image on her instagram stating " A perfect get away to a nearby island cureated by @baglioniresortmaldives such beautiful wall art done by local artists"
Baglioni Maldives is a luxury resort that offers villas surrounded by tropical nature, blue oceans, and velvety-smooth white sands, all of which have been meticulously designed to maximize the natural setting and its all-embracing beauty while minimizing environmental impact.
From breakfast to dinner, the Resort's unique international style of cuisine and wine awaits the world's most affluent guests. A poolside bar and grill, three top-notches restaurants, and a kid-friendly menu are all available. Wine tastings, aperitifs, and private dinners are also available to book for an unforgettable experience Baglioni Resort Maldives is situated at Dhaalu atoll. By seaplane, the trip from Velana International Airport to the resort takes 45 minutes.

Call +960 400 0600 or email reservations.maldives@baglionihotels.com to make reservations and inquiries about your Eid vacation at Baglioni Maldives.