Noku Maldives – Make Your Way to a Hidden Sanctuary of Intimate Bliss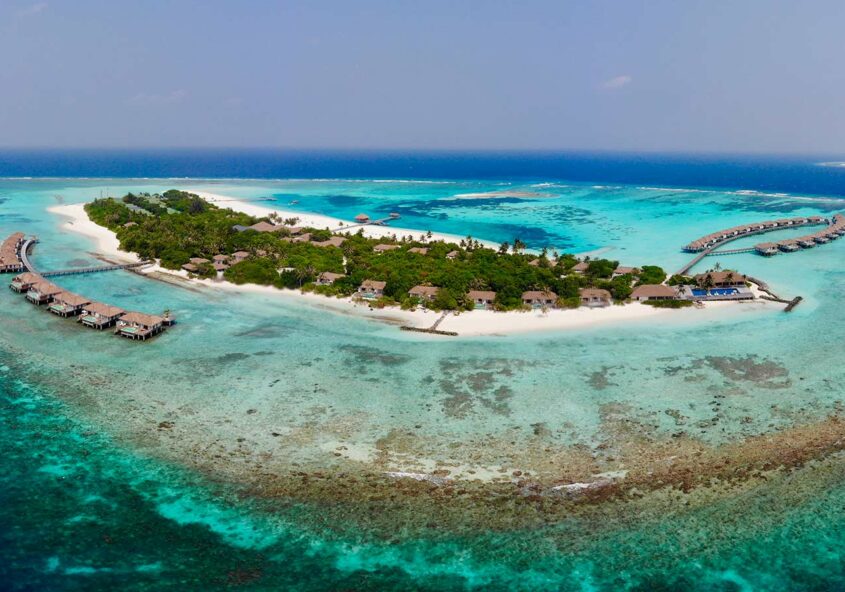 Nestled in the breathtaking oasis of Noonu atoll, Noku Maldives tells a hushed story of peace, tranquility, and absolute relaxation. The first thing you'll notice, as you step off the speedboat and onto the wooden deck as we did, is the calm sway of the azure water beneath you, gently waving hello as it makes its way towards the soft powdery shore.
Noku's quiet charm pervades every inch of the island. As you make your way to the rooms, expect to be greeted by the sounds of koels and the rustling of palm leaves. It's not a particularly large property – you can catch a glimpse from one side of the island to the other – but there is a palpable, raw charisma to it that'll definitely leave you reeling in bliss.
One aspect Noku is famously known for is the spaciousness of its villas, of which they have 50 in total across the property. The standard beach villas here are some of the biggest we've seen in the category, with expansive private decks leading straight to the sand and sea. The interiors are simple yet refined, contrastingly monochromatic in its design. The bathrooms are just as large and luxurious as the living areas, and wall-to-wall glass windows in every space enthrall you with the never-ending spectacle of nature.
Once you're done taking it all in, you might fancy a stroll to Palms Restaurant, where a la carte dining is offered with delectable fare from all around the globe. The adjacent Palms Bar serves up an array of spectacular cocktails, each quite possibly even better than the previous. These beachfront areas are especially lovely during the evenings, when dinner and drinks can be enjoyed under a shimmering blanket of stars.
Meanwhile, the menu at Thari Restaurant features elements of Thai, Singaporean and Japanese cuisines prepared by specialty chefs. You can also quench your thirst at the Thari Bar; if you're looking for an added experience, grab a beverage and chill by the pool in time for dusk, where you'll have the best seat in the house as the sun leaves behind its resplendent glow.
For adventure seekers, don't miss out on exploring options at the Diving and Watersports Center. We opted to go snorkeling, and it ended up being one of the dreamiest highlights of the trip. Noku's pristine location houses a thriving marine ecosystem; during our time underwater, we encountered a plethora of nurse sharks, turtles, and even sting rays. It was truly a marvel to behold.
Whatever you end up doing though, Noku Maldives will leave you feeling rejuvenated and entirely at ease.