Revel in Thrill and Excitement with Your Family at NAKAI Alimathà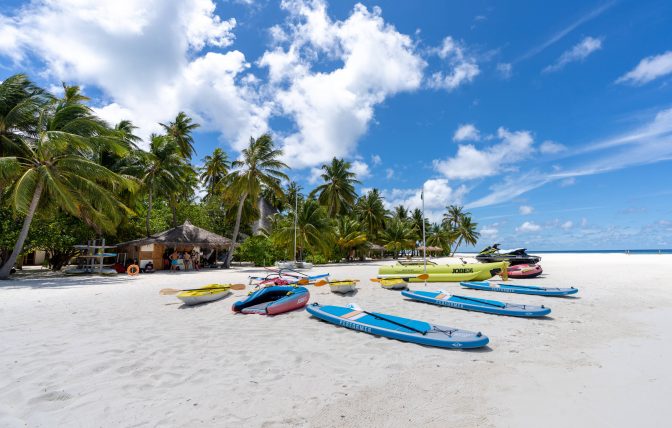 Renowned for its perfect synthesis of both relaxation and thrill, NAKAI Alimathà is your next stop for a well-deserved family getaway. The resort stands out for its accommodation, food, entertainment, activities, and sports services that are designed to attract families as well as individual travellers.
Several activities and sports are available at Alimathà to ensure guests are having the time of their lives. Playing these sports in the idyllic paradise of the Maldives is an experience no one should miss. Guests can not only enjoy scuba diving to admire the magnificence of the reefs, but other water sports are also on deck to guarantee a fun-filled holiday. At Alimathà, the water sports centre on offer are windsurfing, canoeing, catamaran, and jet skiing, to name a few.
Windsurfing and jet skiing are perhaps the most exciting water sports available here. These two are bound to rouse the adventurous spirit in you. Windsurfing is available for both beginners and experienced guests to sail away in the crystal-clear waters at Alimathà. Meanwhile, jet skis will pump out the adrenaline, making it an ideal experience for family and friends.
Catamaran sailing in the lagoons of NAKAI Alimathà will leave you with an everlasting memory of feeling calm and tranquil. Different from the others, canoeing, on the other hand, is the ultimate way to explore the striking turquoise lagoons around the resort while indulging yourself in absolute serenity. If you're lucky, you might be able to spot small reef fishes swimming by.
NAKAI Alimathà can only be described as a paradisiac island with beautiful white sandy beaches and turquoise lagoons that are not to be missed. With an ideal balance of relaxation and recreation, Alimathà is the perfect haven for any holiday.
For bookings and more information please visit https://alimatha.nakairesorts.com/en/