Ride the Waves on your Doorstep at Naladhu Private Island Maldives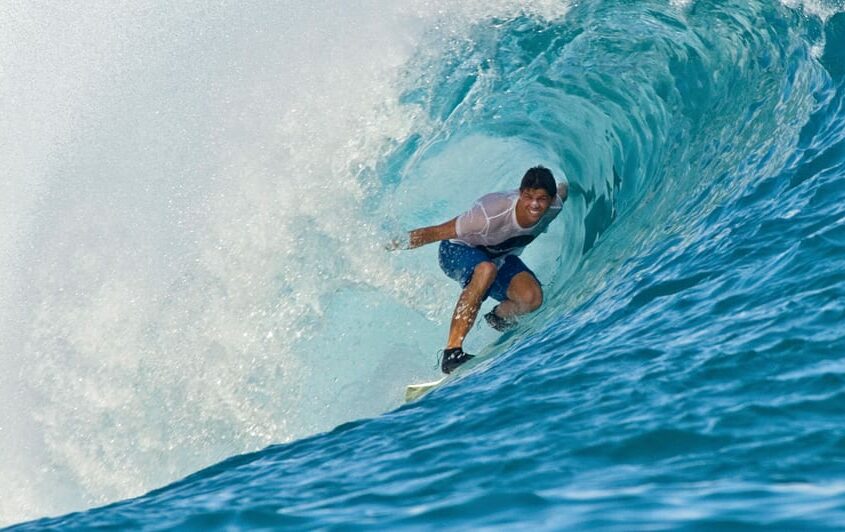 One of the world's most coveted surf spots, Naladhu Private Island Maldives is a veritable paradise for surfers of all levels, novice to pro. From peeling, playful rights to down-the-line left barrels, the water awaits, with a variety of waves on our doorstep and beyond.

For a truly decadent experience, you can charter the Nirvana Luxury Yacht for a fabulous all-day adventure where you'll get lost at sea for all the right reasons. Lessons with the accomplished surfing team are available for all levels whether you are looking to take on your first wave or build the courage to step it up a notch. 
You can explore a variety of waves while surfing in the Maldives, from peeling, playful rights to down-the-line left barrels. The closest break is accessible from Anantara Veli, while the furthest break is a thirty-minute boat ride away from the resort. Tropicsurf operates exclusively from Anantara Dhigu and offers expert guidance, water safety and coaching tips. One of the advantages of surfing from the resorts is the wide range of experiences on offer, which cater to any level, from beginner to advanced surfers.
VELI LEFT
Veli Left is a very quick barrelling left hander. You can access the wave directly off Veli island and access is complimentary to all guests staying at the resort. It is always a quick take off, followed by either pulling into the barrel or racing most of the wave face. It will start working at 1m and hold up to 2.5m. On an average day, you will get 50m rides. It is recommended that only advanced surfers, who are confident with surfing shallow reef, attempt to surf this wave.
NONYAS (QUARTERS)
Nonyas (Quarters) is our most frequently surfed break and is located on the outer reef of the Anantara atoll. It is a relatively mellow right hander. Shortboarders and longboarders alike love the wave. There is always plenty of wave face and it's slow breaking unless it's big. It works best from 0.5m – 2m. On an average day, you will get 50m – 120m rides. On bigger days, you can definitely have longer rides. During 1.5m+ swells, the end section starts to deliver a quick barrel. Most days, it's surfable for beginners to advanced surfers.
TWIN PEAKS (GULHI CORNER)
Twin peaks has a left and a right breaking off the house reef of the local island of Gulhi. It is a fickle wave with shallow sections and close out sections. That being said it has great exposure to swell so a wave can often be found here when it's small everywhere else. The furthest corner of the wave named "Henry's" is the perfect spot of first-timers and children alike.
NORTH MALE' ATOLL
For those wanting to stretch their legs a little further afield we offer half day trips to the famous North Male' breaks too. During the off season from November to March we can still find some good waves at Honkey's which offers shelter from the prevailing North East winds at this time. Transit time is usually 1hr – 1.5hrs sail depending on sea conditions.
For more information and booking, visit https://www.naladhu.com/en