Rock Your Taste Buds: Culinary Delights at Hard Rock Hotel Maldives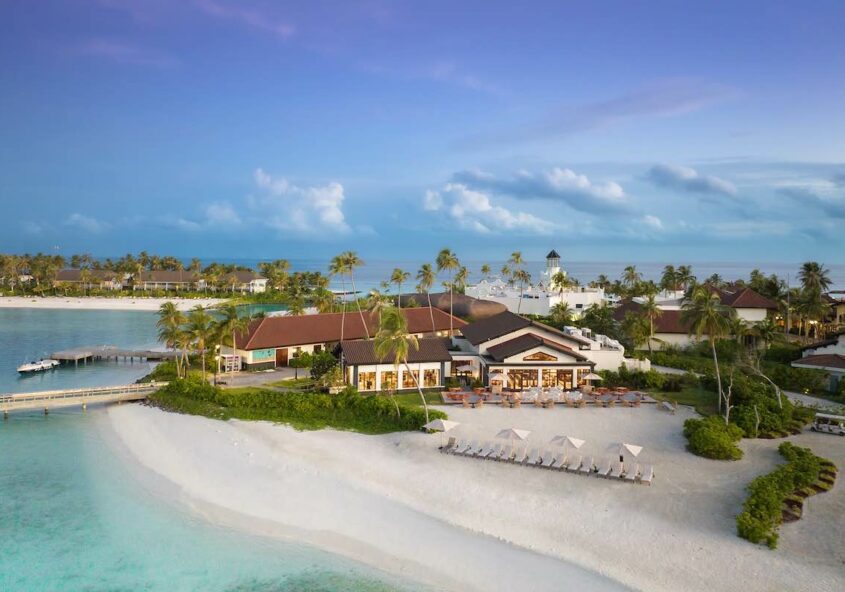 Experience a truly unique and unforgettable getaway at Hard Rock Hotel Maldives, where vibrant music and style seamlessly merge to create an atmosphere of unparalleled excitement. Indulge your senses in the resort's culinary delights with an impressive selection of six extraordinary dining options, including the renowned Hard Rock Café.
Explore the world through your taste buds as you savour delectable dishes expertly crafted by talented chefs, all while being surrounded by the iconic ambience that defines the Hard Rock brand.
Hard Rock Café Maldives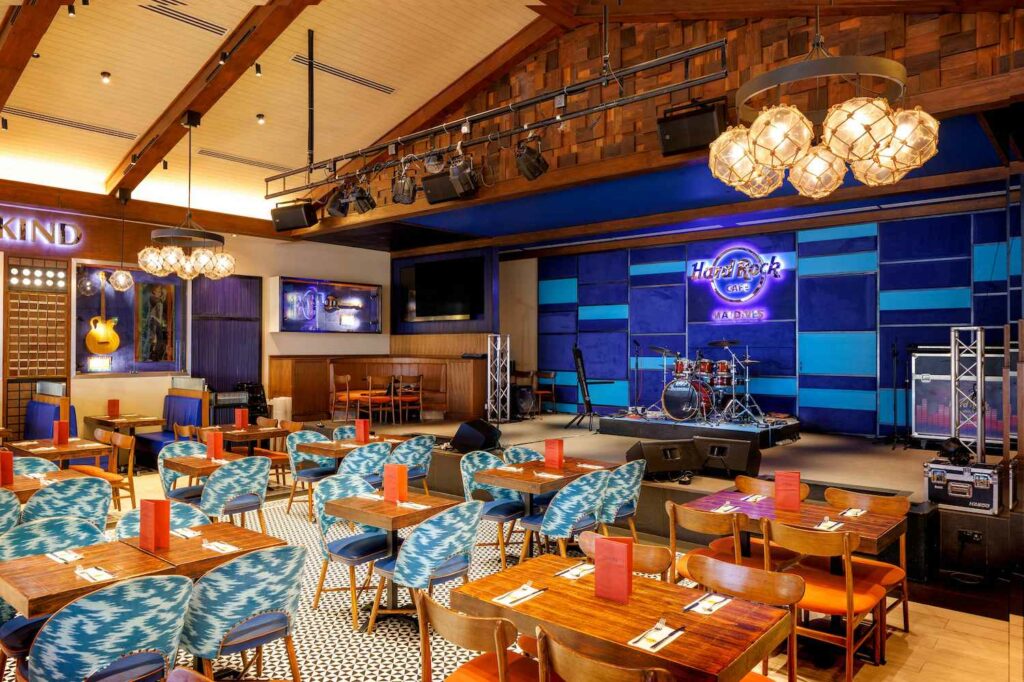 Hard Rock Café Maldives is the perfect spot to hang out with your loved ones and enjoy live music at night. For those craving classic American cuisine, the Hard Rock Café Maldives offers burgers stacked as tall as their vinyl collection. With a variety of options to choose from, you will undoubtedly find something to satisfy your cravings.
Sessions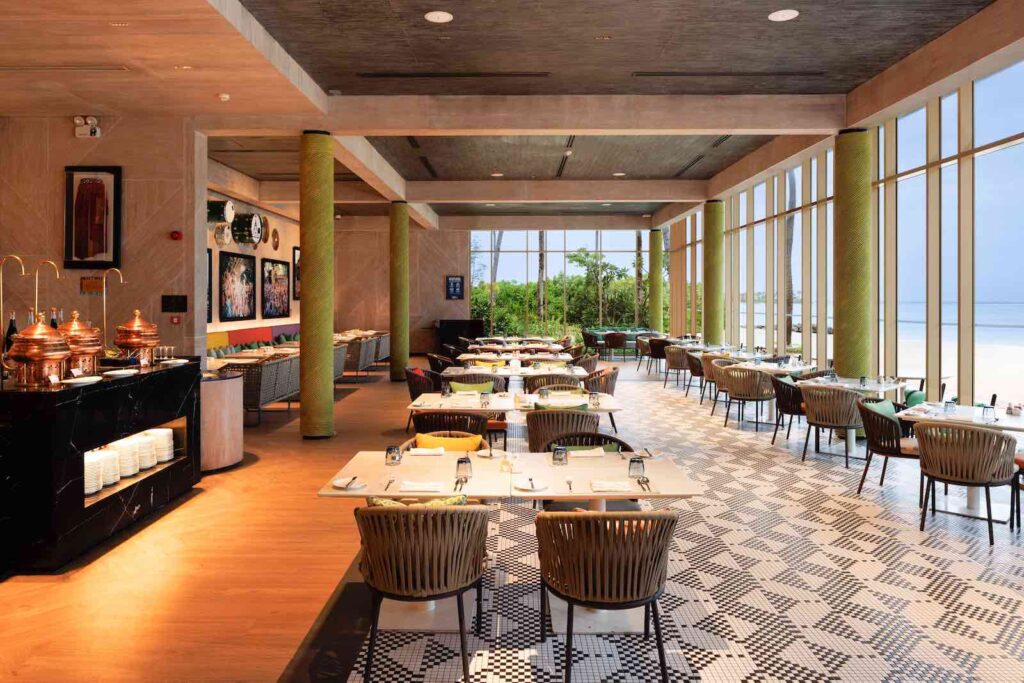 Experience the ingredient-driven menu at Sessions, where culinary creations are inspired by contemporary and global flavours. With an unwavering focus on utilizing the freshest local ingredients, Sessions showcases the finest cuisines from around the world in its open kitchen, creating a captivating dining experience for all. From delectable a-la-carte menus to daily specials, this restaurant takes Maldives dining to a whole new level of imagination. Guests can gather, indulge, and revel in the private Chef's Studio, an intimate setting that accommodates up to 12 guests and offers immersive dining experiences that are truly exceptional.
The Elephant & The Butterfly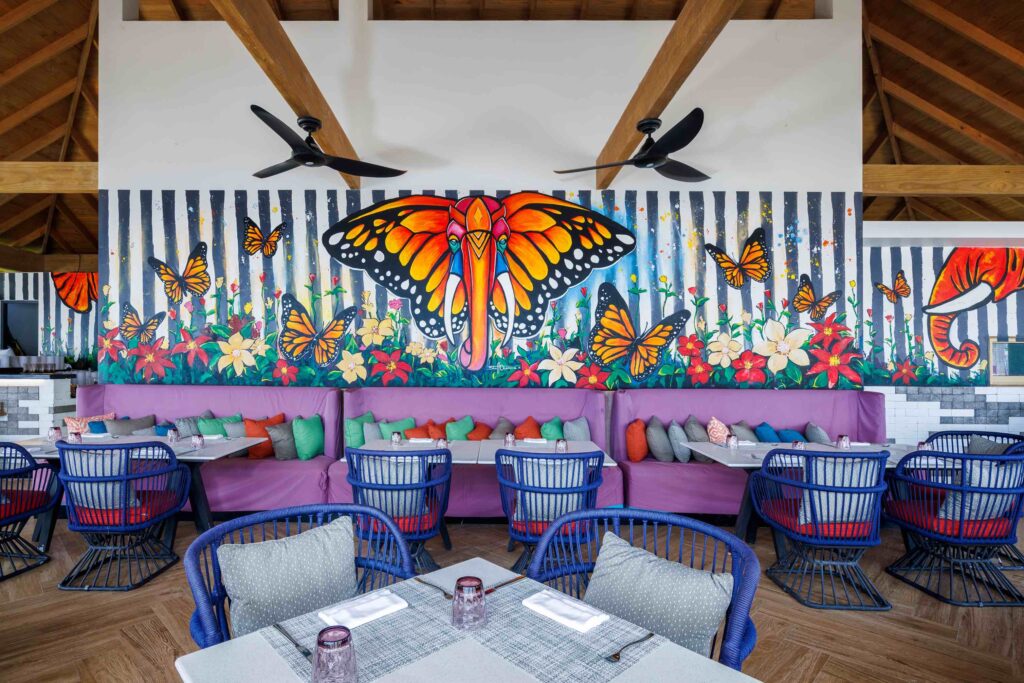 Infused with the vibrant spirit of Mexico and inspired by the rich tapestry of Latin American cuisine, this restaurant draws inspiration from the captivating love story of Frida Kahlo and Diego Rivera, creating a truly immersive dining experience that celebrates their passion and creativity.
Guests can enjoy lunch with a panoramic ocean view or dive into the menu of gourmet bites, which includes a variety of soft tacos, locally-caught seafood ceviche and tiradito, and signature guacamole prepared tableside.
Pool Bar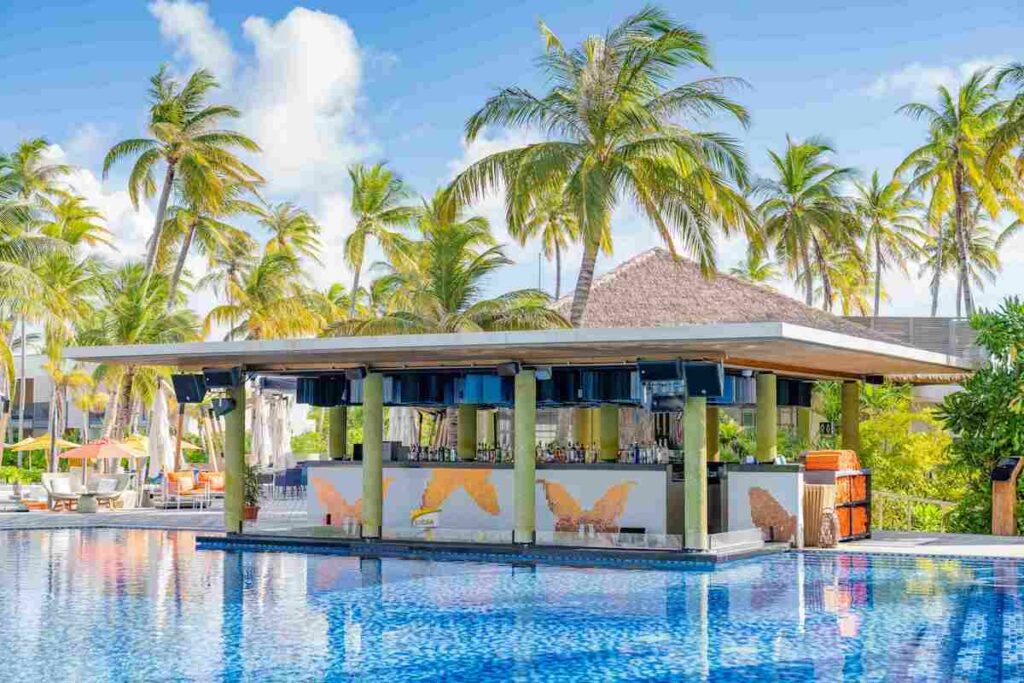 The Pool Bar at Hard Rock Hotel Maldives is the perfect spot to relax and enjoy the tropical paradise, with its sparkling infinity pool and iconic purple slide. With underwater stools and tunes, guests can enjoy their favourite drinks while staying cool in the refreshing water. The bar also offers a special menu for kids, making it a great spot for families.
Sunken Sand Dinner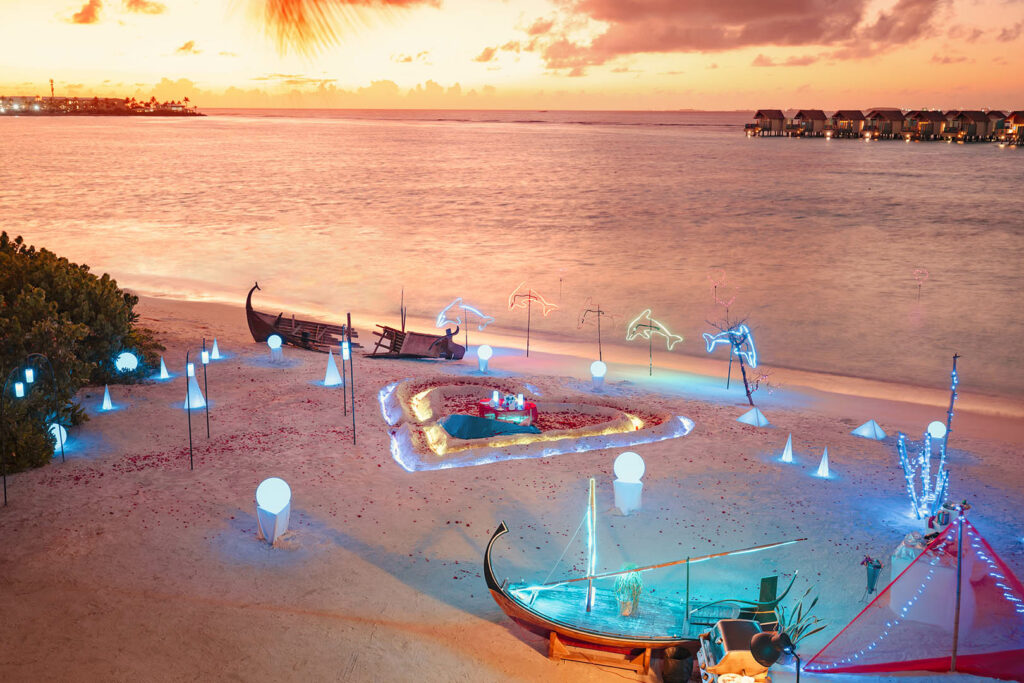 A unique and unforgettable dining experience where guests can indulge in a private beachside dinner amidst the breathtaking natural beauty of the Maldives. The unique table, shaped like a heart or a guitar, pays homage to the resort's musical heritage. Delight in the finest Maldivian cuisine, highlighting fresh seafood and local ingredients. This is the perfect dining experience for couples looking for a romantic night out or for anyone looking to celebrate a special occasion.
Floating Breakfast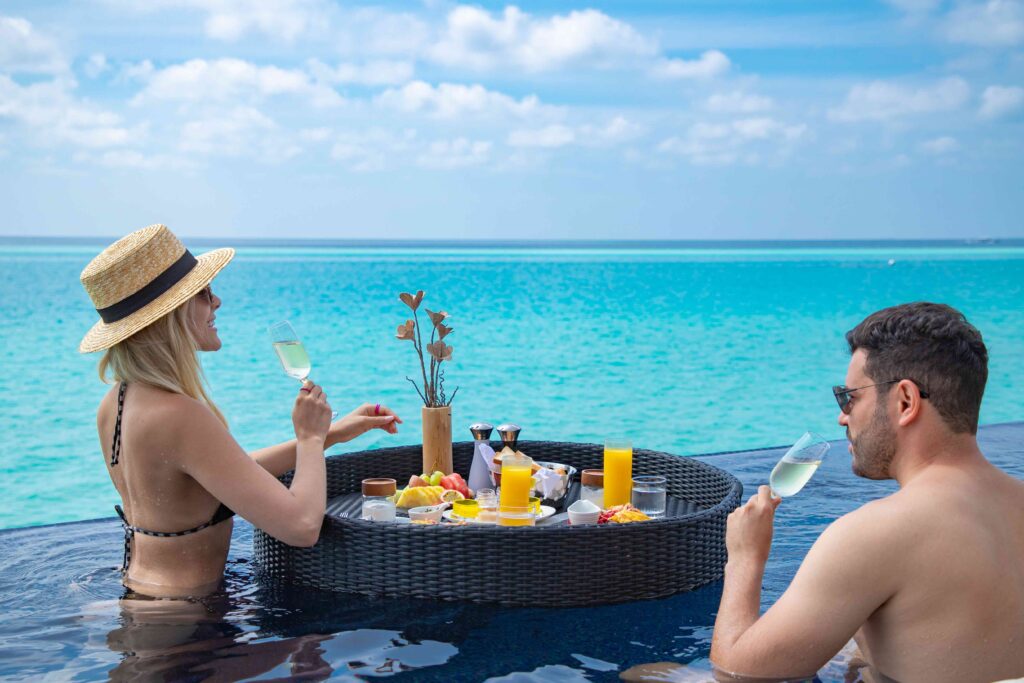 Guests can enjoy a delicious breakfast spread while lounging in their private infinity pool, surrounded by stunning views. The Floating Breakfast includes a variety of options, including fresh tropical fruits, pastries, and eggs cooked to order. It's the perfect way to start your day in paradise and indulge in the ultimate vacation experience.
Whether you are a music enthusiast, a food connoisseur, or simply seeking an unparalleled getaway, Hard Rock Hotel Maldives is the ultimate destination that caters to the desires of every guest.
For bookings and more information, visit https://www.hardrockhotels.com/maldives