Siyam World, Maldives Reveals an Exclusive Enclave of Sophisticated Living with the Launch of the Beach House Collection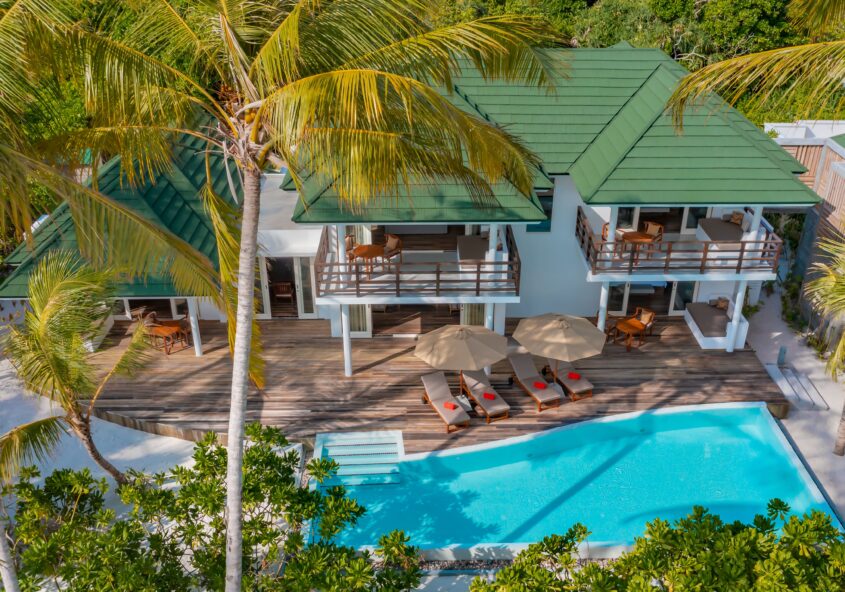 Recently opened premium all-inclusive island revolution Siyam World, Maldives has launched The Beach House Collection, an exclusive and sophisticated enclave of 24 show-stopping one- to six-bedroom Residences – each exceptional at every level and infused with an "I can have it all" ethos. In addition to Siyam World's ever-expanding WOW! 24hrs Premium All-Inclusive, guests at The Beach House Collection benefit from exclusive VIP privileges including their choice of a complimentary dive* or 50-minute spa treatment at Veyo Spa; a wellness gift hamper on arrival; anytime in-villa breakfasts throughout their stay – including one amazing floating breakfast served in their private pool; daily VIP amenities; and 24-hour private butler service from intuitive katheebs who anticipate and exceed expectations around the clock.
Siyam World is one of the largest natural islands in the Maldives to feature both a resort and sophisticated residences. The 24 Residences, ranging from 510sqm to 3000sqm, are designed for discerning, fun-loving individuals who seek privacy and discretion – but also the freedom to roam, to discover, to explore and to submerge themselves in a variety of rich and memorable experiences. Cloistered within a 54-hectare haven ringed by more than four kilometres of white sandy beaches and six kilometres of house reef, The Beach House Collection embodies a secluded, idyllic island holiday experience – a harmonious heaven of true Maldivian vibrancy and luxurious modern comforts. Imbued with style yet never pretentious; sophisticated without ostentation – The Beach House Collection offers optimum discretion for family and friends to unwind in its sweeping private havens.

Designed in a contemporary style, yet embracing tropical architecture and interior design solutions that reflect and celebrate the tradition and cultural heritage of the Maldives, all of The Beach House Collection villas enjoys an elegant, cosy and relaxed ambiance and modern, comfortable style.  Daylight streams into grand living spaces that still offer a uniquely Maldivian seclusion. Each residence features two flatscreen satellite TVs; king size beds; interconnecting rooms; walk-in and outdoor "under the stars" showers and a spacious bath tub; elegant dressing rooms and walk-in closet; room-controlled air conditioning and overhead fans; working desk and high-speed Wi-Fi. Unparalleled ocean views grace numerous terraces and private beachfront salas, nestled in lush tropical vegetation. All Residences also come with private pools, living rooms and dining rooms or inviting barbecue areas that are an ideal space for groups to relish long sunny days and blissful nights.

With 24-hour service from private katheebs blessed with an uncanny foresight for guests' needs – and a deft ability to deliver even more – indulgence becomes as simple as sharing exquisite food with friends, children playing in the sand, and a variety of spectacular dining and entertainment experiences. In addition to the more than a dozen bars and restaurants available to all at Siyam World, guests at The Beach House Collection also have exclusive access to experiences that go way beyond expectations – including The Orchid Bar & Adult Only Pool and speciality Japanese restaurant Arigato.
All 24 villas and residences within The Beach House Collection at Siyam World have also been made available to international investors on a 35-year leasehold basis, with a choice of two guaranteed return models. Owners can opt for a 5% per annum return on their investment, or alternatively 40% of their unit's annual net room profit. Prices range from USD2million for a Beach House to USD9.8million for the six-bedroom Palace – with total guaranteed returns ranging from USD4,375,000 to USD17,150,000 respectively (based on 5% per annum ROI over 35 years). Owners also benefit from up to 45 days' complimentary accommodation at Siyam World per year, including complimentary housekeeping and a 20 percent discount on food and drinks, spa services, excursions, watersports and diving.
Siyam World, Maldives is a bold new world of possibilities; a quirky, carefree playground promising an eye-popping array of one- to six-bedroom accommodation options and "never-seen-before" experiences across land, sea and sky. Opened on 28 October 2021, Siyam World is transforming the Maldivian holiday mould with its striking new vision of the Indian Ocean archipelago's rich natural wonders. Eliminating preconceptions of monotonous dining in the Maldives, Siyam World invites guests to enjoy the resort's revolutionary WOW! 24hrs Premium All-Inclusive across no fewer than a dozen restaurants and bars, with an ever-expanding A-to-Z of WOW! experiences – including the Indian Ocean's biggest floating water park, Siyam Water World. Kids will also be in their element with an array of excursions and activities for children aged 3 to 11 at the Kidz World and Little Explorers kids' clubs.
Uncompromisingly quirky with a fun-loving attitude, a deep-rooted soul, and a unique approach to everything, Siyam World, Maldives is located in the popular Noonu Atoll, 40 minutes' direct seaplane ride from Velana International Airport, and also accessible via a 30-minute domestic flight to Maafaru Airport followed by a 10-minute speedboat trip.
For more information, visit Siyam World or follow on Instagram, Facebook, Twitter or TikTok.