Stars Above, Stars Below – It's Time to Visit the Magical Beaches of Maldives!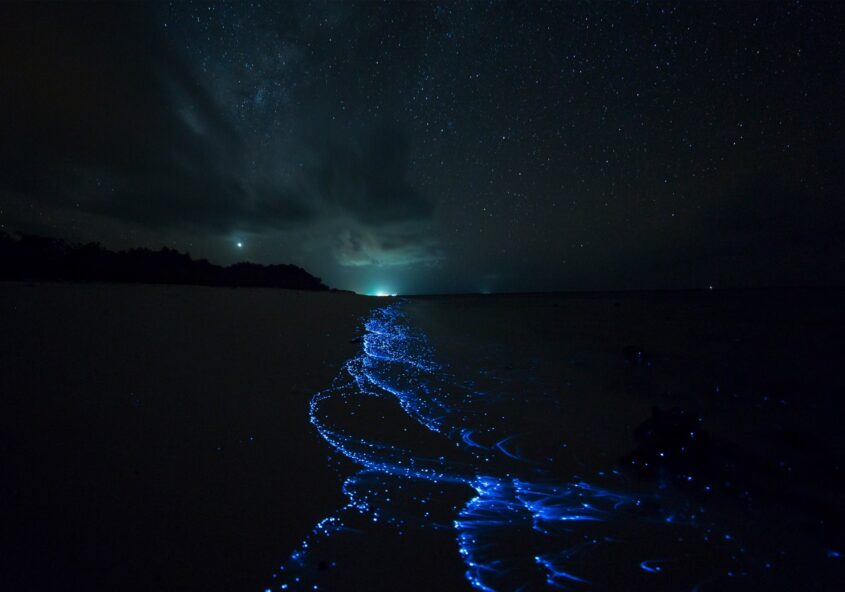 Travelers to the exotic tropical destination surrounding the islands of the Maldives, may be treated to a phenomenon that turns the night-time ocean into a field of glowing stars. It is truly the time to #VisitMaldives as the extraordinary miracle of natural bioluminescence, which occurs seasonally is witnessed across just about all of Maldives.
Maldives is known for its breathtaking beaches: warm white sand and the azure waters that rhythmically ebb and flow. Consisting of 26 atolls which are made up of more than 1000 coral islands, the destination was crowned the World's Leading Destination at the recently held World Travel Award 2020.
One sure spot to witness the infamous "Sea of Stars" in Maldives is at the island of Vaadhoo which is considered to be one huge tourist attraction. The glowing beach has captured the hearts of many visitors, as this natural phenomenon lightens up the beaches at night.
The phenomenon of bioluminescence happens when ostracod crustaceans use chemical energy and release it as light using a special compound called luciferin, which starts to glow when it gets exposed to oxygen.
Hence, an explosion of bioluminescent organisms makes the beach look like it's been hit by blue radioactive fairy dust. It is truly a sight to behold, so surreal, like stars that you can walk on.
The best time to witness this wonder in the Maldives is between mid-summer through to winter. This year, this natural marvel is seen from close to the capital at Hulhumale' to various island resorts as well. However, there are no guarantees that you will see the beach come alight.
If you miss it on your next trip to Maldives- fret not! This bucket list destination is guaranteed to offer you a thousand more experiences that will surely take your breath away.
Experience Maldives Virtually & Book Directly from Hotels at: https://maldivesvirtualtour.com