Stay at Kagi Maldives and Experience Freedom of Space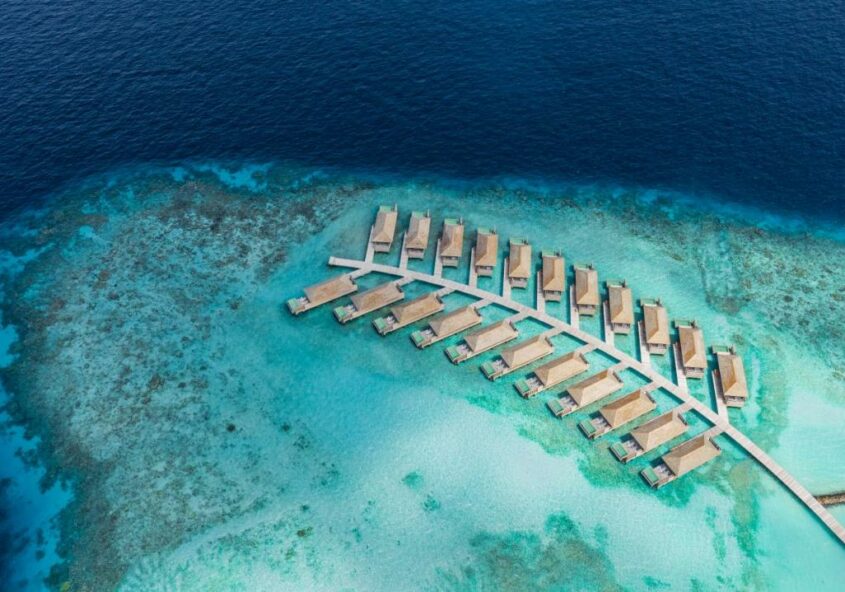 The quaint unpretentious island of Kagi Maldives Spa Island, nestled in the middle of Male' atoll, is ideal for people seeking a natural connection between wellness and relaxation. Staying at one of Kagi Maldives' wonderfully built villas allows you to connect with nature and your body, mind, and spirit.
The resort features 50 villas including, 19 Lagoon Pool Villas, 21 Ocean Pool Villas and 10 Beach Pool Villas. The villas are styled with a distinct, tasteful, and contemporary design complimented by the original Maldivian element of luxury. Each villa has a secluded deck that offers pure privacy to luxuriate in al fresco rain showers, moonlit dips, or an intimate afternoon basking in the sun. But staying indoors can be equally as indulgent.
Beach Pool Villa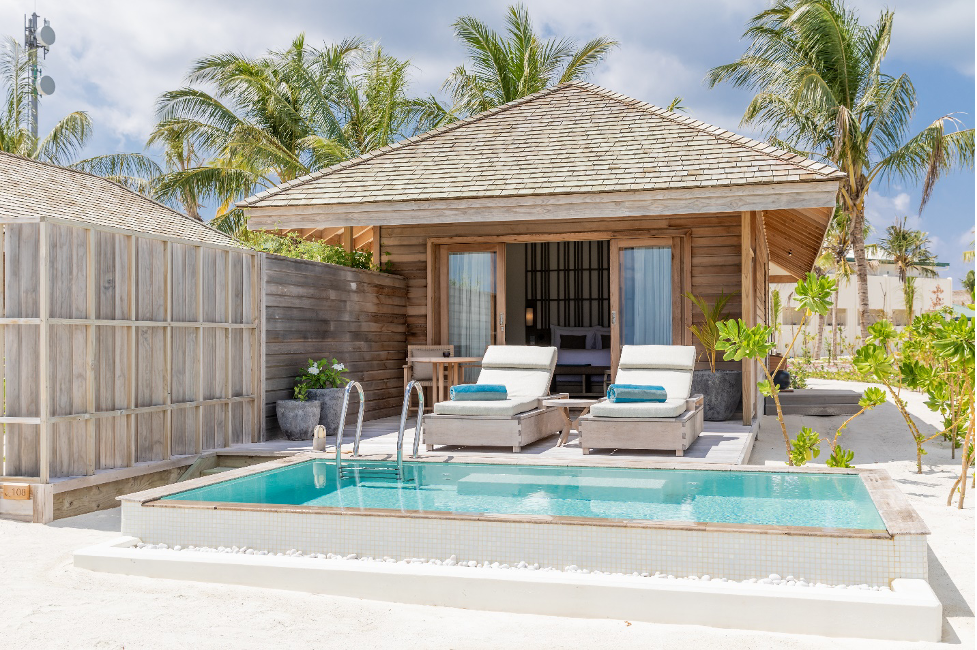 These ten signature villas are located on Kagi Maldives' beachfront and provide you with your own private beach space as well as your own private pool. Each beach villa offers an intimate space along the private white sand beach and turquoise ocean only feet from your deck, set gently and with an authentic luxury style.
The activities are limitless in this villa, jump into the water for a short splash or a snorkeling expedition in front of your villa. Relax on your private verandah lounges or even make a special breakfast reservation while watching the sun rise to a new day.
The Beach Pool Villa provides all of this and more; an elegant living room with a king bed, veneer floors, air conditioning, an overhead ceiling fan, and a seating area. A private pool, seating, and lounge furnishings are available on the outdoor covered patio.
Ocean Pool Villa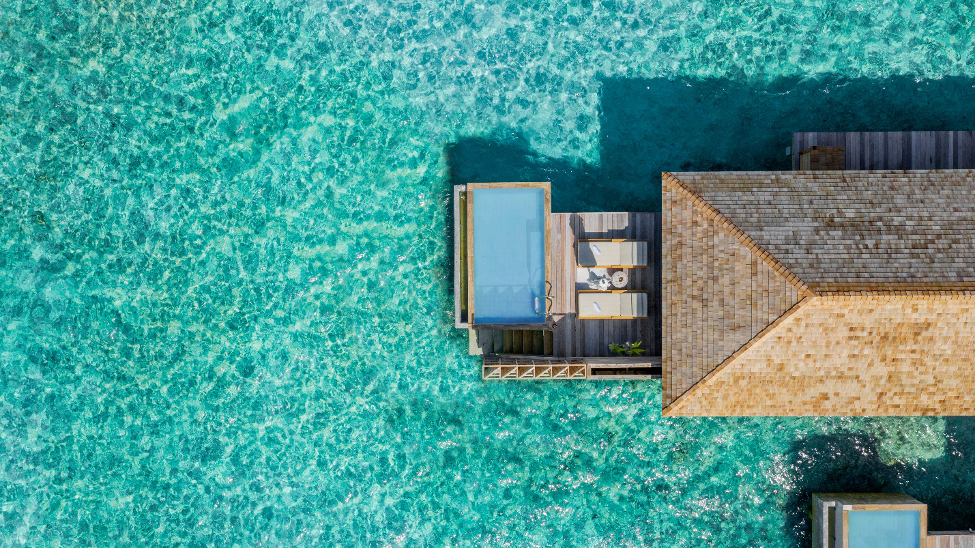 Each of the 21 Ocean Pool Villas at Kagi Maldives has a big, light-filled room that leads to a private porch and plunge pool with breathtaking views of the Indian Ocean. This is a place to bask in the Maldivian heat while marveling at the live aquarium right in front of your eyes.
A bucket list experience of living in an over water villa is brought to life by an understated elegance and private space. Access the amazing house reef immediately from the ocean's stairs, or relax in the luxury of your own private pool overlooking the ocean, with panoramic views all around. In these homes, you will undoubtedly encounter an enticing sense of equilibrium between calm and fulfillment.
The villas are an elegant living space outfitted with an over-size king bed, veneer floors, air conditioning, overhead ceiling fan and a seating area. The outdoor decked terrace features a private pool, seating and lounge furniture.
Lagoon Pool Villa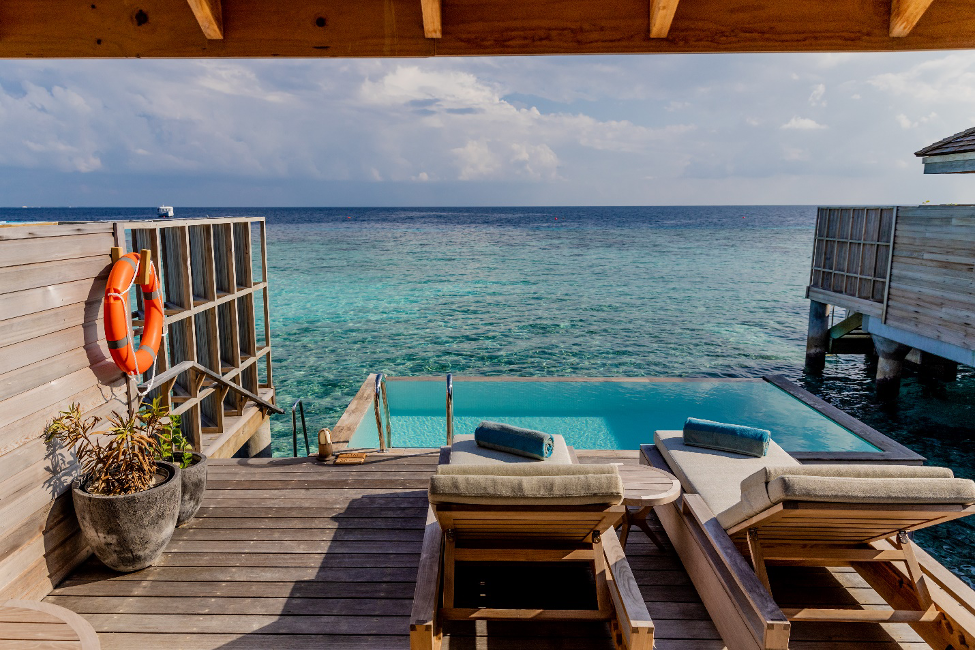 These 19 lagoon pool villas rise from their spectacular lagoon to provide an elegant living area where you may plunge into the ocean right from your overwater terrace or float above the ocean in your private pool while being entranced by the soft lapping of the waves beneath your villa. In these villas, you will undoubtedly get a sense of calmness and tranquility.
An elegant living area with an over-sized king bed, veneer flooring, air conditioning, an overhead ceiling fan, and a sofa area is also included in the villa. A private pool, seating, and lounge furnishings are available on the outdoor covered patio.
For more information and to book your stay, visit https://kagimaldives.com