Top Destinations For A Beach Wedding In The Maldives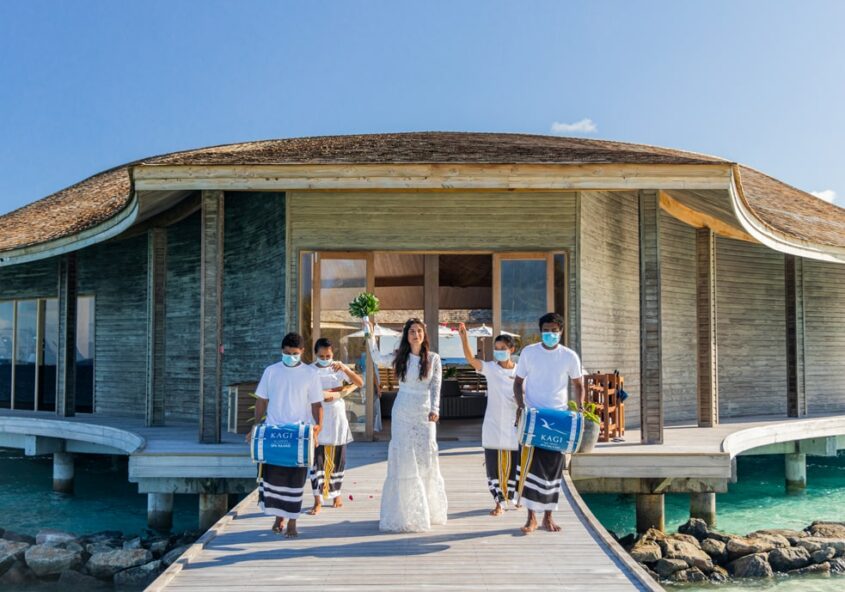 The experience, the convenience, awe-inspiring photography and cherished memories. The properties of Crown & Champa Resorts have been among the top romantic and popular destination for romance, beach weddings and renewal of vows ceremonies.
Hurawalhi Island Resort, home of the iconic 5.8 Undersea Restaurant and Komandoo Island Resort & Spa, the Maldives' leading adults-onlyresort were awarded Travelers' Choice Best of the Best winners and listed among Top 25 Hotels for Romance in Asia in 2020. The collections secluded island, Veligandu Island Resort & Spa is too a Top Romantic Resort in Asia and famed as a romantic resort.
Every resort in the Crown & Champa Resorts collection is a destination of its own and offers romantic options including renewal of vows ceremonies to suit every taste and budget.
The Maldives is a year-round destination and lets you celebrate your love and make it special any day of the year, providing you with the flexibility to travel at your convenience. Your wedding and renewal-of-voews ceremonies are experiences to cherish and you can combine your wedding witht a honeymoon in the Maldives. Another perk of having your wedding in the Maldives? the destination is itself an experience undefined and provides spectacular backdrops for wedding photography and #NOfilterInstagram to envy. You can tell the world you had a beach wedding, a wedding on a yacht, a wedding on a sandbank, and even underwater.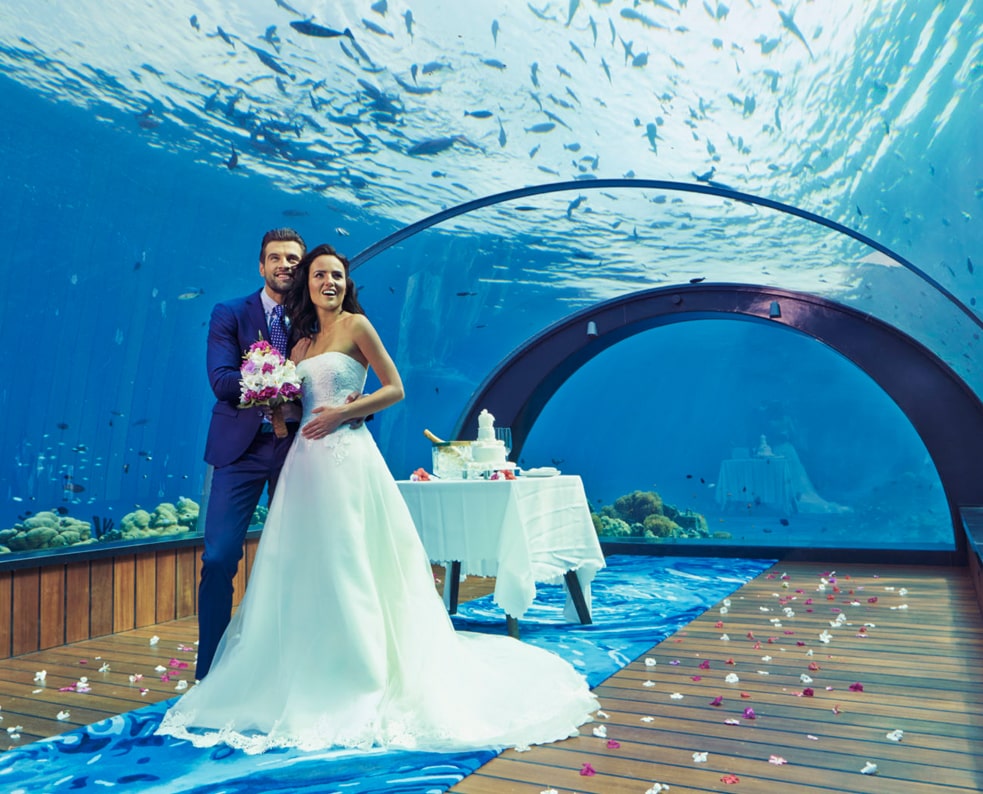 You can ask your resort event coordinator how they can accommodate multiple wedding ceremonies or photography sessions including drone shoots during your stay in the Maldives. The golf courses at Meeru Island Resort & Spa and Kuredu Island Resort & Spa are also popular locations for wedding photography with guests.
The wedding ceremonies by Maldives resorts are symbolic and are non-legal matrimony.
For more information and clarifications regarding wedding ceremonies, wedding proposals and renewal of vows, reach out to the respective resort Reservations Team or your Travel Agent.
Kudadoo Maldives Private Island By Hurawalhi
The truly fully inclusive resort that treads lightly.
reservations@kudadoo.com   |  Website
Hurawalhi Island Maldives
See the romantic option in Hurawalhi 
reservations@hurawalhi.com
Kagi Maldives Spa Island 
Ask about the Kagi experiences for honeymooners
reservations@kagimaldives.com  |  Website
Veligandu Island Resort & Spa
Top romantic resort in Asia and Maldives. See romantic packages 
reservations@veligandu.com
Komandoo Island Resort & Spa
A charming island, excellent diving. The Maldives' truly Adults-Only Resort (18+ years). See all romantic options at Komandoo 
reservations@komandoo.com
Meeru Island Resort & Spa
A guest favourite for beach weddings. See the romantic options
reservations@meeru.com
Kuredu Island Resort & Spa
Let Kuredu spoils you with endearing occasions to celebrate that special event or stir up a little romance on your second honeymoon. See Kuredu's recommendations for romance 
reservations@kuredu.com
Vilamendhoo Island Resort & Spa
Famed dive resort with excellent house reef. Dive into forever, together, with a romantic honeymoon experience. See how romance is celebrated at Vilamendhoo 
reservations@vilamedhoo.com