Unveiling Unforgettable Honeymoon Experiences at Vakkaru Maldives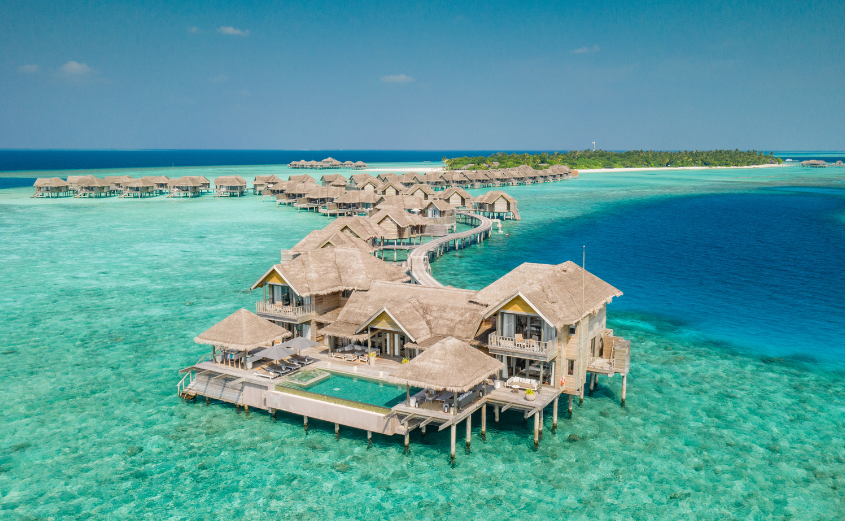 Vakkaru Maldives, renowned as one of the world's most romantic destinations, has carefully curated various experiences tailored for couples seeking to deepen their connection amidst this breathtaking natural backdrop. Whether it's the serene intimacy of an overwater or beach villa, the culinary symphonies orchestrated by the resort's talented chefs, or the rejuvenating spa therapies designed to invigorate body and soul, Vakkaru Maldives promises an unforgettable journey.
Nestled within the UNESCO Biosphere Reserve of Baa Atoll, Vakkaru Maldives emerges as a secluded reef island, graced with timeless ocean views, powdery white sands, deep azure lagoons, and a house reef adorned with remarkable marine biodiversity. A mere 30-minute seaplane flight from Male International Airport ushers you into this idyllic paradise, meticulously designed to offer guests timeless and unparalleled experiences.
Luxury Destination Dining
Vakkaru Maldives' culinary team ensures every dining experience is an exquisite memory. From dining with an ocean backdrop to a castaway picnic on a secluded sandbank or an elegant wine-pairing dinner in the award-winning cellar, a spectrum of flavors complements the tropical splendor.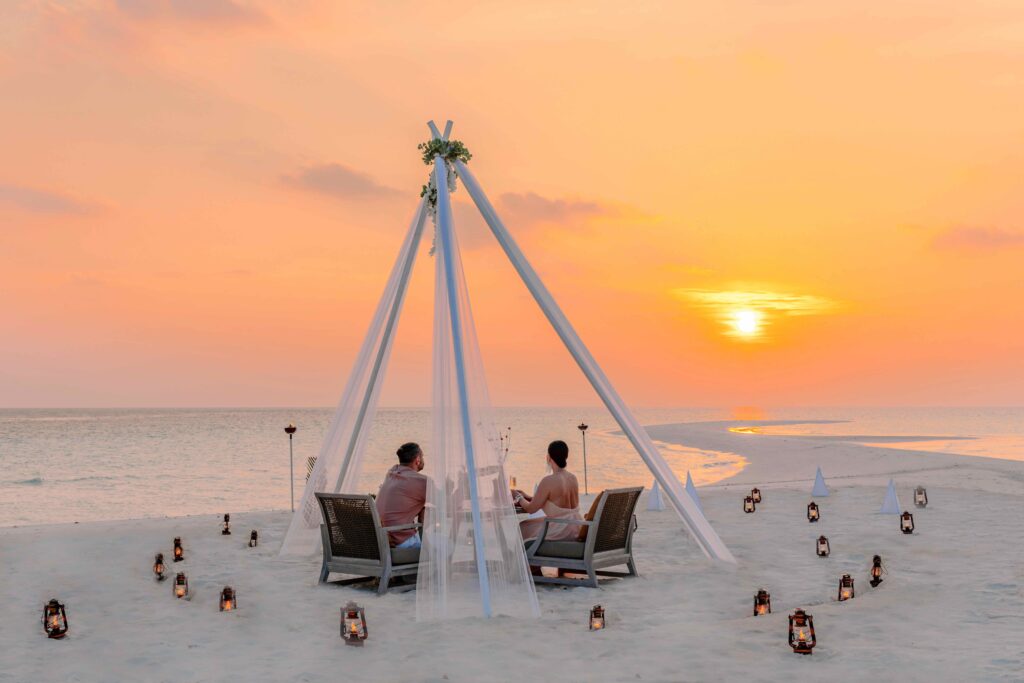 Vakkaru Romantic Splendor
Immerse yourselves in the soothing sounds of the Indian Ocean with a table for two under an elegant white marquee, adorned with flame torches. Indulge in seafood feasts or open-flame barbecues personally prepared by a private chef.
A Night With The Stars
Experience the magic of outdoor cinema while snuggling on giant bean bags under the starry Maldivian sky. Enjoy a selection of new releases or old favorites, complete with complimentary popcorn and drinks, all against the backdrop of the Indian Ocean.
Spa Bliss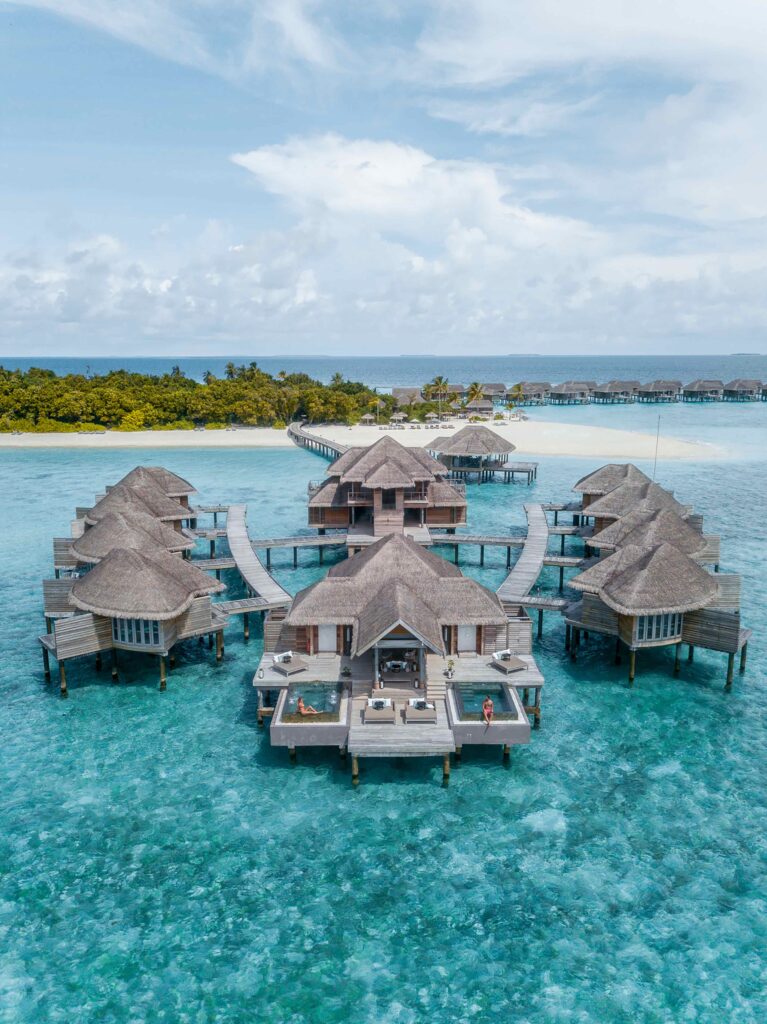 The Merana Spa stands as an exquisite sanctuary of wellness and indulgence, where every element is meticulously designed to cocoon guests in serenity and luxury. With its opulent overwater single and couple treatment rooms, guests can immerse themselves in therapies while being gently cradled by the surrounding azure waters. For those seeking holistic rejuvenation, an Ayurvedic treatment room offers ancient healing traditions to restore balance and vitality.
Additionally, a dedicated hair and nail salon ensures guests can look and feel their best. The spa experience extends beyond treatments with a boutique where wellness products allow guests to continue their self-care journey at home. In the outdoor wellness area, a warm whirlpool, cold plunge pool, sauna, and steam room provide holistic relaxation and rejuvenation, all amidst the stunning backdrop of the Maldives.
Floating Breakfast
Begin your day in utter bliss with a unique and leisurely morning ritual at Vakkaru Maldives – the floating breakfast. This enchanting experience combines the pleasures of a refreshing morning dip in your pool with a delectable breakfast served with the utmost privacy and exclusivity. It's a sensory delight as you savor a wholesome breakfast while immersed in the crystal-clear waters of your personal oasis. The gentle ripples of the water and the warm Maldivian sun create an ambiance of sheer serenity, setting the tone for a perfect day in paradise.
Private Excursions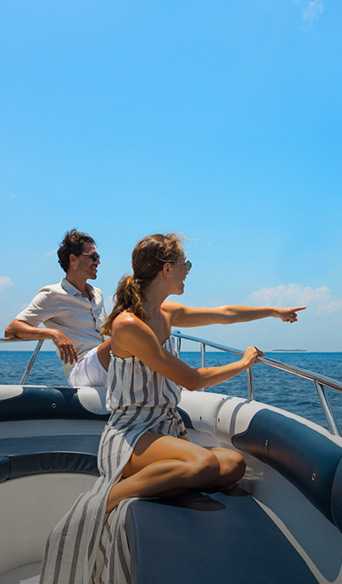 Vakkaru Maldives is situated in the mesmerizing Baa Atoll, a UNESCO Biosphere Reserve known for its natural beauty and diverse marine life. To truly explore and appreciate this pristine environment, the resort offers private excursions tailored to your interests and pace.
Whether you're a nature enthusiast, an underwater explorer, or simply seeking secluded spots to unwind, these private excursions, thoughtfully arranged by Splash, allow you to chart your course. Discover hidden coves, vibrant coral reefs, and the unique wonders of the Baa Atoll at your own rhythm, creating unforgettable memories in one of the world's most beautiful natural settings.
For bookings and reservations, visitors can access the resort's official website at https://www.vakkarumaldives.com/ or contact the resort via email at reservations@vakkarumaldives.com