Wellness and Rejuvenation: Spa Escapes in the Maldives' Serene Settings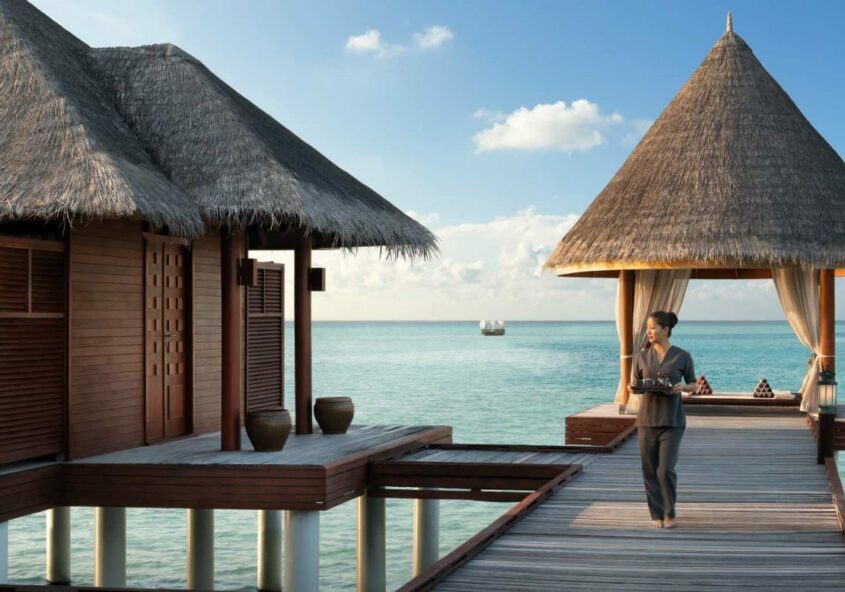 Indulge in the ultimate oasis of serenity and wellness at the captivating Maldives, a coveted haven for those in pursuit of unparalleled relaxation and rejuvenation. Renowned for its immaculate beaches and translucent turquoise waters, this idyllic tropical paradise beckons with its exquisite selection of world-class spa resorts.
Whether one chooses W Maldives, Anantara Dhigu Maldives Resort, Fairmont Maldives Sirru Fen Fushi, Kagi Maldives Spa Island, or Huvafen Fushi, guests are guaranteed to leave feeling refreshed and revitalised.
W Maldives
The W Maldives is a standout spa destination in the Maldives. Its award-winning AWAY Spa invites guests to embark on a blissful journey of tranquillity in one of its four private overwater treatment rooms, boasting unobstructed views of the ocean. The spa's sleek and invigorating ambience, combined with the expertise of its skilled therapists, creates an unforgettable experience.
At the AWAY Spa, the sleek and modern ambience is perfectly complemented by the expertise of its skilled therapists, who are dedicated to providing guests with an unforgettable spa experience. The spa offers a range of services from massages and facials to body treatments.
Anantara Dhigu Maldives Resort
Guests at Anantara Dhigu Maldives Resort can enjoy panoramic views of the Indian Ocean from the peaceful sanctuary of the over-water spa. The resort offers indigenous-inspired, world-class treatments for body and soul, with a spa menu featuring holistic therapies designed to enrich and detoxify. These treatments provide guests with the perfect way to enhance their castaway island holiday in the Maldives.
At Anantara Dhigu, guests can salute the sun, meditate before the Indian Ocean, and indulge in soothing Ayurvedic therapies and tailored spa treatments. The resort invites guests to be as relaxed or active as they please, with wellness packages that include nutrition guidance from on-site experts, as well as bespoke exercise programs to help guests begin or accelerate their healthy regime.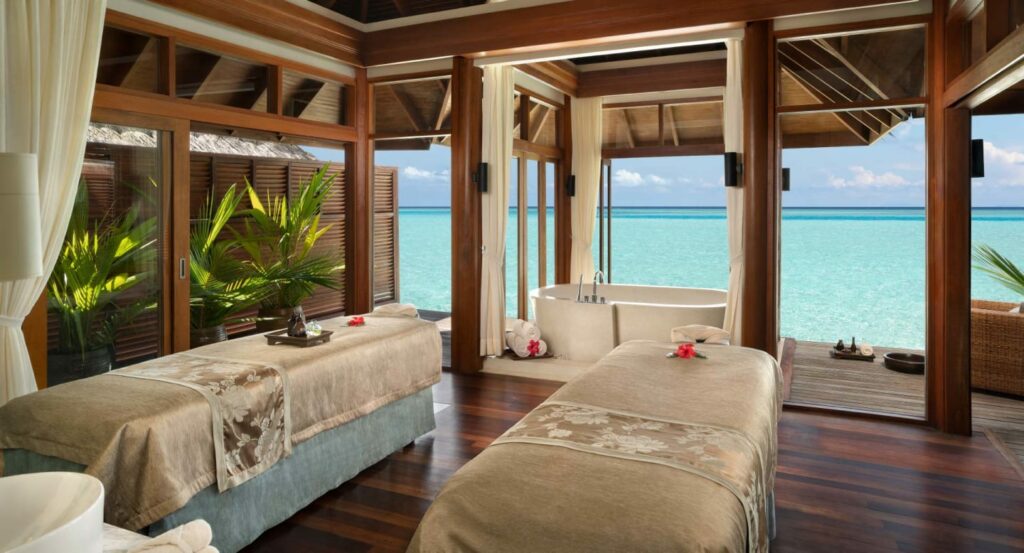 Fairmont Maldives, Sirru Fen Fushi
Fairmont Spa is an oasis that offers an array of lifestyle options, from the tranquil waters of the Indian Ocean to the fragrant herbs in the Maldivian gardens. The treatment menu is a carefully curated selection of treatments that authentically connect to the local island culture. Fairmont Spa's product partners, including Subtle Energies, offer ancient traditional Ayurveda experiences, while Kerstin Florian combines its four cornerstones of health to provide a rejuvenating sensory journey.
In the sea view relaxation lounge, guests can enjoy wellness refreshments and freshly prepared herbal teas. The 50-meter-long adult serenity pool is enhanced by natural sounds, light, soothing aromatherapy scents, and water temperatures varying from tropical warm to refreshing cool.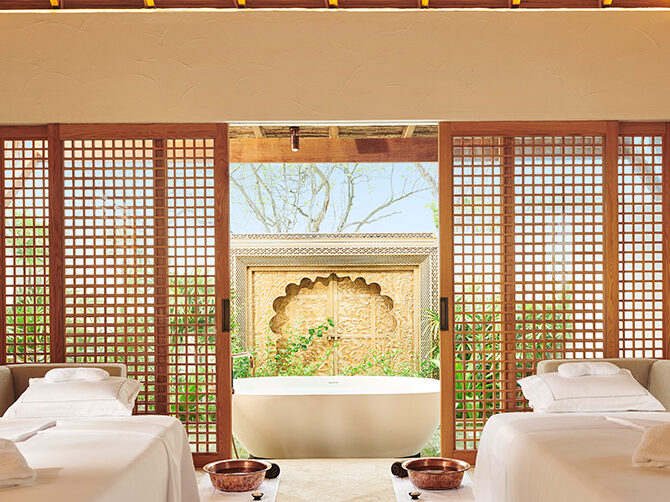 Kagi Maldives Spa Island
Baani Spa is a premier spa experience that offers a holistic approach to health and wellness, incorporating the luxuries of fundamental elements. Guests are invited to find their rhythm of life and connection within their authentic selves and discover the ultimate well-being of their minds, bodies, and souls.
Baani Spa's signature experience prepares guests for a personalized wellness journey, guiding them towards a state of calm and peace while they overlook the mesmerizing shimmers of the blue lagoon. This journey begins with a cleansing ritual that banishes any stressful energies, followed by the incorporation of aromatic essences and other herbal infusions, known to aid in the release of worries and negative energies. It is a time to let go and embrace the present moment.
Guests can take the Baani Spa experience home with them through an exclusive line of skincare and well-being products. The boutique offers essential aroma oils and skin care products to help maintain the Maldivian glow until their return to Kagi Maldives.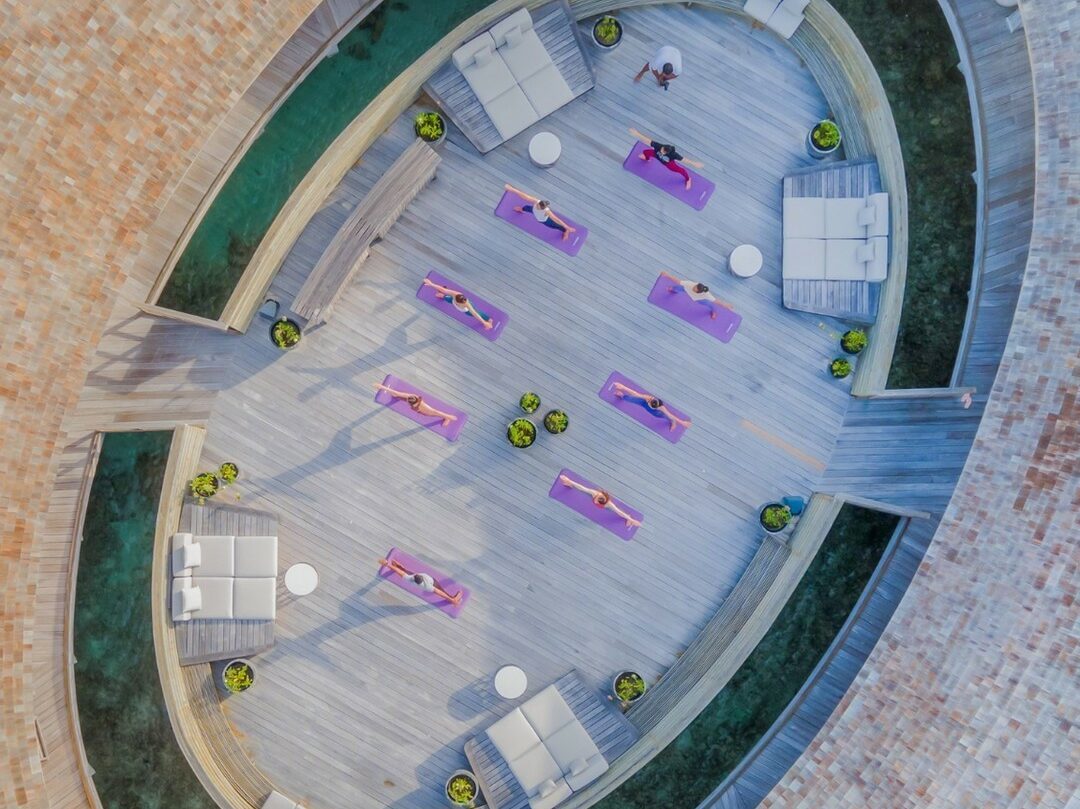 Huvafen Fushi
A one-of-a-kind experience at Huvafen Fushi, where guests can indulge in the world's first and only underwater spa treatment rooms. Descend eight meters below the surface to enter a secret underwater world and enjoy unparalleled once-in-a-lifetime experiences.
The underwater refuge offers a hypnotic calm, allowing guests to embrace the ebb and flow of the currents and tides while enjoying panoramic views of the reef and soothing designs inspired by the colours and textures of the sea.
At the Huvafen Spa, guests can rejuvenate and restore their bodies and soul with a range of treatments thoughtfully designed to meet their needs. Expert practitioners use modern techniques that meet Maldivian traditions to cultivate lasting calm and wellness through massages, facial treatments, and full-body therapies. Guests can also recharge at the Pump Gym or embark on a path towards balance with Indian Hatha Yoga.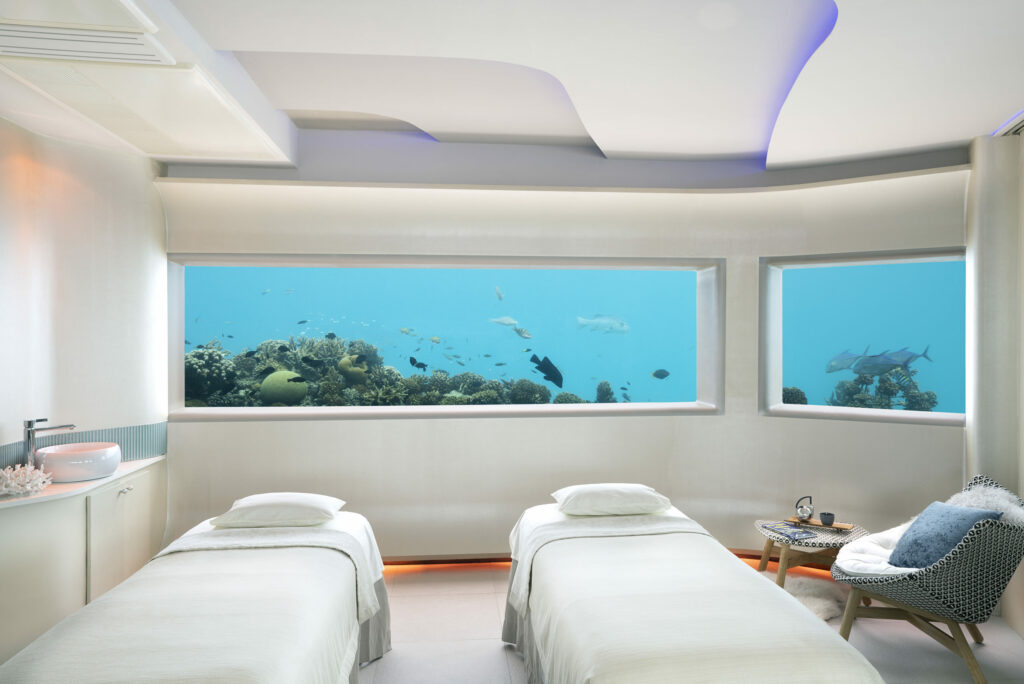 Spirited away to an underwater realm, guests can awaken to a world of healing at the first-in-the-world underwater spa. A haven of pure rejuvenation, this space nurtures well-being amid a kaleidoscope of marine life, providing guests with an unforgettable experience.