Castaway Fantasies Come True at Baby Island – The Standard, Huruvalhi Maldives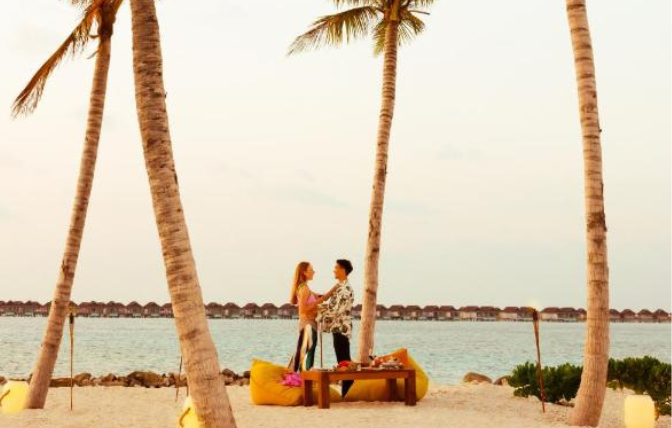 All that stands between you and a day on your own private island is a quick boat ride across the Indian Ocean. Say yes, and The Standard Huruvalhi Maldives will make your castaway fantasies come true on Baby Island, the idyllic paradise surrounded by unbelievably blue waters. The only thing left to decide is, what you'll do once you arrive…
Castaway by Day
Whisk away your favorite person or enjoy splashy moments with your besties on Baby Island. When you castaway by day, you'll get to swim in the oh-so-blue lagoon, explore the naturally protected house reef brimming with sea life, and do whatever it is you do when no one is watching. It might just be us, but we think wandering this beautiful and isolated shoreline under the sun suits you perfectly.
Destination Dining
Spoil your loved one (or yourself) with a dinner to remember at Baby Island. Send your taste buds soaring, steep your feet in the sand, and relax with a glass of wine in hand. Of course, your very own private chef comes standard with our Baby Island Destination Dining experience. Indulge in a selection of delicious bites, barbecue, and drinks with a romantic table set-up, bonfire, and transportation included.
Nestled in the Raa Atoll on Huruvalhi island, a short seaplane ride away from Malé, this oasis offers a unique blend of relaxation and social life, perfect for a romantic escape or a getaway with everyone you know. Whether an overwater villa fIoating in our lagoon or settled on a pristine sandy beach front, each of the 115 villas feature their own private lounge deck and plunge pool. You'll never go hungry with six unique dining options at the resort ranging from a beach front BBQ Shak to Gudaguda, a traditional Maldivian restaurant, serving-up freshly caught cooked with authentic recipes.
For more information and bookings please visit https://www.standardhotels.com/maldives/properties/huruvalhi