Celebrate Ocean Awareness Month at Meeru Island Resort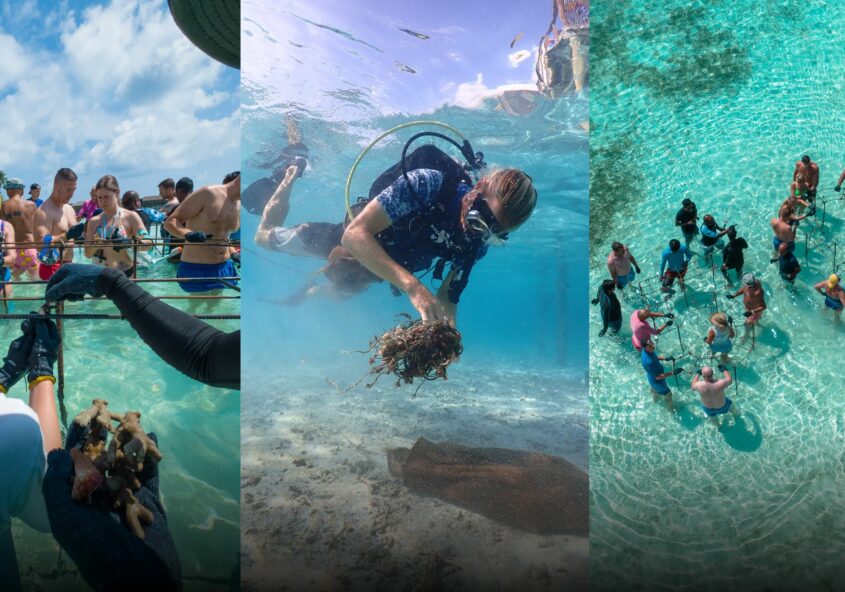 Join Meeru Maldives and celebrate Ocean Awareness Month, a month-long tribute to the wonders of the ocean and commitment to coral reef conservation. From engaging activities to educational presentations, the resort has curated an unforgettable experience for guests and staff. Discover the highlights of this remarkable event that promotes awareness and understanding of precious marine ecosystems.
1st till 8th June – Meeru Ocean Week
Reef Awareness Coral Planting and Exciting Snorkeling and Diving Trips
On 1st June, Ocean Awareness Month will kick off with Reef Awareness Coral Planting, a collaborative effort between the Meeru SEA team and Euro Divers. which will be participated with Guests and staff, contributing to the restoration of coral reefs. The event will feature an engaging sign-up sheet for guests to register their names, ensuring an inclusive experience. Additionally, on 2nd June, opt for a memorable snorkelling and diving trip to the mesmerizing "Secret Garden" for an up-close encounter with vibrant marine life.
A Day of Adventure: Special Full-Day Snorkeling Excursion
Immerse yourself in the captivating beauty of the ocean on 3rd June with the Special Full-Day Snorkeling Excursion. This exhilarating adventure provides guests ample opportunities to explore the diverse marine ecosystem surrounding Meeru Island. Swim alongside colourful fish, admire the exquisite coral formations, and create unforgettable memories in the turquoise waters of the Maldives.
World Environment Day: Lagoon Beach Clean-up and Environmental Movies
On 5th June, celebrating World Environment Day, Meeru Island Resort & Spa will initiate a lagoon and beach clean-up. The clean-up focused on the main jetty and harbour area, aligning with the commitment to maintaining the pristine beauty of our surroundings. The SEA team will also treat guests to a thought-provoking movie centred around the environment, ocean conservation, and marine life on the beach under the stars.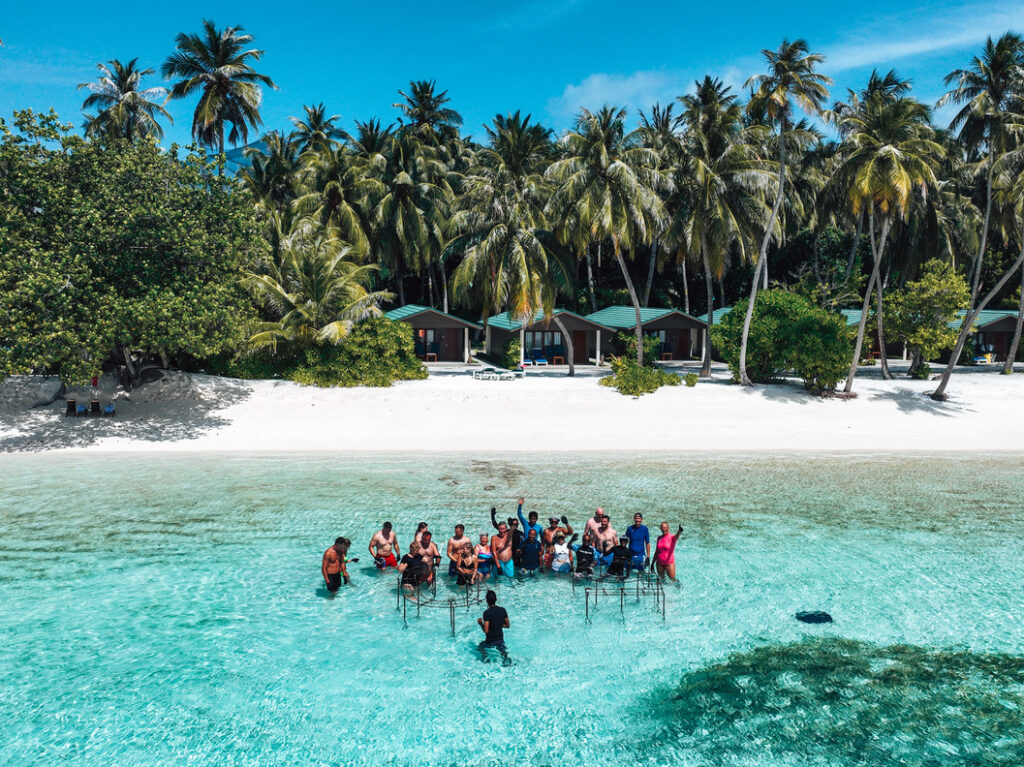 Discover Marine Life: Presentation, Trivia Quiz, and Ocean Discovery Night
Delve into the wonders of marine life on 6th June with the Marine Life Presentation, accompanied by an engaging Trivia Quiz. Explore the secrets of the ocean depths as experts share fascinating insights and intriguing facts about the inhabitants of the coral reefs. Exciting prizes await the winners of the trivia quiz. Later in the evening, join in for Ocean Discovery Night, where you can marvel at the enchanting beauty of the underwater world through captivating visuals and informative displays.
Another Adventure Awaits: Special Full-Day Snorkeling Excursion
On 7th June, embark on another extraordinary full-day snorkelling excursion. Immerse yourself in the crystal-clear waters, encounter exotic marine species, and witness the breathtaking diversity of the underwater realm surrounding Meeru Island. This adventure promises unforgettable moments and an opportunity to connect deeply with nature.
World Oceans Day: Educational Presentation and Coral Garden Cleaning
Please mark your calendars for 8th June, World Oceans Day, as the resort hosts an educational presentation dedicated to raising environmental and marine life awareness. Gain valuable insights into the significance of preserving our oceans and the actions we can take to make a difference. 
Meeru Coral Garden Cleaning: A Collective Effort
On World Oceans Day, Meeru Island Resort & Spa, in collaboration with Euro-Divers Maldives, invites guests and staff to participate in the Meeru Coral Garden cleaning activity. This initiative aims to ensure the health and vitality of the coral garden, a testament to commitment to conservation.
17th June, Saturday – Clean-a-thon
As part of our Ocean Awareness Month Celebration, the resort is thrilled to announce the Clean-a-thon event on 17th June. Meeru Island Resort & Spa and its enthusiastic participants unite for a monumental beach cleaning endeavour. This event is a powerful statement about the dedication to preserving the beauty and purity of our surroundings.
Every day is World Oceans Day at Meeru Maldives
At Meeru, they strive to be the top sustainable resort in the Maldives with its long-term sustainability efforts, which aim to positively impact the environment and the community in which we operate.
Through energy-efficient practices, waste management programmes, and planet-conscious operations, ensuring a greener and more sustainable tomorrow. Find out more: Meeru Island Resort & Spa | Sustainability Report 
Located in North Malé Atoll, Meeru Island Resort & Spa is one of the largest resorts in the Maldives.The island resort is surrounded by a beautiful turquoise lagoon and long white sandy beaches with swaying palm trees. With many facilities available, guests enjoy luxurious accommodation options – including plenty of recreational facilities for families, couples, and groups of friends.