Discover Manta Rays at Royal Island Resort & Spa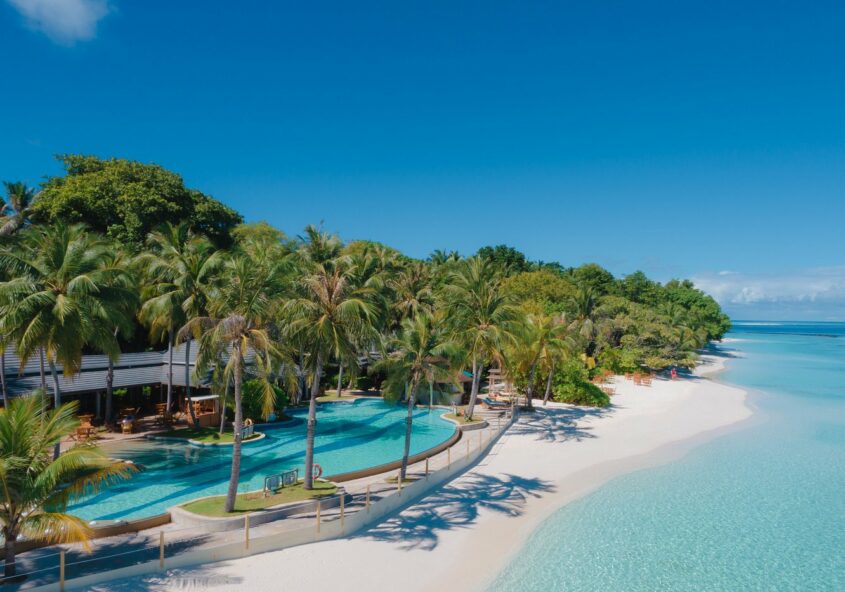 Royal Island Resort & Spa is located in the protected UNESCO Biosphere Reserve of Baa Atoll, home to rich coral reefs, a variety of tropical marine life, whale sharks and manta rays which gather at the unique marine reserve of Hanifaru Bay. The bay is located just 15 minutes by speed boat from Royal Island. Snorkeling alongside these magical creatures is a memorable experience and one that will leave you truly captivated as you witness the stunning underwater kingdom of one of the world's largest aggregations of Manta Rays.
Hanifaru Bay (locally known as Vandhumaafaru Adi) is a narrow channel-like bay which acts as a scoop for an abundance of plankton which gets trapped in the bay with nutrient rich water during the Southwest Monsoon in the Indian Ocean between the months of May – November. The graceful mantas whose wingspan can reach up to 3.5 meters congregate to feed on the plankton rich waters in the bay; barrel rolling and gliding near the surface to funnel their microscopic meal. When a lunar tide also occurs, this results in a massive build-up of plankton in the bay. The high concentration draws in hundreds of filter feeders and it is not unusual to see up to 200 manta rays accompanied by whale sharks. A truly mesmerizing and remarkable encounter.
The Royal Island Resort & Spa resident marine team are knowledgeable and eager to educate about these fascinating gentle giants and guide you within Hanifaru Bay's turquoise waters. Excursion trips to Hanifaru Bay are coordinated with the Hanifaru Bay park rangers who regulate the area. To protect the marine life, diving is prohibited in the bay, however as the water in the bay is shallow it is perfect for snorkeling with the agile manta rays. In a continuous effort to preserve and protect the fragile environment and marine life in the atolls protected waters, Royal Island sustain a range of conservation and sustainable initiatives to ensure the manta rays and their natural habitat are preserved and thriving. The recent Green Key eco-label award is a testament to the resort's environmental responsibility and activist conservation practices.
For booking and more information, visit Royal Island | Villa Hotels & Resorts | Maldives