Dive & Seek with Nouf Alosaimi at The Standard, Huruvalhi Maldives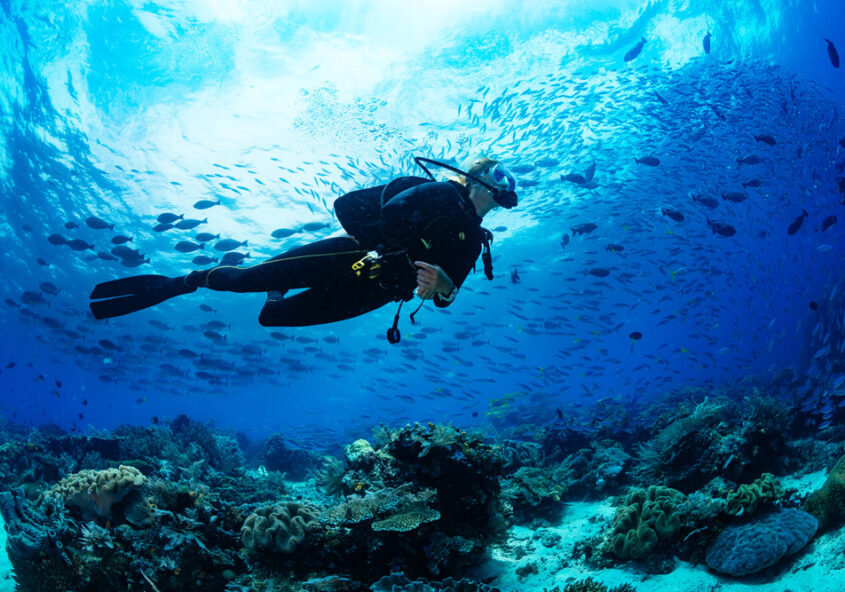 Dive into a world of spectacular marine life and explore the wonders of the ocean at The Standard Maldives. Certified divers can take advantage of the Dive & Seek package and go on a dive adventure alongside Nouf Alosaimi, a passionate dive leader who holds the record for the deepest scuba dive by a Saudi woman (Yes, you heard that right!)
Alosaimi, who has been diving since 2009, is a PADI Master Scuba Diver Trainer and the only female instructor in Saudi Arabia. The 29-year-old diver spends her days exploring the glimmering turquoise waters of the Red Sea, getting familiar with its wildlife and natural beauty. You can dive win the Maldivian waters with Alosaimi this time and expect to swim alongside a plethora of aquatic life, including gray sharks, eagle rays, tropical fish, turtles, and a lot more! So, jump on in (Gently, please! Don't want to scare the fishies) with reef dives, all equipment, and yummy boat snacks included.
Nouf, along with the divemasters from the qualified Dive Center team of The Standard Hotel, will be at your side every step of the way, so be ready to get your hair wet and admire the beauty of the world beneath the surface.
The package for two adults include several perks such as full board meal plan, 2 fun dive trips to a stunning location with Nouf and the resident divemaster, 60 minute stress relief divers massage to soothe and relax your body, 60 minute DIY Hammam spa experience, access to Standard Talk sessions with Nouf and more.
A short sea plane ride away from Male's Velana International Airport, The Standard, Huruvalhi Maldives is a unique blend of relaxation, socializing and adventure, perfect for a romantic escape, getaway with friends, or family vacation. Each of the 115 villas, overwater or settled on the beachfront, has their own private lounge deck and plunge pool. Spend your days exploring the natural beauty of the island, with activities like snorkeling in the protected house reef, boating, deep diving and more. Relax and refresh with luxe spa treatments at The Standard Spa, complete with a communal hammam, aroma steam room, daily yoga and nine private treatment rooms. From morning to evening, nourish and refuel at a variety of dining options, from their all day dining spot Kula to the authentic Maldivian overwater restaurant Guduguda.
For more information and booking, visit Dive & Seek – Maldives Resort Diving Special Package (standardhotels.com)