Enjoy Flexible Half Board at Park Hyatt Maldives Hadahaa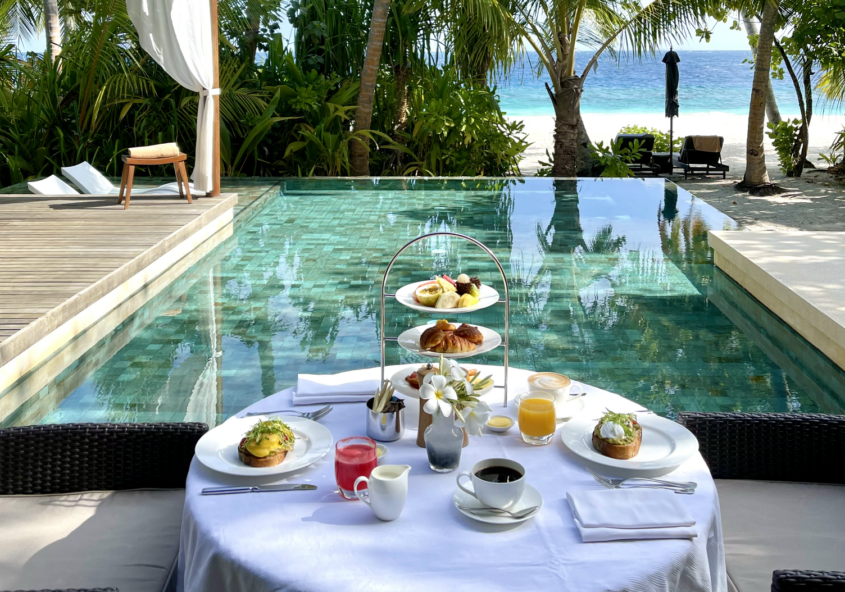 Park Hyatt Maldives Hadahaa impresses again with its constant drive to act upon feedback and adapt the resort's offering to ensure it aligns with the guests' desires. The award-winning property, praised for upholding the high standards of the Park Hyatt world-renowned culinary excellence, has devised a new meal plan to offer the island's guests even more dining flexibility.
Aptly named Flexible Half Board, this popular meal plan allows guests to make the most of their stay at the resort. The team at Hadahaa strongly encourages guests to set their own holiday pace as there is nothing more luxurious than sleeping in a bit after a day filled with magical moments, not having to worry that it is way past breakfast time. The innovative Flexible Half Board dining arrangement enables guests to skip breakfast and opt for lunch and dinner if they wish. This has been a regular request by guests and the Hadahaa team is pleased to finally offer it, currently for stays until October 2022.
In fact, the new meal plan is so flexible that guests can choose from the following options:
i) Breakfast and lunch or
ii) Breakfast and dinner or
iii) Lunch and dinner.
Meals are to be enjoyed at The Dining Room, Hadahaa's casual, poolside all-day dining venue, loved for its relaxed vibe and cuisines of the world. For breakfast and lunch, guests can enjoy a 2-course lunch and a 2- course dinner at The Dining Room, Hadahaa's casual, poolside all-day dining venue, loved for its relaxed vibe and cuisines of the world. The dinner option is limitless as guests can use the US$ 75 credit per day at any of the outlets, including The Island Grill, Chef's Garden Treehouse, Koi @ the Drift, weekly beachside barbecue and even destination dining and even in-villa dining.
The Flexible Half Board meal is priced at US$ 125 per adult and US$ 85 per child and is available for stays until October 2022. Terms and conditions apply. As no dining is complete without perfect beverage pairing, guests are welcome to add the Alcohol Premium Package on top of their meal plan. At an affordable price of US$ 155 net per person per day, guests can enjoy unlimited selected alcohol beverages; from renowned French, South African, Argentinian and other wines and Champagne to innovative cocktails and all-time favourite spirits, the menu is truly generous and takes away the hassle of having to pay for the drinks separately. Whether it be wine to pair your beach dinner with, smoothies after a workout, poolside mocktails or something stronger to kickstart the evening with friends, the Alcohol Premium Package covers it all.
To explore more about Park Hyatt Maldives Hadahaa experiences, visit the new independent website at www.experienceparkhyattmaldives.com and learn about other memorable, adventurous activities such as private island picnic, Maldivian cooking class and fishing trip in the Maldive