Immerse Yourself in Paradise with Italian Grace at Baglioni Resort Maldives
Lose yourself in the vastness of the Indian Ocean and find yourself again, luxuriating blissfully under a palm tree. This is just one of the unique experiences that await you at Baglioni Resort Maldives. Dreamily resplendent on the island of Maagau in Dhaalu atoll, this remarkable resort is awash with the tropical beauty that the Maldives is well-known for.
View the full Virtual Tour of the property via the link here, https://maldivesvirtualtour.com/360/baglioni-resort-maldives/!
Baglioni Resort Maldives boasts an array of 89 villas, split between the ivory beachfront and on stilts above the infinite shades of the azure ocean. While a variety of beach villas, including three two-bedroom family beach villas, cater to families and couples seeking a romantic getaway, water villas have freshwater pools or sunset views. The awe-inspiring Baglioni Residence water villa, the pinnacle of the resort's villas, features three bedrooms, each with a private bathroom, a wide balcony, a large jacuzzi pool, and a round-the-clock butler, housekeeping, and buggy service. Designed using materials and techniques for optimum sustainability while making the most of the natural setting, all room categories share a harmonious aesthetic that combines Maldivian accents with the renowned Italian attention-to-detail that the brand is synonymous with.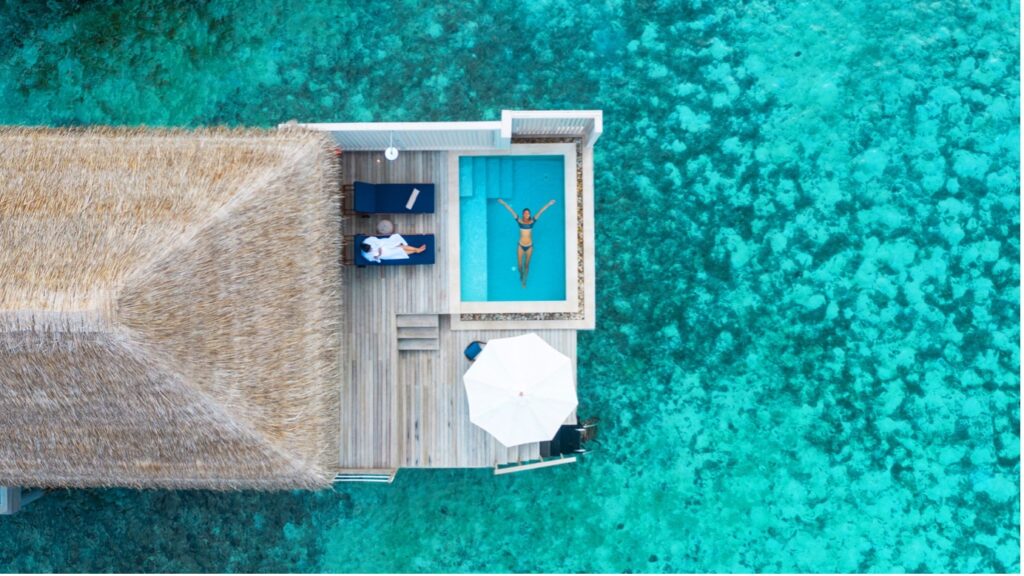 With four distinct restaurants, guests can savour gourmet fare to suit every palate, served up alongside stunning views of the glittering Indian Ocean. Unsurprisingly, authentic Italian food is served at Gusto Restaurant under the stars, and Taste, a beachside restaurant, offers international cuisine for breakfast and dinner. For exquisite Japanese, book a table at Umami. At the gorgeous pool bar, which is surrounded by an endless infinity pool and ocean vistas, you can have casual nibbles along with vibrant and energizing mixed beverages. It is also possible to arrange private dining experiences, such as in-villa breakfasts, romantic sunset cruises, and wine tastings with gourmet cuisine.
What's more, Baglioni Resort Maldives offers recreational activities for everyone, accommodating all kinds of visitors. Beach volley, tennis, and soccer are among the sports available to adventure seekers, while water babies can engage in activities like pedal boating, windsurfing, and kayaking. Book a scuba diving course or go snorkeling to see the Maldives' colorful underwater world. Those who would rather stay on dry land can go dolphin watching, head out on a romantic sunset cruise, or arrange an expedition to a neighboring sandbank where they can spend the day living like Robinson Crusoe.
For more information, visit https://www.baglionihotels.com/branches/baglioni-resort-maldives/