Improve your Tennis Game at Sun Island Resort & Spa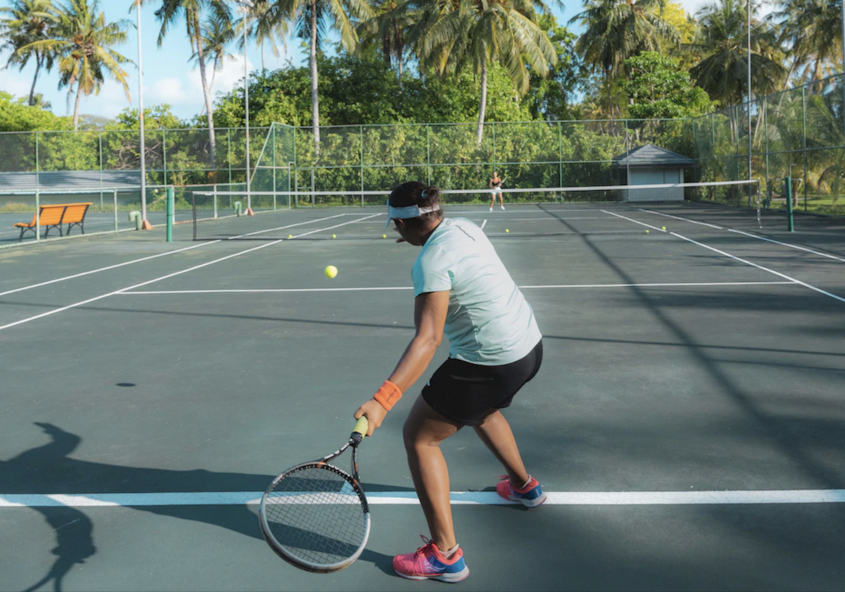 Vacations are a time for relaxation and rejuvenation, but nevertheless, that doesn't mean compromising on your fitness goals while you adventure in the Sunny Side of Life. Escape to an exotic world of breathtaking personality and genuine hospitality borne of the beautiful Maldivian culture and idyllic setting. Spending time on a remote island can be exactly what you need to kick start your fitness journey. Surrounded by the stunning tropical scenery, the quiet of island life, and the fresh ocean breeze, it's an idyllic opportunity to develop existing fitness levels or discover new athletic passions.
One of the latest fitness offerings at Sun Island Resort & Spa is tennis coaching with a private instructor. The resort offers spacious state of the art facilities with an onsite tennis instructor to help guests train and improve their tennis game at the resort. Welcome a refreshing sense of vitality and serenity of soul on the tennis courts with a unique fitness schedule designed to rejuvenate and inspire the desire to prioritize health and wellness on vacation and beyond.
Pro Tennis instructor, Abhilasha Mehra hails from New Delhi, India with 15 years' experience in the sport, she has been coaching for the last 5 years. Prior to joining Sun Island Resort & Spa, she was training the Maldives national Tennis team in Male' City. With a track record for notable achievements, she has won more than 30 national tournaments in India and one of her highest regarded achievement is representing her country in the 2018 Asian games which was held in Indonesia. As a certified international coach, she has travelled the world teaching and playing various international tennis championships around the world.
Based in Sun Island Resort & Spa, she conducts private classes for adults and kids as well as a kid's tennis camp once a week to introduce kid's and their families to the game of tennis. The tennis camp introduces players to the basics of tennis with a focus on hitting the balls and learning to master the art of using the racket. In addition to the camp, Abhilasha conducts private classes for beginners, intermediate and advanced levels to learn lawn tennis skills and techniques. Fun target and hitting activities are designed to motivate and encourage players to enjoy sessions on the court which will enhance their overall holiday experience.
Guests who have a specific area or certain skills they would like to improve on can train alongside Abhilasha to create a strategy for matches and tennis tactics on the court. Each session begins with a fun and dynamic warm up and will go on to address anything technical and tactical. Guests can experience learning firsthand about improving footwork, balance and coordination of the body through hitting strokes including backhand and forehand and much more. Guests at Sun Island Resort & Spa can improve their tennis game while enhancing their overall fitness levels in the tropical island enveloped by nature; an idyllic setting to reset, restore and renew.
For more information and booking, visit https://www.villahotels.com