Maldives Restaurants: A Quick Guide to Dining at Crown & Champa Resorts Collection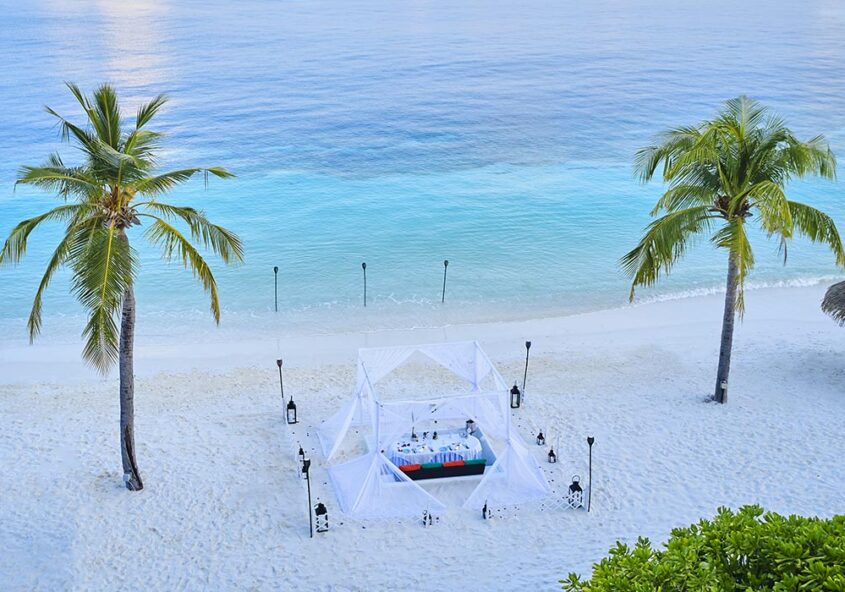 When thinking of Maldives restaurants, images of luxurious underwater dining at 5.8 usually spring to mind. Travellers who wish to dive into the spectacular food scene will have no shortage of options for exquisite eateries worth trying. Across the Crown & Champa resort collection in the Maldives, holidaymakers and gourmet jet setters will have endless opportunities for once-in-a-lifetime destination dining experiences.
At Kudadoo Maldives Private Island, guests are free to indulge in gourmet delights, 'Anything. Anytime. Anywhere' with a selection of in-villa and destination dining experiences. Visit the restaurant, appreciate the wine and cheese cellar or even head over to the sister resort, Hurawalhi, to dine.
Hurawalhi Island Resort is no stranger to extraordinary culinary experiences. Its standout feature is undoubtedly 5.8, the world's largest all-glass undersea restaurant. The resort also has Canneli Restaurant with the luxurious fare for breakfast, lunch and dinner, Kashibo Restaurant to satisfy your palate with Chinese, Thai, Indonesian and Vietnamese delicacies, and J.F.K. – Junk Food Kitchen where vegans and meat lovers alike will surely enjoy. The three bars consist of a Champagne Pavilion and a wine cellar.
Kagi Maldives Spa Island has three restaurants and convivial bars as a part of the culinary journey experience. The Spa Corner offers a casual menu throughout the day, from raw and greens to sushi and light mains to complement the day of pure relaxation at Baani Spa.
Veligandu Island Resort & Spa boasts a buffet restaurant and à la carte restaurant, Madivaru – loved by guests for its fusion of Western culinary techniques with an Asian flair to serve up decadent masterpieces. Dining on a yacht is also popular amongst guests at this romantic Maldives resort.
The truly adults-only (18+) Komandoo Island Resort & Spa features the overwater à la carte Aqua Restaurant, buffet restaurant, and a selection of private waterfront dining experiences.
Meeru Island Resort & Spa has a total of two buffet restaurants, including the overwater Asian Wok and Hot Rock Restaurant, offering cooking on Lava rock, six bars, and a café for ice cream delights.
Vilamendhoo Island Resort & Spa offers two buffet and two à la carte restaurants, including one over the water, four bars, and the three others that offer either vistas of the stunning sea and sunset or lush greenery.
Kuredu Island Resort & Spa boasts 15 restaurants and bars, including a golf bar, a speak-easy bar tucked away in lush, tropical gardens, an ocean-facing chill-out teahouse, a wine cellar, plus an ice cream parlor.
[Related: Kuredu Island Resort & Spa Unveils New Seafood & Plant-based Menu at its Beachfront Restaurant, Beach Shack » ]
Innahura Maldives Resort has an expansive buffet restaurant, features a top-notch snack menu, and two bars situated over the turquoise lagoon for good times and good food.
All the resorts offer a selection of private dinners, beach dining events, and in-villa dining. The buffet restaurants have rotating theme nights to provide variation and tasting experiences. Guests can also participate in wine tasting and excursions for them to experience B.B.Q. and picnic on sandbanks. If your stay falls during a full moon, dining on the beach under the moonlight is a sought-after guest experience.
Guests can also show photos from the resort's Instagram accounts to your dedicated waiter, island host, guest services or Front Desk to have the dining experience reserved or similar or even better experiences suggested to suit your lifestyle and interests.
Dining is available in vegan and vegetarian options.
Bon appétit.