Only BLU – The Largest Under Ocean Restaurant in the Maldives Now Open!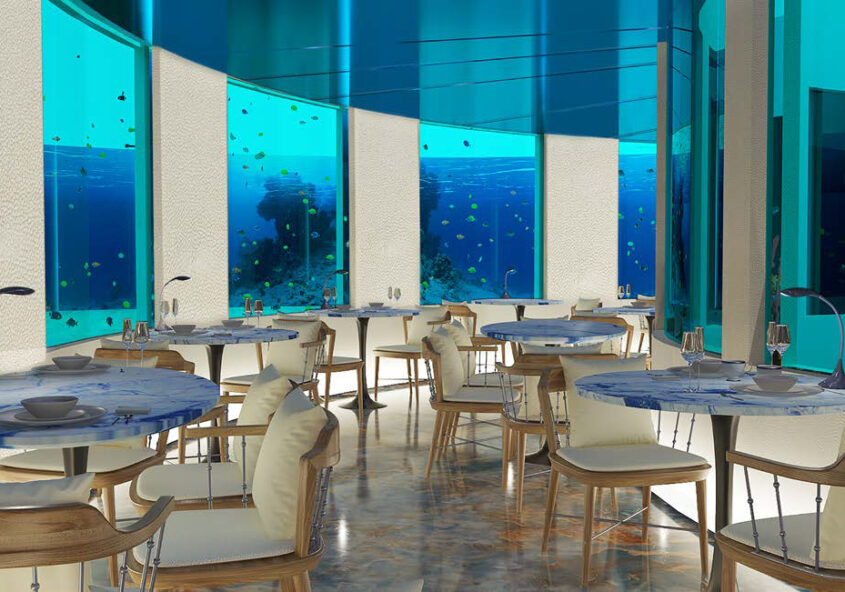 The largest under ocean restaurant in the Maldives, Only BLU at OBLU SELECT Lobiligi is now open.
Surrounded by exotic blue hues and a vibrant flow of marine life, this deep-sea dining is a unique way of connecting with nature and loved ones.
As you descend into this charming horseshoe-shaped restaurant, an open kitchen showcases our chefs' artistry in an inviting display. Settle into one of the window tables and delight in your front-row seat to the brilliant coral reef of Lobigili island. A welcome glass of sparkling wine is served on arrival, followed by a selection of the finest hot and cold appetizers served on a three-tier stackable platter. Relish impeccable modern gourmet fare and decadent desserts with a pairing of red and white wines, beer and beverages.
ONLY BLU curates three-course Prix Fixe menus with the option of Meat, Seafood or Vegetarian menus.
One complimentary à la carte fine-dining experience at Only BLU per guest is included in the Lobi Plan during the stay with a minimum of four nights stay at the resort (on pre-booking, based on availability).
OBLU SELECT Lobigili is an adults-only haven. Lobigili translates from Dhivehi as 'Island of Love.' With 68 vibrant chic beach and overwater villas, Lobigili island is ideal for a chilled-out getaway. Romance permeates the air here. Idyllic tropical vistas complemented by stylishly designed spaces create a secluded, castaway feel. Residents at OBLU SELECT Lobigili can also choose to stroll over to neighbouring Ailafushi island and mix it up with a different world of enchanting sights, sounds, and culture.
For more information and bookings please visit https://www.coloursofoblu.com/oblu-select-lobigili